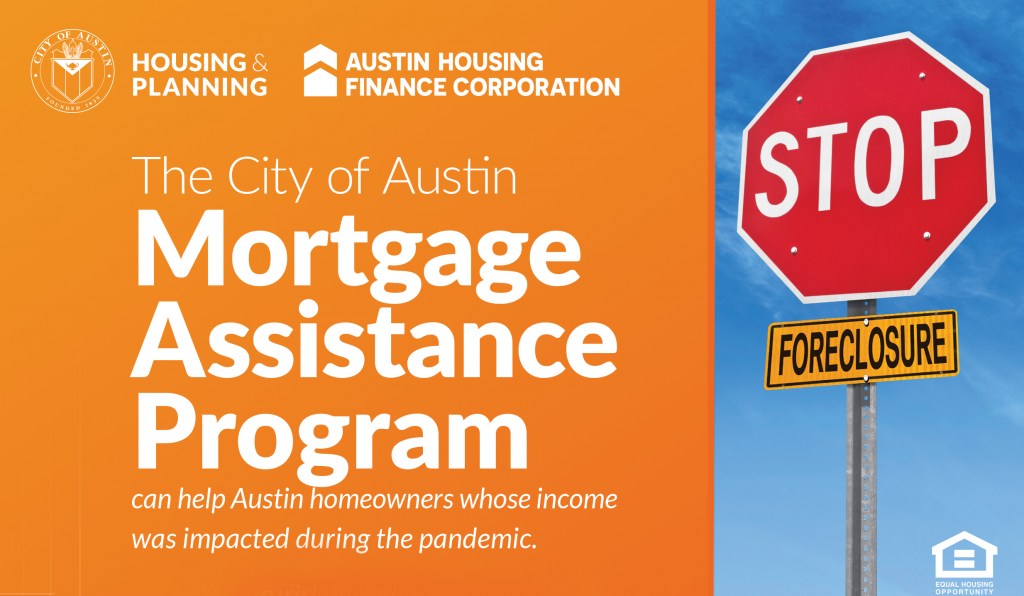 The City of Austin Mortgage Assistance (ATXMA) is for Austin homeowners who:
make a low-income,
have missed mortgage payments, and
have been financially impacted during the pandemic.
The City of Austin's goal is to stabilize housing and prevent community member displacement.
What is the City of  Austin Mortgage Assistance Program? 

The City of Austin Mortgage Assistance (ATXMA)  can help pay mortgage payments for eligible homeowners while funds are available. Mortgage and income limit restrictions apply. 

This program helps pay for up to 6 total months of mortgage payments incurred between March 1, 2020 through the present. The Program covers past due payments, late fees, and 1 month of future payments.  

Payments are made directly to the homeowner's mortgage loan servicer. 

This program is managed by the Housing & Planning Department and the Austin Housing Finance Corporation.   

 

Who is Eligible?

Austin homeowners who meet each of the following requirements may be eligible for the Austin Mortgage Assistance program:

Have loss of income due to COVID-19.
Live within Austin's full-purpose jurisdiction. (If you're unsure, enter your address in the searchable City of Austin Jurisdictions Web Map ). The address on the application must be the primary residence for the Applicant.
Must be on the promissory note with a mortgage loan servicer.  
Have missed at least 1 mortgage payment since March 2020.
Have a mortgage that is at or below the maximum allowable mortgage payment.  The table below shows limits by the number of bedrooms in the home.  

Example of an eligible family that should apply for ATXMA  

A family of four lives in Austin's Dove Springs neighborhood. In 2019,  the family had a combined household income of $77,500.  Due to the pandemic,  one of the household-earners had their hours or wages cut, so they have made less income and have been unable to make the $1,600 payment to their mortgage lender.  They have missed their mortgage payments for the past 2 months.  This family may be considered eligible for Austin Mortgage Assistance & should apply. 

 

Ineligible mortgage types 

Recipients of other local, state, or federal mortgage assistance programs may not receive duplicate benefits for the months for which they are requesting assistance. 

Home Equity Loan   

Reverse Mortgage   

Pay Day Loans 

Short Term Loans that are less than a year 

Loans from financial entities or through an organization that is debarred, suspended, proposed for debarment, or otherwise ineligible from participation in federally assisted programs. 

What is the Process?

 

 

1. Pre-screen form 

Homeowners complete and submit the online pre-screen form. An email address is required. 

 

  

2. If the Applicant meets pre-screen criteria, then Staff will email them with the full Application.  

   

3. Documentation/Eligibility Review 

Homeowner: Provides requested documents.  

Mortgage Servicer/Lender: Provides requested documents. 

Program staff review documents and request additional documents, if needed. 

4. Eligibility Determination 

Program staff verify information and determine Applicant's eligibility.    

 

5. Payment 

Payments are made directly to the Mortgage Servicer/Lender. 

Information Needed to Fill out the Pre-Screen Form 

Applicant's full name, email address and phone number 

The household's primary residence address  

Each household member's current gross monthly income (before taxes or deductions are taken out) and types of income 

Name of the mortgage lender or loan servicer  

Information about 1st and 2nd lien must be disclosed. 

 

For the full application, Applicants will need to provide a copy of the following documentation. 

Government-issued photo identification (drivers' license, military ID, State ID, etc.) 

Social Security Card   

Current Mortgage Statement showing delinquency in Applicant's/Co-Applicant's Name  

Proof of Household Income 

 

Which income documents can be used to prove current monthly gross income? 

Families who currently receive Supplemental Nutrition Assistance Program (SNAP), Comprehensive Energy Assistance Program (CEAP), Medicaid, Low Income Energy Assistance Program (LIHEAP), or Austin Energy's Customer Assistance Program (CAP) benefits may be able to provide their current benefits letter instead of the documentation listed above. 

Otherwise, verification can include:  

2 most recent consecutive pay stubs 

Other proof of earned income 

2021 Social Security/SSI benefit letter 

Proof of child support      

TANF (Temporary Assistance fFor Needy Families) assistance letter 

Unemployment benefits letter 

Veterans benefits letter      

Self-employment accounting documentation/books 

Proof of annuities      

Proof of retirement funds 

Pension benefit letter       

Worker's compensation/severance pay verification       

Armed Forces pay verification            

Student financial assistance verification            

Regular contributions or gifts verification       

Alimony verification            

Other documents to verify your income      

Work with Your Mortgage Loan Servicer 

If you think you might have trouble making a mortgage payment, your first call should be to your mortgage servicer (the company that receives your mortgage payments each month). They may be able to arrange temporary mortgage assistance options, including a mortgage forbearance plan. 

Funding for the Program 

The Austin Texas Mortgage Assistance program launched on August 2nd, 2021, with $500,000 from the CDBG CARES funds made available through a competitive application process from Texas Department of Housing and Community Affairs (TDHCA). 
If you are an Austin homeowner, making a low-income and in need of mortgage assistance due to COVID, please fill out the pre-screen form. 
Completing the pre-screen form does not guarantee assistance, documentation must be verified. The short form is available in English and Espanol. 

Call 512-974-3100, 3-1-1, or email hpdcs@austintexas.gov with questions.The City receives and accepts Video Relay Service (VRS) calls from people who are Deaf or hard-of-hearing
El programa de Asistencia para Hipotecas de Austin, Texas (ATXMA) es para propietarios de Austin que:
Tener bajos ingresos,
Se han atrasado en los pagos de la hipoteca, y
Se han visto afectados financieramente durante la pandemia.
La meta de la Ciudad de Austin es estabilizar la vivienda y evitar el desplazamiento de miembros de la comunidad. 
¿Qué es el Programa de Asistencia para Hipotecas de Austin? 

El Programa de Asistencia para Hipotecas de Austin puede ayudar a los propietarios cuyos ingresos se vieron perjudicados durante la pandemia. Este programa ayuda a pagar hasta 6 cuotas mensuales en total de hipoteca que vencieron desde el 1 marzo de 2020 hasta ahora. El programa cubre pagos vencidos, recargos por mora y 1 pago mensual futuro.  

Los pagos se realizan directamente al administrador del préstamo hipotecario del propietario.  

Este programa es gestionado por el Departamento de Vivienda y Planificación y la Austin Housing Finance Corporation.  

¿Quiénes son elegibles?

Los propietarios de Austin que cumplen con cada uno de los siguientes requisitos pueden ser elegibles para aprovechar el programa de asistencia para la hipoteca de Austin: 

Tienen pérdida de ingresos debido al COVID-19. 

Viven dentro de una jurisdicción con competencia de Austin. (Si no está seguro, ingrese su dirección en el mapa de búsqueda de los límites jurisdiccionales de la Ciudad de Austin). La dirección en la solicitud debe ser la residencia principal del solicitante. 

Deben aparecer en el pagaré de un administrador de préstamos hipotecarios.  

Han omitido al menos 1 pago de la hipoteca desde marzo de 2020. 

Tienen una hipoteca con un pago igual o inferior al máximo aceptable.  El siguiente cuadro muestra los límites por número de dormitorios en la casa.   

Ejemplo de una familia elegible que debería solicitar la ATXMA  

Una familia con cuatro integrantes vive en el barrio Dove Springs de Austin. En 2019, la familia tuvo ingresos combinados del grupo familiar por $77,500. Debido a la pandemia, uno de los asalariados del grupo familiar sufrió recorte de horas o salario, entonces recibieron menos ingresos y no pudieron realizar el pago de $1,600 a su prestamista hipotecario.  Omitieron los pagos de su hipoteca en los últimos 2 meses. Esta familia puede ser considerada elegible para aprovechar la asistencia para la hipoteca de Austin y debería solicitarla. 

 

Tipos de hipotecas no eligibles

Los beneficiarios de otros programas locales, estatales o federales de asistencia para la hipoteca no pueden duplicar beneficios para los meses para los que soliciten asistencia. 

Préstamo sobre el valor de la vivienda   

Hipoteca inversa   

Préstamos para llegar a fin de mes 

Préstamos a corto plazo de menos de un año 

Los préstamos de entidades financieras o mediante una organización que esté inhabilitada, suspendida, propuesta para inhabilitación o sea de otro modo no elegible para participación en programas de asistencia federal. 

¿Cómo es el proceso? 

 

 

 
1. Forma de preselección

Los propietarios completan y envían una forma de preselección por internet. Se requiere una dirección de correo electrónico. 

  

2. Si el/la solicitante cumple con los criterios de preselección, entonces el personal le enviará una solicitud completa por correo electrónico.

   

3. Revisión de documentación o elegibilidad

Propietario: Envía documentos solicitados.  

Administrador del préstamo o prestamista hipotecario: Envía documentos solicitados. 

El personal del programa revisa los documentos y solicita documentos adicionales, si fuesen necesarios. 


4.  Determinación de elegibilidad

El personal del programa verifica la información y determina la elegibilidad del solicitante.    

 
5.Pago

Los pagos se realizan directamente al administrador del préstamo o prestamista hipotecario. 

Información para llenar la Forma de preselección 

 Nombre completo del solicitante, dirección de correo electrónico y número de teléfono 

Dirección de la residencia principal del grupo familiar  

Los ingresos mensuales brutos y actuales de cada integrante del grupo familiar (antes de sacar los impuestos o descuentos) y los tipos de ingresos 

Nombre del prestamista hipotecario o administrador del préstamo  

Se debe divulgar información sobre el primer y segundo gravamen. 

Para la solicitud completa, los solicitantes deberán entregar copias de la siguiente documentación. 

Identificación con foto expedida por el gobierno (licencia de conducir, ID. militar, ID. estatal, etc.) 

Carnet del Seguro Social   

Resumen de la hipoteca vigente que muestre morosidad con el nombre del solicitante/cosolicitante  

Comprobantes de los ingresos del grupo familiar 

¿Qué documentos de ingresos se pueden usar para comprobar los ingresos brutos mensuales actuales? 

Las familias que actualmente reciben beneficios del Programa de Asistencia Nutricional Suplementaria (SNAP), Programa integral de asistencia energética (CEAP), Medicaid, Programa de asistencia energética para personas con bajos ingresos (LIHEAP) o Programa de asistencia para clientes de Austin Energy (CAP) pueden entregar la carta de beneficios vigente en lugar de la documentación indicada antes. 

De otro modo, la verificación puede incluir:  

2 talones de cobro consecutivos más recientes 

Otro comprobante de ingresos obtenidos 

Carta de beneficios del Seguro Social o SSI de 2021 

Comprobante de manutención de menores      

Carta de asistencia de TANF (Asistencia temporal para familias necesitadas) 

Carta de beneficios por desempleo 

Carta de beneficios para veteranos      

Documentación o libros de contabilidad de empleados autónomos 

Constancia de rentas anuales      

Constancia de fondos jubilatorios 

Carta de beneficios de pensión       

Verificación de pago por indemnización laboral o cesantía        

Verificación de pago de las Fuerzas Armadas            

Verificación de asistencia financiera para estudiantes            

Verificación de aportes o donaciones habituales       

Verificación de pensión alimenticia            

Otros documentos para verificar sus ingresos       

Hable con su administrador del préstamo hipotecario 

Si cree que podría tener dificultades para pagar una hipoteca, primero debería comunicarse con su administrador de la hipoteca (la empresa que recibe los pagos mensuales de la hipoteca). Quizá puedan arreglar opciones de asistencia provisoria para la hipoteca, incluso un plan de aplazamiento para la hipoteca. 

Financiación del programa 

El programa de Asistencia para Hipotecas de Austin, Texas se lanzó el 2 de agosto de 2021, con $500,000 de los fondos de CDBG CARES disponiblesa través de un proceso competitivo de solicitud del Departamento de Vivienda y Asuntos Comunitarios de Texas (TDHCA). 
Si es un propietario/a de Austin con bajos ingresos y necesita ayuda para la hipoteca debido al coronavirus, llene esta forma de preselección.
Completar el formulario de preselección no garantiza la asistencia, la documentación debe ser verificada.

La Ciudad recibe y acepta llamadas del Video Relay Service (VRS) de personas sordas o hipoacúsicas.
El personal del centro de llamadas habla con fluidez y la información del programa está disponible en español.