The CarverMuseumATX facility expansion planning process continued the previous planning efforts of the George Washington Carver Museum, Cultural, and Genealogy Center with an eye towards future development aligning with the community's values, needs, and priorities. On June 10, 2021, the Facility Expansion Plan was unanimously approved by City Council.
View the Final Expansion Plan (PDF)
View the Facility Expansion Plan Appendices (PDF)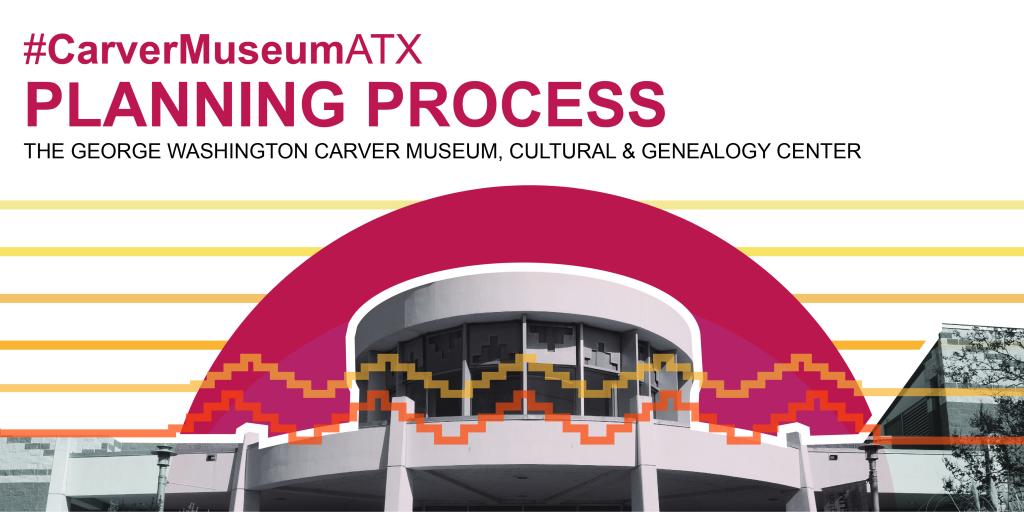 Thank you for joining us on the journey
This project relied on community voices to create a plan that reflects hopes and desires of the community. Opportunities for community input and involvement included stakeholder meetings, virtual community open houses, small group conversations, surveys, online engagement, and more.
History
The roots of the George Washington Carver Museum, Cultural and Genealogy Center were established in Austin, Texas during the early 20th Century. Austin's first public library was moved in 1933 to an area of Austin east of IH-35, populated by economically disadvantaged and minority citizens. This building would become the City's first "colored" library serving as a central gathering place for the African American community. A larger library was constructed to better serve the densely populated area in 1980. The public advocated and supported the measure to reopen the historic library building as the George Washington Carver Museum in 1980.
The Carver Museum began receiving family collections in 1979. The year 1998, brought huge change with the passing of a bond to build a "state of the art" complex that includes galleries for exhibitions, a collections facility, classroom space and a theater adjacent to the historic Carver library. This new complex opened its doors in 2005 and has since seen the successful completion of several core exhibits, as well as hosted many performances, workshops, and family programs. Today, the Museum's Collection has over 8,000 items of artistic and historical significance.
More information on the history of Carver Museum can be viewed here. 
Project Background
The context to this project dates back to 1998, when bond funding was approved for the Carver Museum and Library expansion. In 2000, a Feasibility Study for the Expansion of the George Washington Carver Museum & Cultural Center was conducted, and a three-phase building program was developed. Of the three proposed phases, phase one has been implemented while phases two and three have not been addressed. Phase one was completed in 2005 and included the development of a lobby with reception, lecture hall/theater, classrooms, dance studio, dark room, conference room, commercial kitchen, storage, outdoor plazas and expanded parking.
Project Description and Objectives
The City reviewed the improvements proposed previously for phases two and three and sought additional updates to develop the new plan in line with current requirements. The objective of this project was to develop a facility expansion plan update, taking into consideration the site's current usage and changes to the surrounding area. Extensive community engagement informed the planning, design and development of the facility to reflect community sentiment.  
The facility expansion plan included the following:
Analysis of existing site conditions
Analysis of existing building conditions
Assessment of programming needs and/or support facilities
Analysis of existing transportation system and parking outcomes
Other pertinent considerations based on community feedback
Design concepts, recommendations, and strategies based on solicited feedback
Schedule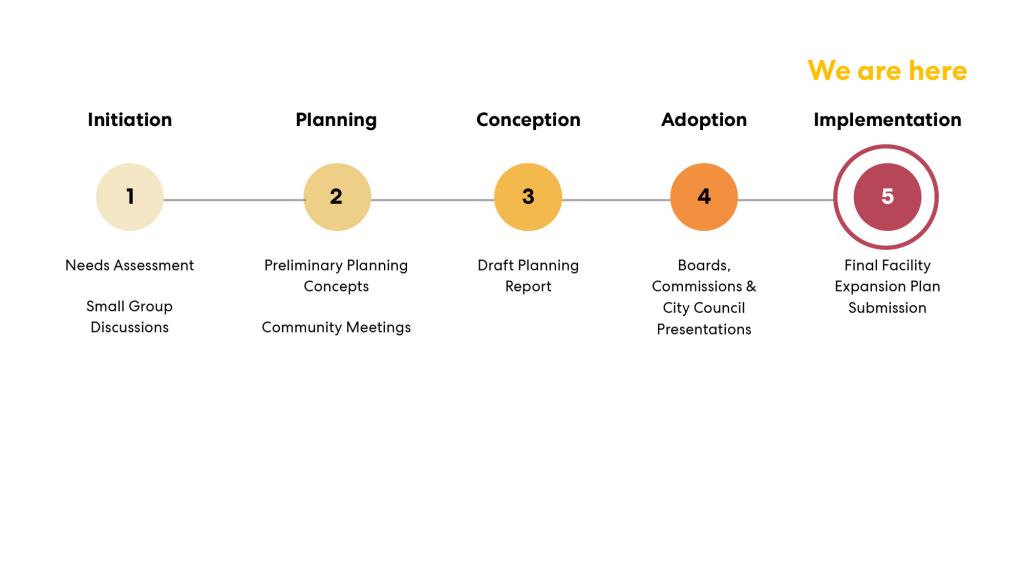 Anticipated to begin in spring 2020, the COVID-19 situation altered the original schedule. In accordance with the City of Austin's public health and safety measures, all community engagement shifted to virtual, and the schedule was updated accordingly.
Phase 1. Initiation – Needs Assessment and Small Group Discussions
March 24, 2020: Kick Off Meeting: PARD and Design Team
April 14, 2020: Building Walk-through, Design Team
April 15, 2020: Site Walk-through, Design Team and Consultants
April 21, 2020: Building Assessment Meeting with City staff
May to July, 2020: Small Group Meetings
May to July, 2020: Online Feedback - Closed August 1, 2020
Phase 2. Planning – Preliminary Concepts, Community Meetings
Community Meeting 1 - August 8, 2020, 1 p.m.
Community Meeting 2 - October 3, 2020, 1 p.m.
Community Meeting 3 - November 21, 2020, 1 p.m.
Phase 3. Conception – Draft Facility Expansion Plan
Phase 4. Plan Adoption - Presenting draft plan to Boards, Commissions, City Council
View the Proposed Expansion Plan presentation (PDF)
View the Draft Facility Expansion Plan (PDF)
Phase 5. Implementation – Submission of Final Facility Expansion Plan
Funding and Resources
In 2018, City of Austin voters passed Proposition B, a bond including Cultural Center Improvements which allowed for capital reinvestment in the Carver Museum. Council funded a line-item for a new Carver Plan in the FY2019 Operating Budget.
Contact
For more information, please contact Planning Project Manager, Greg Montes by email or calling 512-974-9458.