Woods of Westlake Parking
This area is home to a hybrid parking program featuring paid on-street parking (blue) and a Digital Resident Parking Zone (yellow). The program is the result of a parking pilot in 2021 to enhance mobility safety and accessibility for Woods of Westlake residents and visitors to the Hill of Life Greenbelt trailhead.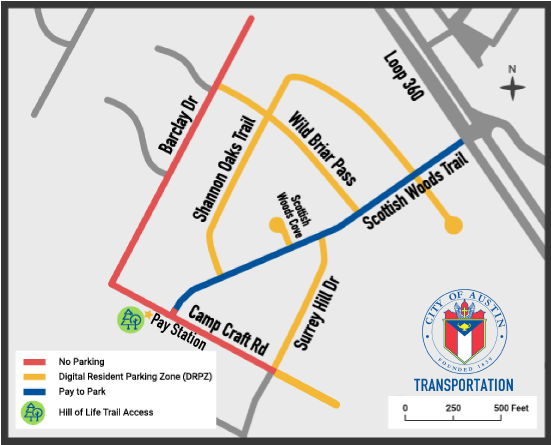 *On the map, Digital Resident Parking Zones (DPRZ) are resident-only parking areas.
Current parking regulations feature:
Pay-to-park on-street parking Monday through Sunday 8 a.m. to 8 p.m.
Primarily digital environment for parking payments—there is one physical pay station at the trailhead
Digital Resident Parking Zones, active Monday through Sunday 8 a.m. to 8 p.m.
Download the Park ATX mobile app to manage your parking sessions.
Trail Visitor Access
For visitors accessing the trailhead, Scottish Woods Trail has pay-to-park spaces available.
Resident and Guest Parking in Digital Resident Parking Zones (DRPZ)
Residents and their guests on Scottish Woods Trail, Scottish Woods Cove, Shannon Oaks Trail, Wild Briar Pass and Surrey Hill Drive may park on the street with proper permits.
No-Parking Areas
Parking is prohibited:
On Barclay Drive
On Camp Craft Road west of Surrey Hill Drive
Near most intersections in the neighborhood for improved sight distance
At fire hydrants
Community Feedback
Austin Transportation engaged with Woods of Westlake residents and trailhead visitors for the duration of the pilot.
If you have any questions, you may contact Parking@AustinTexas.gov.
Frequently Asked Questions
I am a resident parking on the street. When do I have to display my permits?

Residents must display permits in their vehicles during restricted parking hours in the area, which is 8 a.m. – 8 p.m. daily.

I am a resident, and I missed the distribution of permits and validation codes. Where can I obtain my permits?

You can contact the Parking Enterprise Division at Parking@AustinTexas.gov to coordinate the distribution of your permits.

I have lost my permits. How can I obtain a new one?

You can purchase residential permits from our Mobility Services Permitting Office. You may also use one of the Park ATX validation codes to park on the street.

I am a resident and have downloaded the Park ATX app, and I am having trouble using the validation code. 

Please visit the Park ATX website for support on using a validation code.

I have received a citation. What are the next steps?

All parking disputes are handled by the City of Austin Municipal Court at 6800 Burleson Rd. You can visit their website at Municipal Court. 

I am a resident, and I am using an RPP hang tag. What does that mean?

Learn more about the Residential Permit Parking Program.

What is a digital environment?

The digital environment allows people to pay for parking through a mobile app instead of at physical pay stations. This reduces paper waste and enhances the convenience of the parking experience.

I am a resident, and I am having guests over. Where can they park?

Whenever possible, Austin Transportation recommends that guests park on available private driveway space of the household they are visiting. For street parking, residents may have guests use their household hang tags, Park ATX validation code or a day pass that can be purchased from our Mobility Services Permitting Office.