Clean Creek Campus combines water quality education with community service
For 10 years, Clean Creek Campus has provided an opportunity for schools to combine environmental learning with a community service project. The program is a partnership between Keep Austin Beautiful and the City of Austin's Watershed Protection Department. The two-fold program begins in the classroom when staff teach the students about watershed issues. Then the students undertake a service project together, which can be anything from a park cleanup to installing a campus garden or planting native plants along a creek.
On Friday, April 24, fifth graders from Hill Elementary marked the 10th anniversary by completing their service project. They chose to pick up litter and spread seedballs in Northwest Park. Afterwards, Mayor Pro Tem Kathie Tovo presented the students with a "Clean Creek Campus" banner for their school and thanked them for their stewardship and service to the community.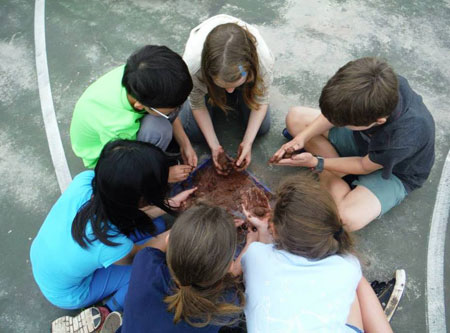 "If you are like me, outdoor experiences like this create the most vivid memories of school and where the life learning happens – team work, problem solving, science understanding, community connections, respect for nature, and personal ownership and pride, all qualities of environmental leaders, and yes, of community leaders too," said Rodney Ahart, Keep Austin Beautiful Executive Director.
"This partnership with Keep Austin Beautiful has been a very important one for us. It has allowed us to take education beyond the classroom," said Victoria Li, Director of Watershed Protection. "The program provides students from all different backgrounds an opportunity to work outside and explore our creeks and other natural resources. We hope it provides the students with the knowledge and skills to make informed decisions about protecting our water quality now and in the future."
Since 2005, Clean Creek Campus has visited 204 schools, 16,000 students and completed 260 projects. The most popular project is a cleanup, followed by installing a garden. Other choices have included composting, recycling, revegetating creek banks, or hosting an environmental fair.
Clean Creek Campus is part of Watershed Protection's youth education initiative to encourage informed decision-making about choices that impact Austin's water quality. Watershed Protection's educational programs are tied closely to school curricula to provide enriching classroom opportunities and field trips for elementary, middle and high school students.
More information about Watershed Protection's youth education program is available at www.austintexas.gov/Watershed/YouthEd.