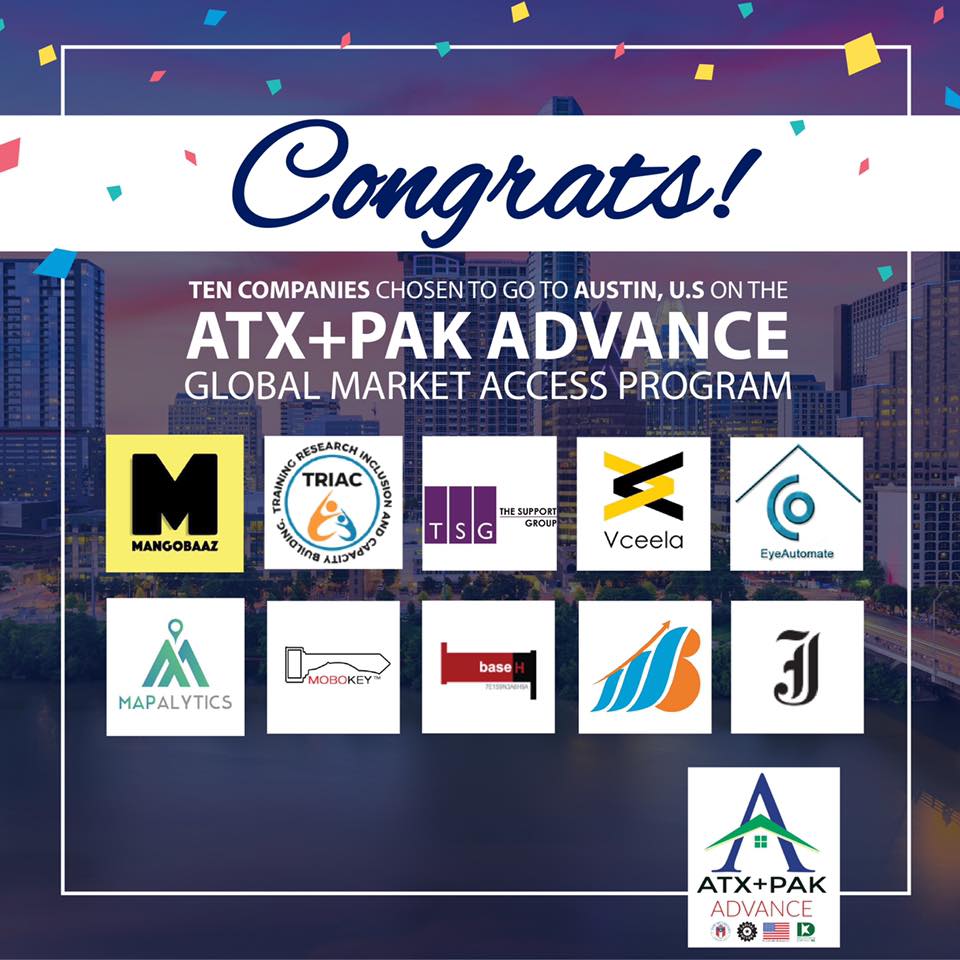 Ten startup companies to launch accelerated global expansion plans via Austin
The City of Austin Texas, Innovation District 92, and Capital Factory have selected the ten growth stage companies from across Pakistan that will advance to the final stage of the highly competitive Global Market Access Program (GMAP)
The finalists are:
baseH technologies
EyeAutomate
Journal Post
MangoBaaz
Mapalytics
MoboKey - Car Chabi
SOFTBEATS
The Support Group
TRIAC
Vceela
These brilliant startups will be traveling to Austin for a 4 week US Market Immersion visit to Austin. The goal is to have initiated or completed US expansion plans for these companies by the program close in fall of 2020. These top ten startups were chosen on a variety of criteria, most important being how they fit into the US market when looked at in the long term.
The Global Market Access Program (GMAP) Bootcamp was a three day selection Bootcamp hosted at Innovation District 92, City of Austin's official ATX+PAK programming partner in Pakistan.
GMAP is a two year intensive business development program under the ATX+PAK Advance focusing on accelerating the international expansion of Pakistani businesses. GMAP is a partnership between the City of Austin, Texas, Capital Factory and Innovation District 92. The program is funded by a grant from the US Embassy Islamabad.
Fred Schmidt, Director International Affairs and a mentor from Capital Factory shared his experience with Pakistani startups, "We've had an exceptional weekend with mentoring startups of excellent quality and we've chosen the ten that are the most suitable and have the best product-market fit when compared to the market in the US.
The 25 startups shortlisted as semifinalists took part in the activities of the weekend from perfecting the art of pitching to figuring out where they should penetrate into the US market.
A snapshot of the three-day workshops:
The first day focused on design thinking methodologies, understanding your market and delivering an effective elevator pitch. The sessions were followed by 2 minute pitching by all semifinalists.
The second day went into detailed business plans of each startup from identifying buyer personas to customer acquisition costs to focusing on the right messaging for each customer. Each startup also pitched their business plan for expansion into the US.
The last day covered topics including crowdfunding, developing investor relationships and the realities of fundraising in the U.S.
"At Innovation District 92, we aim to facilitate startups to accelerate their growth and what better way than through ATX+PAK Advance which exposes them to top class mentors, potential international partners and investors and an opportunity to expand into a developed ecosystem of US," said Maria Naseer, Program Manager Innovation District 92
To learn more about the ATX+PAK Entrepreneurship Program visit austintexas.gov/atx-pak