The Watershed Protection Department will be repairing erosion along the Shoal Creek Trail near 12th Street. The erosion is rapidly worsening and is undermining the trail where it runs alongside Shoal Creek Blvd., between 12th Street and Lamar.
The trail will be open on most Fridays, Saturdays and Sundays. Users will be detoured Mondays through Thursdays to the sidewalk by House Park Stadium. There are crosswalks at both sides of the detour.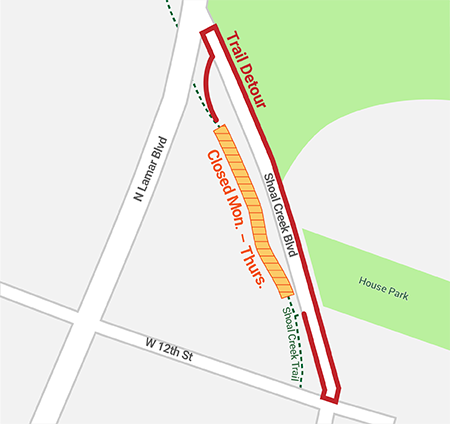 The first step will be the removal of a stand of invasive Arundo Donax or Giant Reed. Arundo Donax spreads quickly, creating dense stands that choke stream channels and replace native plants. Afterwards, Watershed Protection crews will build a grassy shoulder beside the trail and stabilize about 100 feet of streambank with a limestone block wall.
The work is in the creekbed, which makes the schedule highly dependent upon the weather. The work will likely take a few months to complete. Afterwards, crews will move to another location with severe erosion on the Shoal Creek Trail near 6th Street.
There is more information online at austintexas.gov/ShoalErosion.