Thank you for the opportunity to be your Director of Economic Development the past eight years.  On a personal note, it has been a privilege and honor to serve through the Recession and into this next phase of Austin's evolution. I could not have asked for a more talented team of economic development professionals, businesses, universities and public stakeholders from all walks of life and skillsets to help address the complex yet complimentary nature of our work - where sustainability, social equity, economic opportunity, diversity and creativity are celebrated and necessary conditions for a thriving livable city with equal opportunities for every person. Economic development continues to serve as an important framework for collaboration in Austin through strategic partnerships created to help balance the cost between doing business and living in the city.
I have enjoyed the intense, productive citizen involvement that is so influential to Austin becoming one of the worlds' top knowledge economies.  As my tenure comes to an end I wanted to reflect on both the glitter of our city's global successes and also recognize the shadow of poverty that it obscures. 
When I first started in January 2010 it was cold and rainy.  While Austin was described as being recession-proof, it did experience a dip in the economy with poverty and official unemployment high.  The last company recruited was in 2007.  Unemployment was more than double that of today, and in minority Hispanic and black neighborhoods upwards to 17%.  To stay ahead of the recession, a slowing development pace for the Seaholm waterfront and Mueller redevelopments was pursued, fortunately with no upfront development costs or risk for the city.  There was little focus on international efforts.  Music, Arts and Small Business it later turned out were quietly carrying much of our Economy during the Recession.  The overall percent of unemployed Austinites was 8.7%. For minorities unemployment was 15-20%.
Although greatly improved today, eight years later, there are 130,000 persons living in poverty, 40,000 of them children.  The economic strategies we have deployed are designed to meet the job demands of today and provide a pipeline for our youth in years to come.  The Einstein Challenge was approved as an interlocal with the UT LBJ School and Ray Marshall Center.
We have won a lot of awards on behalf of Austin citizens and local elected officials.  The Economic Development Department  has been effective and professional, winning (6) six prestigious International Economic Development Council Gold Medal Awards (IEDC) in competition  among cities worldwide with population over 500,000, including Best Public Private Partnership, Best Economic Strategy to address Globalization, and Best Small Business initiative with AIBA Biz Districts and an actual Emmy.  The Small Business Division, our largest, captured the Harvard Ash Government Award, the Mueller team won the 2015 American Planning Association (APA) Secretary's Economic Award, the nation's top award.  In 2017 alone, the Department received 6 new national awards for citizen engagement, plus another Emmy for public outreach.
Austin's performance-based agreements generated a 239% cash positive Return on Investment to the city in the recruitments from 2010 – 2015 highlighted by Apple, Facebook, E bay, Samsung, Visa, athenahealth, HID Global and Merck.  Each one anchors an industry cluster to diversify the local economy to protect against an unexpected down turn in the Economy. Good Jobs First, the anti-economic incentive Watch Dog rated transparency on our performance based agreements as #1 in America in 2013. 
Here is a snapshot of our accomplishments over the years:
We brought talent, innovation and resources to grow our 43,000 small businesses as the backbone of our Austin Economy by providing business courses on 20+ topics taught online and in person;  Thru a partnership with The University of Texas IC² , a 10-week business accelerator was developed to focus on minority- and female-owned traditional businesses;  Plus our Family Business Loan Program with micro and veteran loan initiatives are widely recognized by HUD as the best low interest small business program in America. For each $35K borrowed at 2% the businesses must hire one person, and 51% of new hires must be low income residents in the adjoining neighborhoods.  The City also entered into an agreement with Austin Community College to establish a Fashion Incubator at ACC Highland Mall.  The incubator will house $13 million in state of the art equipment donated by a leading technology corporation.
We partnered with business districts to set up 4 merchant associations with Souly Austin
Using our cultural diaspora as an economic strength, expanded local and global partnerships with the Asian, Black, Hispanic and Gay and Lesbian Chambers of Commerce. We have a well-established Science City Network with Chambers of Commerce through partnerships with the International Association of Science Parks with 125,000 innovation companies in 60 nations worldwide. 
Our Global Business Division hosted the 1st Alibaba pitch session to 35,000 Chinese buyers last year which resulted in five local companies receiving business offers.  The 2nd pitch session occurs during SXSW in 2018. 
Our Music & Entertainment Division launched ATX Music Talks in partnership with City of Austin television channel ATXN, this program features Facebook Live panel discussions on topics surrounding the Austin music industry and has had 5,500 viewers through its 5 livestream conversations in 2017.
The Cultural Arts Division received awards for temporary and permanent artwork commissioned through the Art in Public Places program (dating back to 1985); distributes close to $12M annually to over 600 cultural contractors producing and sharing artistic work with the community; and has completed several notable efforts to help sustain the creative community including, a Cultural Asset Mapping Project; and Arts in Sacred Places which uses local faith-based facilities to provide space for artists and musicians.
Poverty continues to be our largest cost however, perhaps equal to our rapidly growing infrastructure needs. According to Brookings, Austin poverty and economic segregation are growing at a rapid pace. But with 40,000 unfilled middle and high skilled jobs advertised and 40,000 children in poverty in Austin our regional workforce plan presents an opportunity to bridge that gap.
In this season of giving and thanks, I encourage citizens and businesses to redouble support to local charities.
Thank you for your determination and for our shared, and countless successes.  I know that you will continue to do what you do best - which is pushing the envelope to make this great city even better!  Following my retirement, I will be focusing on national economic policies that benefit the disadvantaged of our nation. 
My best wishes to you all in the New Year.
Warm regards
Kevin Johns, AICP – Director, City of Austin Economic Development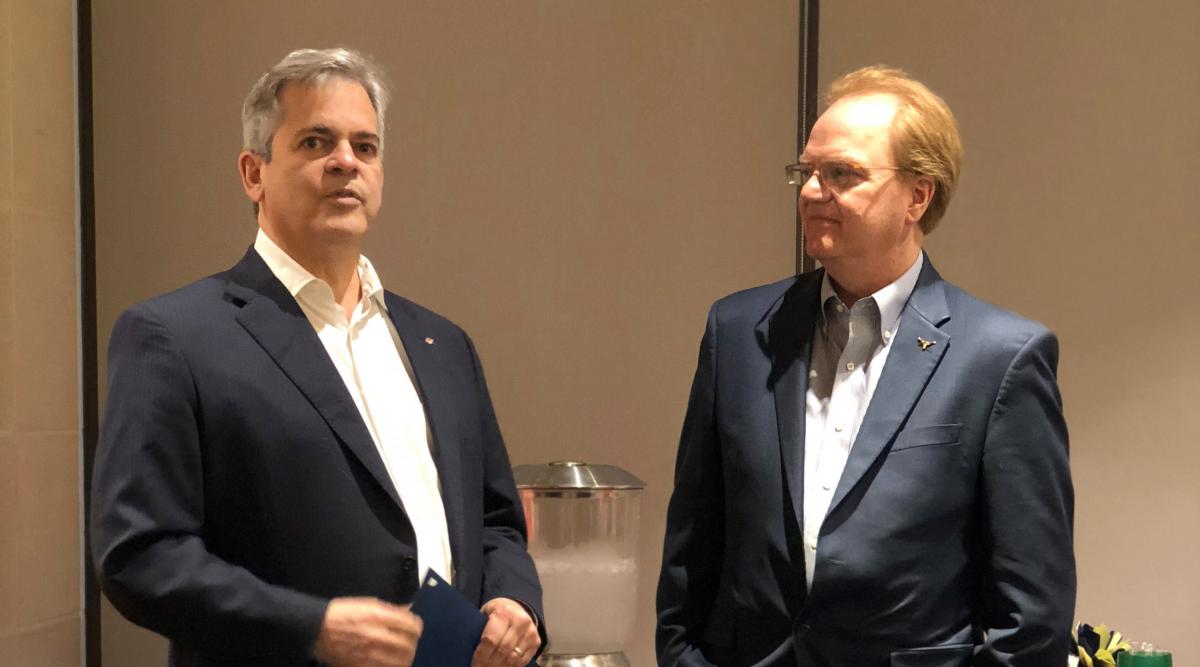 Mayor Adler presents Kevin Johns with a Distinguished Service Award