After-school program at local park offers youth development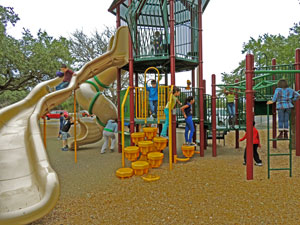 They go for the games, the sports, and the friendships. They go for birthday parties and to work on their homework. For some South Austin kids, Dittmar Park and Recreation Center is a way of life. 
The park, located at 1009 W. Dittmar Road, boasts a colorful playground with plenty of places to climb, swing and explore.
As the farthest-south recreation center, Dittmar sees many of the same kids participate in its youth offerings, including classes, summer camp and sports.
"The soccer program alone attracts over 300 kids every spring," said Clay Shelton, Recreation Program Supervisor for the Parks and Recreation Department.
Adults who live nearby utilize the recreation center as well. Its walking paths, shaded picnic areas, and open field attract grownups and kids alike. Its gym is one of the nicest recreation center gyms in Austin, Shelton said. When it's not occupied by a youth sporting event, open gym hours permit the a-rhythmic echo of basketballs and volleyballs on the shiny wooden floors. For $15 a month, adults can also use a  weight room complete with rows of free weights, weighlifting machines, treadmills and ellipticals.
But the park and recreation center's most prominent patrons are under four feet. "The playground is always packed on the weekends, and the park is a popular spot for birthday bashes and family gatherings", Shelton said.
And Fall at Dittmar means a chance for kids to reunite with friends in the recreation center's After-School Program, a school-year long service for kids ages 5 to 12.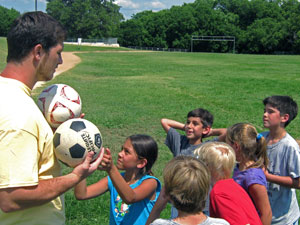 "A lot of kids come here after school until they age out," Shelton said.
Designed to foster youth development through active play and enrichment activities, the After School Program offers a variety of supervised activities including arts and crafts, science projects, nutrition lessons, sports, educational games, field trips and other enrichment activities. A specific time is allotted for homework and snacks.
"I think the kids have fun with their friends and they get to meet kids from other schools because we pick them up from four different schools," Shelton said. "And I think the parents probably appreciate the homework time."
At Dittmar, about 30 to 35 kids participate in the After School Program each month, and most come throughout the year.
"We really focus on youth development and doing what we can to help each child reach their full potential," Shelton said.
For more information about the City's After School Programs, view the Parks and Recreation Department's After School Programs Page.
(function($) { $(document).ready(function () { $('#coa_gallery').galleryView({ enable_overlays: true, show_captions: true, frame_scale: 'fit', panel_scale: 'fit', transition_interval: 4000, autoplay: true, show_filmstrip: true, panel_width: 700, panel_height: 400 }); }); })(jQuery);