Airport Outdoor Patio, Barton Springs Express and The Scoreboard Now Open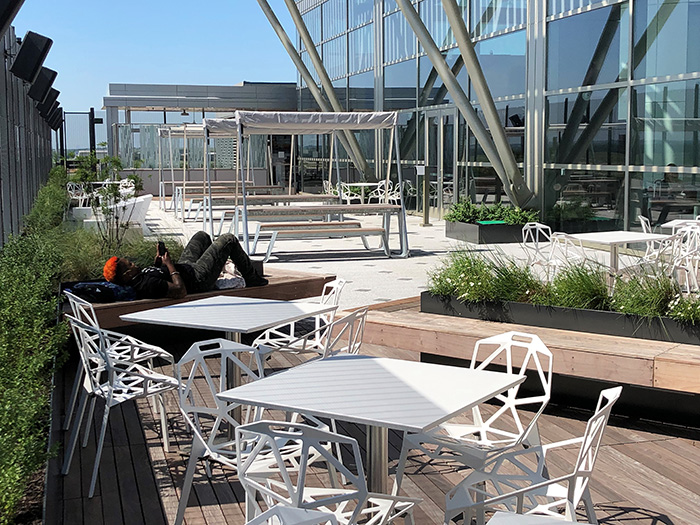 After passing through security at the Austin airport, passengers now have access to the hip and peaceful outdoor terrace patio, with canopied covered seating to watch planes fly in and out. Barton Springs Express travel shop opens in ticketing and The Scoreboard opens to bring more collegiate spirited apparel to the airport.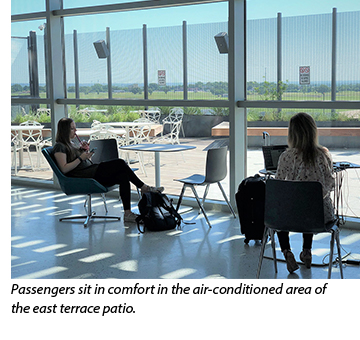 Outdoor Terrace Patio Now Open at Austin Airport
The 5,770 square foot east terrace patio at the Austin airport is now open to all ticketed passengers traveling through AUS. Two steel helically oriented staircases and a central elevator provide access to the second-floor terrace located on the mezzanine level between Gates 1-2. The hip terrace patio, open 24 hours beyond the security checkpoints, is a nonsmoking area just like the Barbara Jordan Terminal and is adjacent to the new Delta Sky Lounge.
The patio is considered a prime location for passengers to "tail-watch" different airline logos and planes. It has a view of the 9,000-foot east runway and provides observation of ramp and apron-level airport operations.
The décor of the patio is modern-outdoor round tables, patio-furniture type seating and awnings that cover the family-style bench picnic tables. Landscaping includes water-friendly native drought-tolerant plants.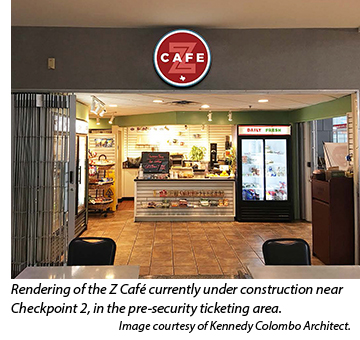 Overhead, the patio is partially covered with sunshade blade panels to mimic the wings of an airplane. The patio flooring is covered with 428 wood pavers and 276 concrete pavers. Each concrete paver weighs 150 to 206 pounds and is 30 inches wide x 30 inches long and 2.25 inches thick.
Z Café Under Construction in Ticketing Near Checkpoint 2
The former SoCo Market located in ticketing before the security line of Checkpoint 2, is currently under renovations and construction to transform into the new Z Café.
Z Café will offer hot and cold coffees and teas, pastries, hot and cold sandwiches, wraps, Asian foods and treats in the ticketing area before security. Addition to the menu, Z Café will offer salads, healthy energy bars, and chips.
Iris Ren, the former operator of Wok & Roll, is the operator of Z Café in partnership with concessionaire Delaware North.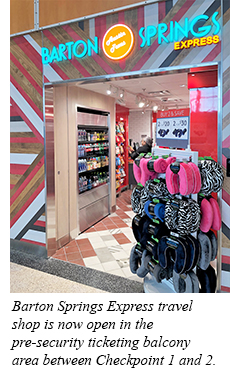 Construction is estimated to be completed on the 491 square foot Z Café this summer and is scheduled to operate daily from 4:30 a.m. to 8:30 p.m.
Barton Springs Express: Travel Items Before Security 
Paradies Lagardère has opened the Barton Springs Express travel shop. This shop has 174 square feet of space and is a one-stop shop before travelers head towards ticketing and Checkpoint 2. It is located on the ticketing balcony between the American Airlines ticket counter and Fara Café & Sky Bar.
Barton Springs Express has an open front entry with an appearance that is modern and simplistic with the use of neutral contrasting colors and tiles. This store offers a variety of last minute necessities when traveling to and from the airport. Items such as a neck pillow, snacks, magazines, motion sickness bracelets, and earplugs are available to those who plan to travel through the airport. Luggage and locks are also available.
The Scoreboard Offers Longhorns, Aggies and Professional Sports Team Items
The Scoreboard, a sports apparel shop, has opened inside the Austin airport across from Barton Springs East store beyond Checkpoint 1. The Scoreboard covers 320 square feet of space near Gate 15. The sports shop design includes tiles with motivational sports phrases throughout the store. The walls are painted burnt orange and black and have modern fixtures on display.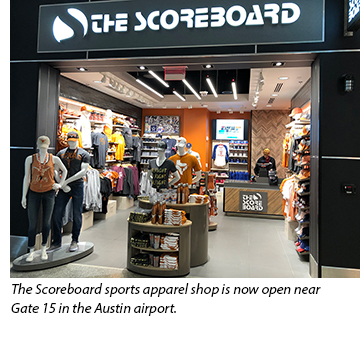 Sports photography and team logos decorate the inside alongside purchasable fan gear. They offer a wide variety of the University of Texas Longhorns fan gear, as well as Texas A&M University Aggies, Dallas Cowboys and Texas Rangers items. Hats, key chains, T-shirts, sweaters and stuffed animals are just a few of the many collectibles  offered throughout the store. Paradies Lagardère is the operator of The Scoreboard retail store.
Christina Mendoza contributed to the Barton Springs Express and The Scoreboard story.