Asian American Resource Center Celebrates its 5th Birthday!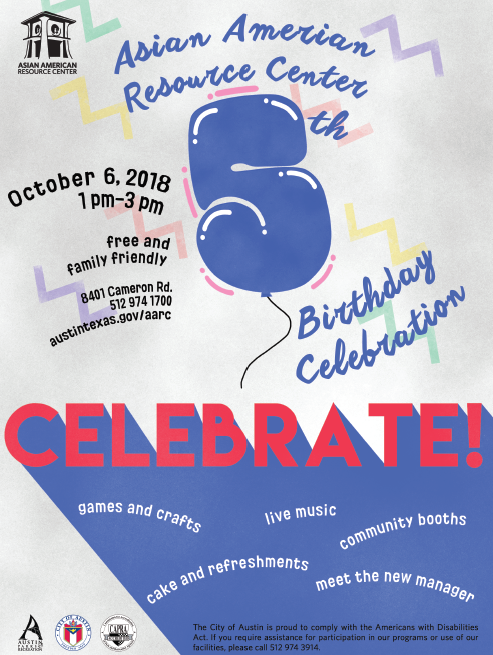 Saturday, October 6 from 1:00 pm to 3:00 pm
The Asian American Resource Center (AARC) is holding its 5th Birthday Celebration on Saturday, October 6 from 1:00 pm to 3:00 pm. The AARC is located at 8401 Cameron Road, Austin, Texas 78754. Admission is free and open to the public.
Attendees will enjoy light refreshments and family friendly activities and entertainment including button and pom-pom flower making, washi paper wish crafting, mandala making and a live performance from Sho Ukelele. In addition, visitors will learn more about the future of the AARC as well as share their input. Sona Shah, the AARC's new Facility Manager, will also provide a brief presentation about her vision for the facility.
Since opening its doors in 2013, the AARC has brought in more than 200,000 visitors, collaborated with over 100 artists and local organizations, and served over 20,000 senior meals. The Asian American Pacific Islander (AAPI) community continues to be the fastest growing demographic in Austin, making up a total of 8% of the population.
Community partners for this event include the Asian American Resource Center Nonprofit, Greater Austin Asian Chamber of Commerce, the Asian American Quality of Life Commission, and the Network of Asian American Organizations.
Please visit the AARC website at austintexas.gov/aarc or on Facebook at facebook.com/events/2209554382654737/ for additional updates about the event.