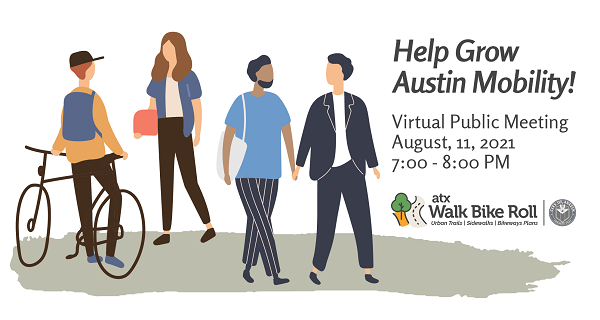 Moving outside improves our health, can reduce stress, and connects us with our environment. More people will spend time walking, biking, or rolling when they have safe, well-connected, and accessible routes in their community.
Austin Public Works and Austin Transportation invite you to give feedback on plans to expand mobility options that can help get more people outside and moving! ATX Walk Bike Roll is a project to update the Urban Trails, Bikeway, and Sidewalk Plans.
The first virtual public meeting for this project will be held on Aug. 11, 2021 in English and Spanish. Staff will explain how the City will update these plans and how residents can get involved. Community members are encouraged to ask questions, give feedback, and learn about next steps. 
Sign up to attend the first Virtual Public Meeting on August 11 at 7 p.m. 
Residents across the city will have many opportunities to get involved in ATX Walk Bike Roll. An easy first step is to take this quick poll! Three large public meetings will be held over the next two years and small meetings are scheduled to start in late Summer 2021. Learn more at: ATX Walk Bike Roll.