Circular Innovators: Loot Rentals Finds and Shares Vintages Treasures
By: Thomas Nguyen
---
Did you know?
In 2015, the EPA reported that Americans generated approximately 9.69 million tons of furniture waste. That's the weight of 65,000 blue whales every year!
---
Welcome to our new series: Circular Innovators. In this series, we'll be highlighting Austin businesses that are embracing the circular economy; reducing waste and creating value for their customers and the planet.
 
What is the Circular Economy?
Our society is ingrained in a culture of single-use and convenience. We don't really think about where the waste goes after it lands in the trash can. This train of thought follows the linear economy model, where we take, make, and then dispose of materials.
On the other side of the spectrum, the circular economy is an ambitious vision of a zero waste, regenerative future: treating materials as finite, waste as a resource and redesigning business models.
One growing Austin business, Loot Rentals, is a prime example of how to incorporate circular business practices.
 
The Start of Loot Rentals
Founded nearly eight years ago, Loot Rentals provides a renting platform for Austinites using vintage and reclaimed furniture. The idea for the business was sparked when Anna Crelia wanted a jazzy, 1920s theme for her wedding but couldn't find the necessary pieces from existing vendors in Austin. She enlisted her sister-in-law, Rhoda Brimberry, to help her source pieces at local garage sales, vintage shops and on Craigslist.
"Growing up, my friends and I would create obstacle courses with furniture that was being thrown away in our neighborhood. We had fun, but it made me realize the amount of perfectly good items being thrown away. It was a huge problem. Because no one was renting these things [furniture] out; it was just inefficient, curbside eyesores." -Rhoda Brimberry, Co-Founder.
Going through this time-consuming process opened their eyes to the fact that there was a high demand in Austin to rent beautiful, unique and mismatched vintage pieces for events. Born from their experiences, Loot Rentals began as a start-up renting out for a few events every year.
The Loot Rentals duo were able to grow their at-home garage operations into a thriving business in Austin's circular economy. With backgrounds in advertising and design, Anna and Rhoda turned the idea of "one man's trash is another man's treasure" into an innovative, design-driven rental platform.
 
Loot Rentals' Upcycling Inspiration
You may be wondering where Loot gets their incredible ideas using ordinary materials and how they find the perfect pieces. Well, the team at Loot try not to make any assumptions on what they'll find on their shopping trips for vintage items. They're not looking for specific items, but rather, they are searching for pieces with character and a story. Chicken cages, for example, were not items on the list, but with some on-the-spot creativity, Loot developed the Henny Dome Pendant on the spot when they first laid eyes on the cages. By using the geometric design of these cages to filter light—creating dim shadows, Anna and Rhoda are not just upcycling. They're creating a secondary purpose for the item to their artistic advantage.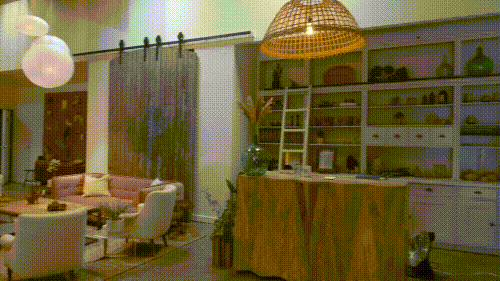 Loot Rentals is saving materials from landfills in multiple ways:
Buying vintage products.
Offering a rental option to replace buying new for one-time use.
Repairing damaged returns to restore them for the next customers' use.
Upcycling waste into innovative, elegant décor.
 
Is Operating in the Circular Economy Profitable?
Yes! With the consumer and environment in mind, Loot Rentals services up to 600 events per year. Loot not only is a profitable rental platform but also birthed their second brand called Loot Finer Goods, allowing customers to buy into the beloved styles of the rented décor for a more permanent home! The demand greatly outweighed the supply in Austin and the opportunity was there for the picking.
 
Learning from Loot: Takeaways for Small Businesses
Consider rentals:
If you offer a product for sale, consider also offering it for rent? Rental options can bring in new customers who are looking for short-term use of items instead of a longer-term investment.
Look for second hand:
Are there any products your business buys new that you could buy used instead? Second-hand materials often come at a significantly reduced cost compared to new. The Austin Materials Marketplace is one way to find reused business materials, often offered for free by businesses who no longer need them.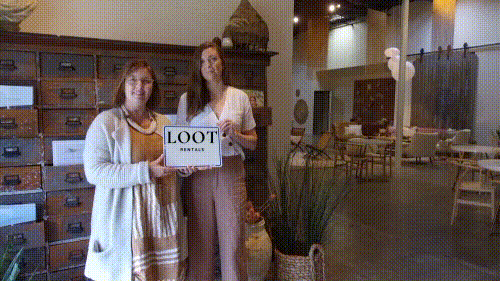 Thanks for visiting Loot Rentals where Rhoda and Anna redesign the way people see waste!
 
---
 Want to learn about more circular innovators? Check out our new Austin's Circular Economy Map or join us at Rewrite Your Story: How to Add Social Impact to Your Business Through Circularity, our free event featuring five circular small businesses for National Small Business Week.