CodeNEXT Facebook LIVE: Wednesdays in January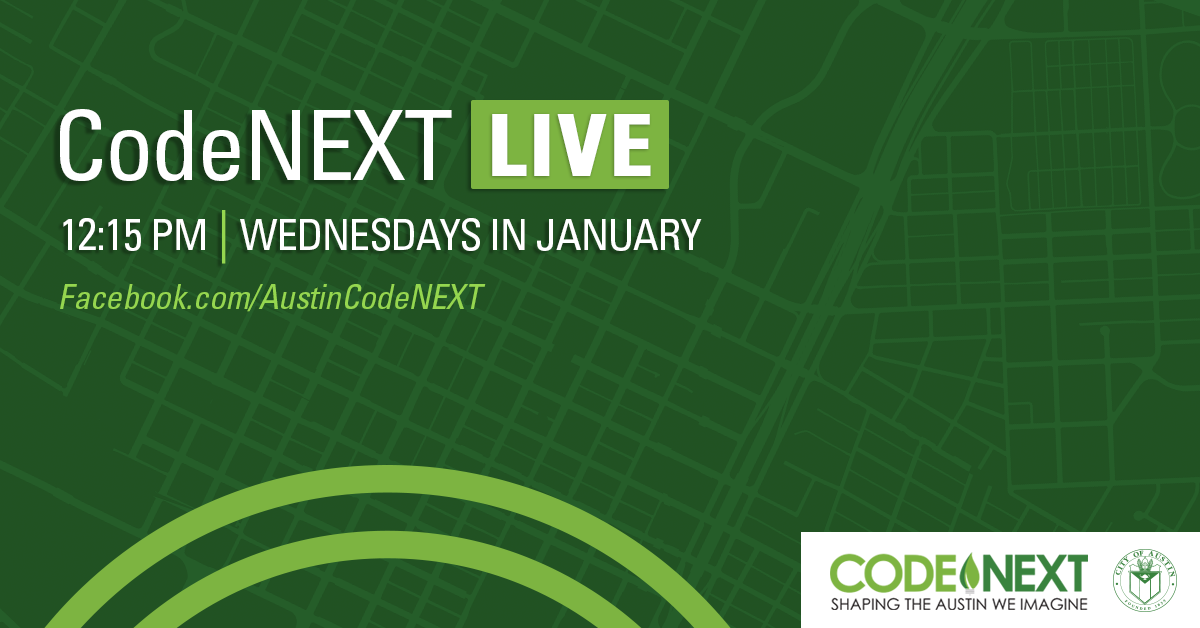 We know you have CodeNEXT questions. And while the CodeNEXT Team works furiously to get Draft 3 out by Feb. 12, we wanted to try to answer some of your outstanding questions.
At 12:15 p.m. every Wednesday in January (except Jan. 3), we'll be sitting down with a different subject-matter expert to take and answer those questions live. All you have to do is follow along on the CodeNEXT Facebook Page, and post your questions during the show.
We've logged three of our four CodeNEXT LIVE sessions so far.
The first, which went live Jan. 10, covered your questions about flooding. We interviewed Watershed Protection Department's Matt Hollon about green infrastructure, impervious cover, and how we're writing processes into CodeNEXT to help us better reduce the risk of flooding from redeveloping land. You can read more about how CodeNEXT can affect flooding and stormwater management in our blog.
The second live show, which aired Jan. 17 with Erica Leak from Neighborhood Housing and Community Development, covered affordable housing. We talked about the affordable housing bonus program and other options, outlined in our Strategic Housing Blueprint, to make housing more affordable in Austin.
The third, which went live Jan. 24, featured an interview with with Planning and Zoning's Greg Dutton about the CodeNEXT priority of community.
Our final installment, on Jan. 31, will be an interview with Transportation's Danielle Morin about CodeNEXT and mobility.
Tune into our Facebook Page during the live shows to ask your questions. Any questions we receive during the show that we aren't able to get to in the video will be answered in the comments below the video.