You are here
Jan 05, 2017 - 01:23 pm CST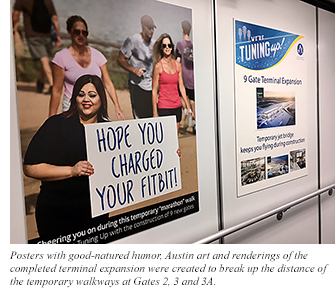 A total of 104 posters add color and good-natured humor to three of the four temporary jet bridges and elevated walkways which have been added to the Barbara Jordan Terminal while the new 9-gates are being built.
The posters were placed to make a more pleasant ambience for passengers in these long temporary walkways.
With the longest walkway of 720-feet at Gate 2, the overall goal is to make the otherwise monochromatic corridor more pleasurable with posters simulating fans that cheer and line marathon courses. Airport employees are featured on the 34 x 44 inch posters that were created in-house.
These posters plus Austin art and renderings of the completed terminal expansion were created to break up the predominantly flat-white distance from the gate seating areas to aircrafts at Gates 2, 3 and 3A.
Four elevated walkways extending beyond the Barbara Jordan Terminal provide temporary gates and jet bridges for uninterrupted airline operations, as the original gates were removed for construction. These temporary walkways move passengers away from the construction activity at the east end of the concourse. The lengths of these temporary elevated walkways including the jet bridges are:
Gate 2  – 720 feet
Gate 3  – 580 feet
Gate 3A  – 440 feet
Gate 4  – 300 feet
Forty-eight posters line the Gate 2 jet bridge which is the longest. Gate 3 and 3A jet bridges have 56 art themed posters from various works that were previously presented at the airport.
The climate controlled elevated walkways lead from the gate hold areas to the jet bridges, which are the movable connectors that extend to the airplane. Near the end of construction, portions of
the temporary elevated walkways will be reused in the expansion project. The 9-gate expansion project is expected to be completed in 2019.
Archives
2017
December
November
October
September
August
July
June
May
April
March
February
January
---