The Community Steps In to Help During Recent Seasonal Space Crisis
It happens several times every year, all of the kennels at AAC become full. This creates a temporary space crisis, because there are no empty kennels for incoming pets. These urgent situations are typically caused by weather events like storms, floods and fires or are related to season intake fluctuations. In a traditional shelter, healthy, adoptable pets would be killed to make room for incoming animals, but here in Austin, during times of space crises, we reach out to our community and ask for their help to keep pets alive.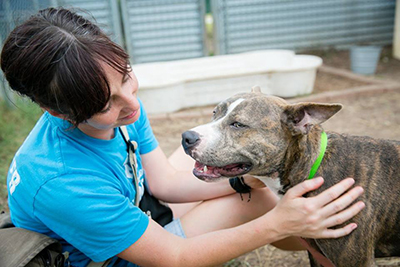 A volunteer showing love to a dog who recently came in as a stray.
This past Monday, October 3 the shelter reached capacity. Every temporary and permanent kennel was full, which left no room for incoming animals. Shelter management consulted with staff and made the decision to enter Code Red operational status, meaning owners and finders were asked to keep animals out of the shelter in every case possible and only sick and injured pets or true emergencies were accepted. You can read more about Code Red status in the description below. Here is one local news station's coverage of the situation.
 
Between Tuesday, October 4 and Friday, October 7, the shelter operated at Code Red status. Even though AAC has still been taking in 25 animals per day during this time, because of public outreach and media support, the number of pets leaving the shelter to go to foster, rescue and adoption is greater than the number coming in. Tomorrow, we plan to return to normal operations.
Here is the post we shared on Tuesday, October 4: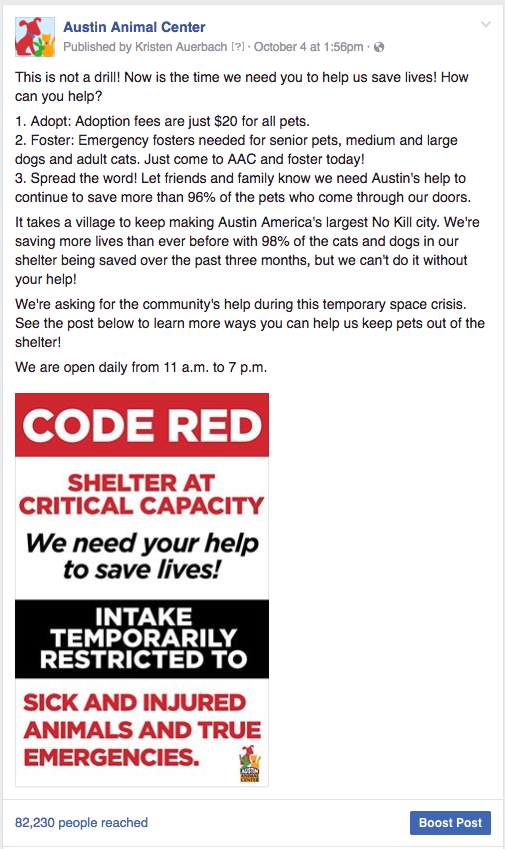 After this was shared, dozens of families came to foster and adopt, reducing the population of pets in the shelter and ensuring no animal was at risk due to lack of space. If you want to learn more about managed intake and how AAC uses operational status levels to convey urgency of the space situation at any given time, read below.
Managed Intake and Operational Status Levels: Keeping Austin and Travis County No Kill
How many animals are there?  With around 18,000 cats, dogs and other animals coming through the shelter's doors annually, Austin Animal Center (AAC) operates at or near capacity most of the year. The total number of kennels at AAC is 300 dog and about 250 cat kennels. The total population of animals in custody varies between about 800 pets during January and February, the quietest time of the year to 1,400 at the peak of kitten season in late May and early June. Anywhere between 300 and 750 of the total number of AAC pets are housed in foster homes at any given time. Animals in the shelter are co-housed as much as possible with consideration given to disease prevention and behavioral dynamics. Litters of puppies and kittens are typically housed together as are medium and large dogs in the 40 kennels designed for housing two dogs.
What is managed intake and when did it start? For the past five years, AAC has used managed intake as a lifesaving strategy. The No Kill plan, implemented in 2011, called for the closure of the night drop boxes and for managed intake strategies to be used. Owners surrendering pets, except those in true emergency situations or whose animals are sick or injured, are required to make an appointment to surrender their pet. During the waiting period, which is typically two to four weeks, owners are encouraged to attempt to rehome their own pet and the shelter offers the owner resources and support if they want to try to keep their pet. When we refer to 'managed intake', this is what we're referring to. In addition to scheduling surrender appointments, AAC sends a daily 'space count' to rescue and community partners, alerting them of the animals who are at risk of euthanasia and conveying the number of available kennels for cats/kittens, small dogs and medium and large dogs.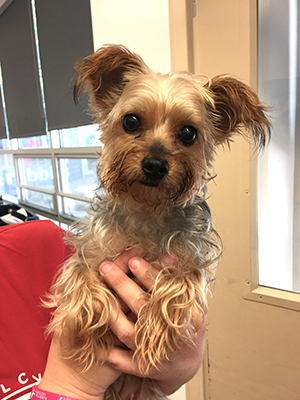 This little yorkie was found as a stray and brought to the shelter during the space crisis.
What happens when the shelter gets full? The measures taken when the shelter is at true capacity are referred to as 'operational status levels' and there are three of these levels which will be discussed below.
When the shelter is at capacity, it means there are no empty kennels for new animals be housed. When population exceeds kennels, pets are placed in temporary kennels. As kennels open up through adoption and transfer to rescue, the pets from the temporary housing are placed in permanent kennels. Movement from a temporary to a permanent kennel can take up to 48 hours.
Weather, floods, fires and fireworks – when space becomes a problem. During the busy spring and summer months, AAC is sometimes truly at capacity for medium and large dogs. When all the temporary and all the permanent kennels are full, the situation may become critical because there is simply nowhere to put incoming dogs. Importantly, these critical space situations are temporary and typically resolve within one to two weeks. They are often related to weather events (storms and flooding), fireworks or seasonal influxes. Thunderstorms are particularly problematic, even if there is little rain, because the loud noise of thunder scares dogs who escape their homes and roam stray.
'Code Red: Population Influx Operational Status'
When the shelter is at critical capacity of both temporary and permanent kennels, we enter the operational status 'Code Red' which is defined as, "During times of seasonal space crises, natural disasters or when the shelter is beyond capacity, which means there are zero available kennels and intakes were greater than outcomes the previous day."
During 'Code Red' status, a tent or the adoption van will be set up somewhere outside of the intake office and signs are posted that only sick and injured as well as emergencies will be accepted. Typically, a news release will be issued to alert the public of the critical space situation. Owner surrender appointments are deferred and animals are evaluated for intake on a case-by-case basis. Animal protection officers are asked to drive stray animals back home once an owner is identified, instead of waiting for owners to come and reclaim their pets. The shelter's multipurpose room is set up for overflow housing and all partners, fosters, volunteers and community members are alerted via news release and social media and asked to help. 311 is alerted to the status and the Austin Lost and Found Pets Group is asked to take extra measures to keep pets out of the shelter (such as asking stray dog finders to file a found report and to hold the dog in order to give the owners time to locate it without the pet having to come into the shelter). The shelter asked for community members to provide short term foster housing for a dog to create room for incoming dogs.
This status is atypical and is only used when animals entering the shelter are at true and immediate risk of being killed due to lack of space. At these times, if the shelter takes in every animal that comes to the door, those pets will be killed because there is nowhere to house them.
'Code Yellow: At Capacity Operational Status'
More commonly, the shelter operates in 'Code Yellow' operational status which is defined as "when there are fewer than five available kennels with intake equal to or greater than outcomes the previous day." During 'Code Yellow' operations, the shelter asks for temporary fosters to assist with affected groups, whether those are cats and kittens or medium and large dogs. Community members finding a stray animal may be asked to file a found report and hold it to give owners time to find their pets. An alert is sent to fosters, volunteers and partners letting them know the shelter is at capacity and the daily space count is sent to rescue partner directors with a plea for extra assistance.
Code Green: Normal Operational Status
'Code Green' is the shelter's normal operating status which is described as our standard and long-practiced managed intake for owner surrendered pets.