Creative Ambassador: Allison Orr
The City of Austin's Creative Ambassador program designates local artists who are traveling overseas as representatives for Austin's cultural and creative community. Allison Orr, artistic director of Forklift Danceworks, was designated as a Creative Ambassador in the 2nd quarter of 2014. As a dancer and choreographer, Allison has produced large and small-scale performances which challenge the audience to expand their notions of dance. Her works asks the question: who and what can be presented on stage? Uncovering what is essential in to the life of a community and giving voce to those who my be marginalized or overlooked is central to her creative work.
Since creating Forklift Danceworks in 2001, Allison has worked with over 20 groups as diverse as Austin Energy lineman, City of Austin sanitation workers, and the Huston-Tillotson University baseball team to create and stage original dance pieces based on their everyday experiences. In September 2014, Allison traveled to Kyoto, Japan to create a new work featuring members of the Japanese Women's Professional Baseball League, presented in partnership with the Kyoto Arts Center as part of the National Performance Network's US/Asia Exchange program. She collaborated with composer Graham Reynolds to create an original musical score for the performance which captured audio recordings of the game at play, as well as other aspects of the stadium's sonic environment.
Here are Allison's impressions of that trip:
Though it has been weeks since I left Kyoto, I am still reeling from the experience and reflecting over all that I learned from my amazing performers and collaborators. Over my five week residency with the Kyoto Art Center I was greatly impacted by the culture and the community and have been transformed as an artist and as an individual. Honestly, when I went to Japan I was not sure whether or not my process of "ethnographic choreography" would be successful at all. Though I was confident that my Japanese hosts would do all they could for me and the project, I was concerned about being able to create real relationships with the community, especially the baseball players, without being able to speak Japanese and in such a condensed timeline (most of my projects take 1-3 years to complete). Yet I found that using the same skills and process I have followed time after time – observing, listening, and being with the players in their everyday work environment – I was able to build real relationships, see personalities  emerge, and gain material to make a dance. A dance that was authentic to these women's experiences and to what I was only beginning to understand about Japanese baseball, its place in Japanese culture, gender roles, and all of the ways these women as athletes are challenging cultural norms.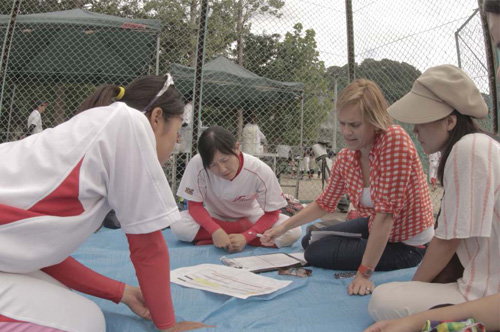 The process of making Play Ball Kyoto would not have been possible without my incredible team, beginning with the Kyoto Art Center, led by my main contacts Eriko Kamimura and Reiko Hagihara. They delivered on every single thing from my long list of needs and went above and beyond to help me bring this work to life. Despite working 60-70 hours a week, which I have found is typical for professionals here in Japan, they devoted much of their time to this project and I was continuously amazed by their dedication. With these two and my translator Kayo by my side I was able to navigate the complex world of Japanese culture and language and discover the city as a local would. One of my most memorable experiences was meeting the mayor of Kyoto as a Creative Ambassador of Austin. Though I was nervous by the formality of it all, I was grateful to stand as a representative of Austin art makers and honored that I was welcomed by the city of Kyoto. To think that my work as an artist has taken me all the way across the world now is something that amazes me to this day.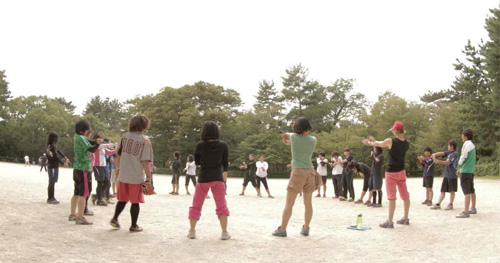 If there is one thing I can say about the players that I worked with, it is that their work ethic is unlike anything I have seen before. Training at least 3-4 hours a day, every day, and on their days off training on their own, it's no wonder these women are world champions! I got to know these women pretty well over the course of my residency and I learned as much about their stories and personalities as I did about their movement. Most of them started playing baseball as young girls – at 6,7, and 8. I heard many stories of how it was their brother or father who taught them baseball and even though they might have been told it would be better to go and play with the girls, they stuck with it and became better than their brothers, often being the only girl on the baseball team through high school. In a country where baseball is king and gender roles are still very traditional, the success of these women is exceptional; they are quite literally changing the world. I will always remember the great experiences I had with them, from Zumba class to karaoke to our post-performance cast party, I enjoyed every minute spent with these women and am grateful to them for opening up their hearts to me. A key insight I now understand is that people everywhere have passion for their work, and if you are interested enough and pay attention well, people will eagerly show you their world. Show interest in someone else's experience and daily life, and he/she will open up to you. People want to be "seen" this way, and authentically and thoughtfully asking questions, even via a translator and across cultural difference, will ultimately build trust and safety. By listening with well communicated respect and care, I have learned that I can follow these directives outside my own language and culture and build real and meaningful relationships that in turn lead me to make good art.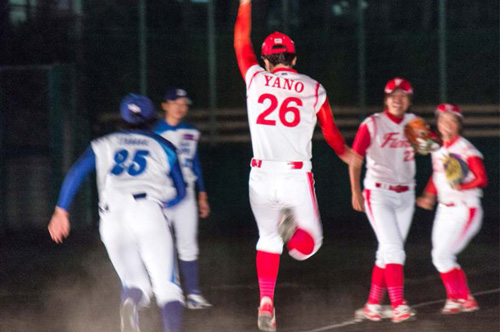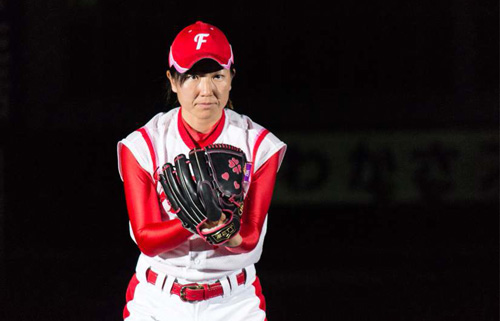 Additionally, Play Ball Kyoto also gave me the chance to begin to learn about the complexities of Japanese culture. I was constantly impressed by the care and attention the Japanese give to one's everyday environment – from the security guard who straightens the bicycles parked in front of the grocery store, the cab driver who keeps a pristinely clean cab smelling of Japanese incense, to the restaurant waitress who stands at the door waving us goodbye until the cab is out of sight. I have been told that it all stems from the Japanese Tea Ceremony, the celebration of the beauty and simplicity of everyday life elevated to an art form. Though I began to understand many things about this culture, there is still so much more to be learned from these people. Every group I worked with was committed to the project, from the group of 20 community artists who were able to craft movement from one rehearsal and interact with the ball players as "fans" in the stands and the 7-man grounds crew who jumped in with no rehearsal at all to enthusiastically perform their routines on the field, to the two girls little league baseball teams who got to meet the professional players, reminding us of why this dance was so important for young girls in particular and of course my incredible, incredible teams, I am eternally grateful.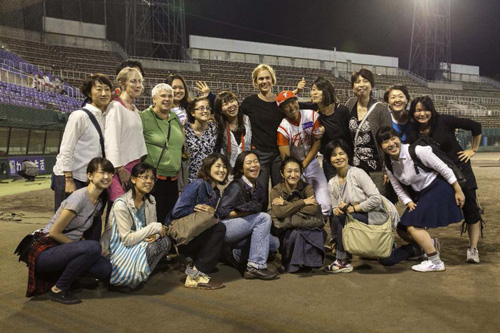 Images provided by Allison Orr.