Creative Ambassador: Anuradha Naimpally
The City of Austin's Creative Ambassador program designates local artists who are traveling overseas as representatives for Austin's cultural and creative community. Anuradha Naimpally, was designated as a Creative Ambassador in the 4th quarter of 2014. Naimpally is the creative director of Austin Dance India and a soloist and teacher of the classical Indian dance style Bharata Natyam. She has received the prestigious Jacqueline LeMieux Prize from the Canada Council and the title of Sringara Mani from the Sur Sringara Samshad in India. The Austin Area Critics Circle has named her Best Dancer and awarded several of her performances with Best Production.
In December 2014 - January 2015, Naimpally and her dance troupe traveled throughout India to perform at historic sites, including Tanjavur, the birthplace of their dance style. The tour included eight solo performances by Naimpally and ensemble performances at six historic temple sites throughout southern India. She plans to return to India in April 2015 for a two-week tour of Kerala during their temple festival season.
Here are her impressions from the Austin Dance India tour: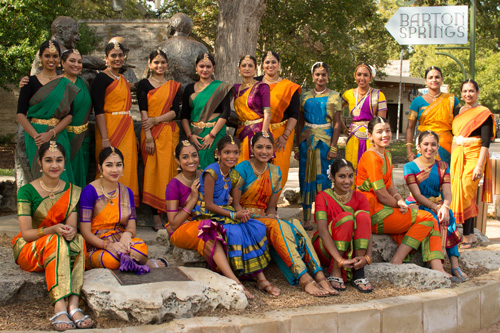 Austin Dance India dancers (before leaving Austin!)
I embarked on a six-city heritage tour with a group of 18 students from Austin. We performed at ancient heritage sites in southern India, some over 1000 years old. Bharata Natyam, the classical style that I teach and perform here in Austin, originates from this part of the country so we were taking it back to its roots. We were accompanied by three musicians from Chennai and my dance master from Mumbai.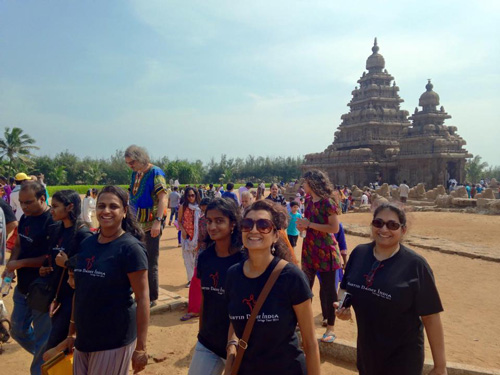 During our travels we wore special t-shirts that were designed with our name, Austin Dance India, and the Texas map on it. This brought a lot of interest in our group and to our work since we distinctly looked like we had come from somewhere far away! This initiated a conversation about where we were from and what we did so we were able to talk to many local people who showed an interest in what were doing.  Also, when we were on our way to the actual performances, we wore our colorful traditional costumes which peaked interest in onlookers. Many people asked and then followed us to the venue so they could watch us. I think they were curious that we were doing traditional dance but had come from the US.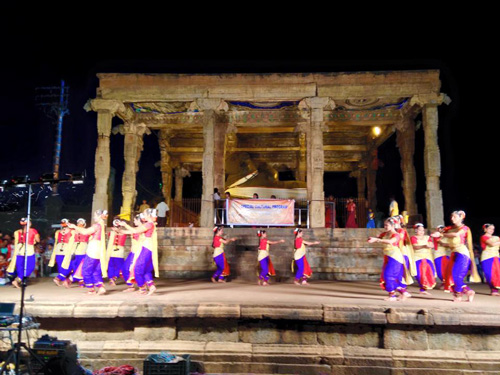 We traveled in a large 34-seater coach since several family members had signed up for the tour as well. Since this coach could not maneuver into small town lanes, frequently we would have to walk down crowded streets in full costumes with bells tied around our ankles (as we do for  our dance). We were really a sight to see, filing out of this huge coach in the middle of small town! So many tourists as well as locals wanted to take pictures with us!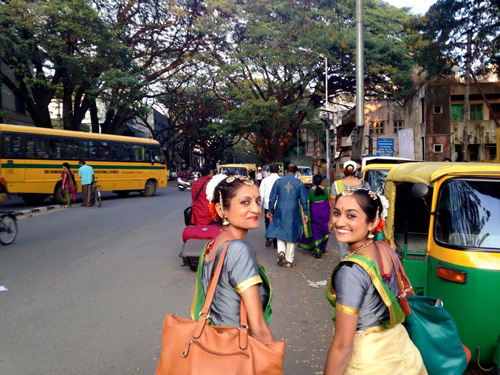 One thing that really struck me during this amazing tour was that people everywhere are curious and like to know about others. We can really help increase awareness of our work and our city just through our travels and talking with local people.  In the end, hundreds of people in remote parts of India got to see a group of dancers performing an art that originated in their local town but is being taught in a wonderful city far far away. So Austin is now definitely on their map as a city that promotes this ancient art form.

All photos courtesy of Anuradha Naimpally.