Creative Ambassador: Judy Jensen
The City of Austin's Creative Ambassador program designates local artists who are traveling overseas as representatives for Austin's cultural and creative community. Visual artist Judy Jensen was designated as a Creative Ambassador in the 3rd Quarter of 2014. Known for her expertise in reverse painting on glass, Judy has exhibited her artwork internationally and has pieces in numerous public and private collections including the Smithsonian Museum of American Art, Toronto's Royal Ontario Museum, the Los Angeles County Museum of Art, the Corning Museum of Glass, and the City of Austin's Art in Public Places Collection.
Judy traveled to Thailand in the fall of 2014 as a part of her ongoing project to replace 19th century Burmese glass paintings in a Buddhist temple in Mae Hong Son which were destroyed by an earthquake. She was also invited to give a lecture at Bangkok National Museum. A  ceremony was held at the temple, Wat Chong Klang, in Mae Hong Son, to bless and celebrate the gift of her paintings to the temple.
Here are her impressions from the trip:
I've been to Bangkok many times, and have already seen most of the city's premier sights at least once.  So aside from my professional obligations, the focus of this trip was building relationships. Louise Truslow, a prominent Bangkok artist, had read about my project in 2013, and approached me about speaking at the Bangkok National Museum. She's a member of the National Museum Volunteers (NMV), a wonderful group serving the Bangkok National Museum by arranging their English-language lecture programming, among many other functions. I leapt at the opportunity.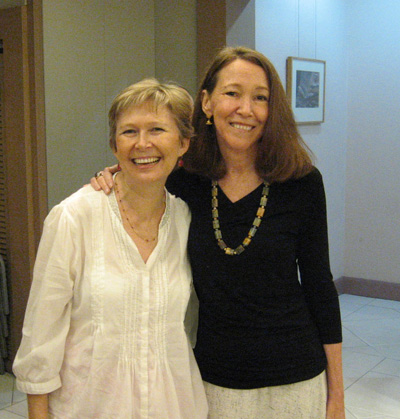 Louise Truslow (left) and Judy Jensen (right)
I've given this lecture before, but never to an audience in Thailand, who would understand all my references to Thai culture, geography, and Buddhism. After my arrival in Bangkok, I gave myself a few days to recover from jet-lag, but was excited to finally present my lecture to an enthusiastic audience. I realized everyone would be curious to discover how an artist from Austin, Texas could have become involved in a project so far from home, so I took advantage of the opportunity to discuss Austin's creative community, and the role it played my current artistic direction.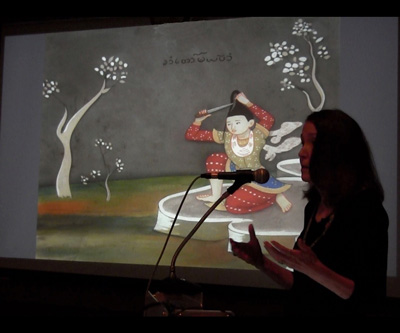 Speaking at the National Museum in Bangkok
The NMV had also planned an excursion to Mae Hong Son, in part so interested members could see the results of my project first-hand, as well as hearing me lecture on-site in the beautiful temple, Wat Chong Klang. After the lecture, I met the excursion coordinator, Wilfried Giessler, as well as a few members of the group who planned to accompany him. I could tell we were going to have a good time together in Mae Hong Son. 
The following day in Bangkok, my husband Emil and I had lunch at the historic Jim Thompson House.  James H.W. (Jim) Thompson was an iconic figure in Southeast Asia, who re-energized the Thai silk trade in the '50s and '60s, took it global, then mysteriously disappeared while on a hiking trip in Malaysia in 1967. His home, set in a lush garden, is now a museum housing his fantastic art and ceramic collection.  Our lunch partner was Jane Puranananda, a Board Member of the James H. W. Thompson Foundation. The Thompson Foundation had awarded me a grant for my project in 2013, and our lunch was a chance to update Jane (and through her, the Board) on the project's status. Jane's a fascinating woman. Aside from her legal practice, she's a well-known writer and expert on Southeast Asian textiles, and I enjoyed our conversation immensely.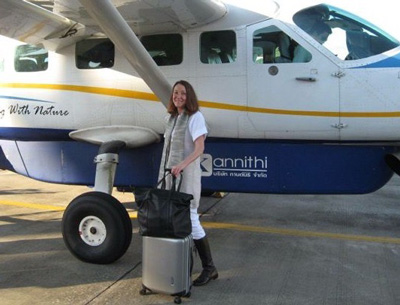 Boarding a single engine prop flight to Mae Hong Son, with a suitcase full of glass paintings
On November 1st, we flew to Mae Hong Son, stopping in Chiang Mai to change from a jumbo jet to the single-engine prop plane (whoa!) which would hopefully take us safely to Mae Hong Son.  Not trusting the amount of storage space that might be available, I'd reserved an extra seat to hold my paintings for the temple. I didn't want the fragile glass paintings to end up in the cargo hold. The 30 minute flight to Mae Hong Son, as usual, grew progressively more enjoyable.  The scenery in northwestern Thailand—rolling green mountains covered in tropical forest—is absolutely spectacular, and the steep approach into Mae Hong Son is unforgettable.  
We were met at the airport by our good friend, Tawatchai Natipakorn, an attorney, who also owns Fern Resort in Mae Hong Son. As any of my friends can tell you, Fern Resort has been my #1 favorite place in the world since my first stay there in 2000. It's a group of lovely rustic bungalows, set in a gorgeous garden in the tropical forest outside of Mae Hong Son. When I first became interested in undertaking this project, I had approached Tawatchai for assistance. I can't overstate how essential his help was—setting up appointments with the temple's abbot, providing lodging, transportation, and translating—well, the list goes on and on.    
Emil and I had two days to relax in Mae Hong Son before the NMV excursion group arrived on November 5th. There was also a brief ceremony planned in Wat Chong Klang that same morning, to bless and celebrate my gift of paintings to the temple. I was supposed the address the NMV group before the ceremony, but found that was my only opportunity to speak with the temple's abbot regarding the next group of paintings to be replaced. So Emil did an excellent job telling the group about the project, while I conferred with the abbot.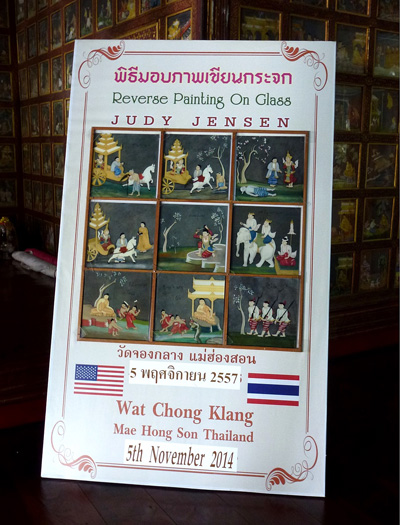 Display of my paintings during the ceremony at Wat Chong Klang
The ceremony was small and lovely, attended by friends and local professional people. Photo ops abounded after the ceremony ended. I chose this opportunity to give Tawatchai the official gift from the City of Austin, to honor his continued generous contribution to this project. And, at last, I was able to address the NMV excursion group, and answer questions. I met them again for lunch the following day, and we got to know each other. They were art-loving expats from around the world—a most interesting group.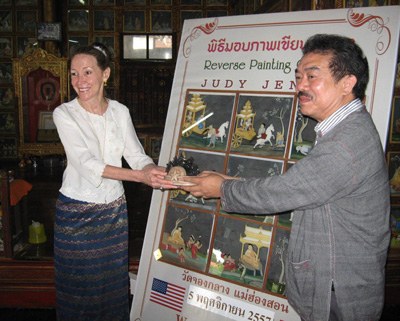 Presenting the official gift from the City of Austin to Tawatchai Natipakorn
Emil and I spent most of our time with our good friends Tawatchai, his wife Wasana, and Somling Vongthong, who runs a tour agency out of Chiang Mai. Aside from our constant forays to eat absolutely delicious northern Thai food, I had a chance to talk to them about a plan I have to begin the steps to create a Sister City relationship between Austin and Chiang Mai. Wasana, Tawatchai, and Som are a very well-connected trio, so I know will be able to make the introductions to begin to forge the necessary relationships. I'm looking forward to returning to Thailand again in November of 2015, to give another lecture, and continue my project. I want to maintain the Austin/Thai connection!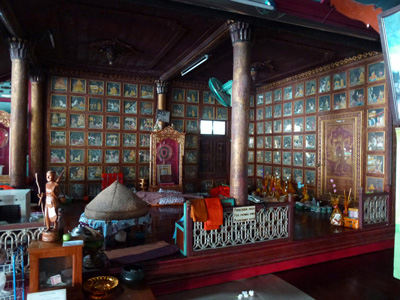 Interior of Wat Chong Klang
All photos courtesy of Judy Jensen.
Learn more about Judy and her temple project in this previous post to the Austin Creates blog.