Creative Ambassador: Steve Parker
The City of Austin's Creative Ambassador program designates local artists who are traveling overseas as representatives for Austin's cultural and creative community. Steve Parker was designated as a Creative Ambassador in the 1st quarter of 2014. Parker is an active performer, educator, and collaborator whose work focuses on expanding the expressive palette of the slide trombone and exploring combinations of brass instruments and electronics. He is currently the Artist-in-Residence at the Blanton Museum of Art, where he founded the popular SoundSpace concert series, and on the faculty of the University of Texas - San Antonio.
In July, Parker traveled to Germany to perform at the Brass in the Ruins festival and presented the festival director with an official gift from the City of Austin. Here are his impressions of that trip: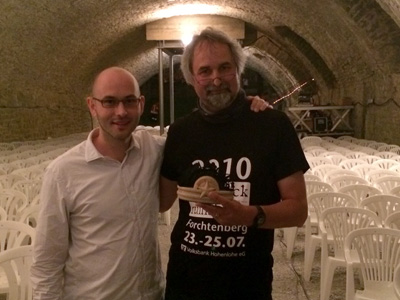 This past summer I had the pleasure of performing at the Brass in the Ruins (BiR) Festival in Forchtenberg, Germany. BiR is an all-day brass festival in the heart of the Swabian Alps in southwest Germany, featuring a wide array of brass performers of all ages. 
For the festival, Austin Symphony violinist Molly Emerman and I presented our folk re-imagined program. This project features the combination of trombone, violin, and live electronic processing.  Within this context, we examine the parallels between these two instruments, especially folk traditions abstracted by these two instruments. This includes Klezmer, Bossa Nova, overtone singing of Tuva, and cattle auctioneers of Nebraska.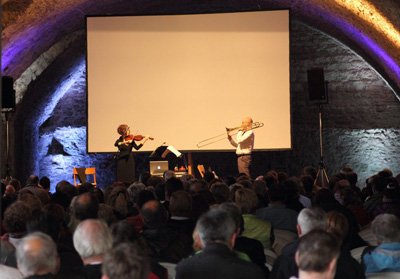 It was especially gratifying to present our program in Germany, a historically significant place for brass.  The early trombone, the unfortunately named "sackbut" (meaning "push-pull" in early German), was developed near Leipzig. The brass family was expanded later in Germany / Austria by the late Romantic composers, branching outward into all sorts of directions, some of which look similar to instruments illustrated in Dr. Seuss books.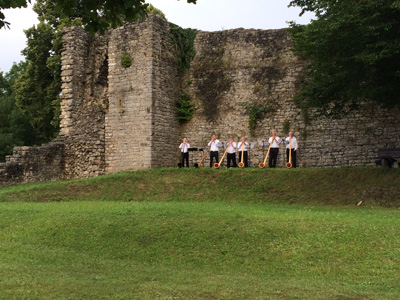 This rich tradition of brass playing continues to flourish in present day Germany. Germany has the most orchestras, operas, and wind bands per-capita of any country in the world. Many people play musical instruments in community band, and live acoustic performance is a big part of day-to day-life. In this sense, Germany is kindred to Austin in that we value and support live music. 
Given this, it was meaningful to us to present our unique presentation of brass performance at this festival. We had the opportunity to share our work with brass performers of many different backgrounds and ages, and I even had the opportunity to embarrass myself speaking my horrible Germany from the stage in front of hundreds of people. We also managed to meet a number of performers who are interested in coming to Austin to present their work, and I hope to help facilitate this in the near future.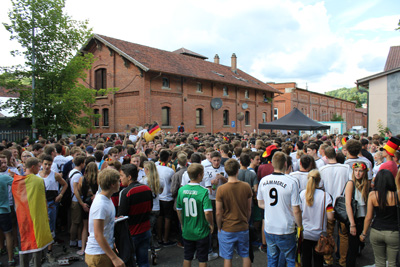 After the performance, we had a number of great experiences as tourists. We visited beautiful churches, monasteries, museums, walked along quaint streets, and ate way too much würst-salat (translates to "meat salad", which is all you need to know) and drank too much beer. Perhaps the biggest highlight was witnessing Germany win the world cup and celebrating the victory in the streets until 5am the next day. I'm grateful for the experience, and glad I was able to visit Germany as a Cultural Ambassador. I hope that this trip will lead to many future exchanges between Austin and the sackbutters of Germany.