Dia de los Muertos, Day of the Dead 2022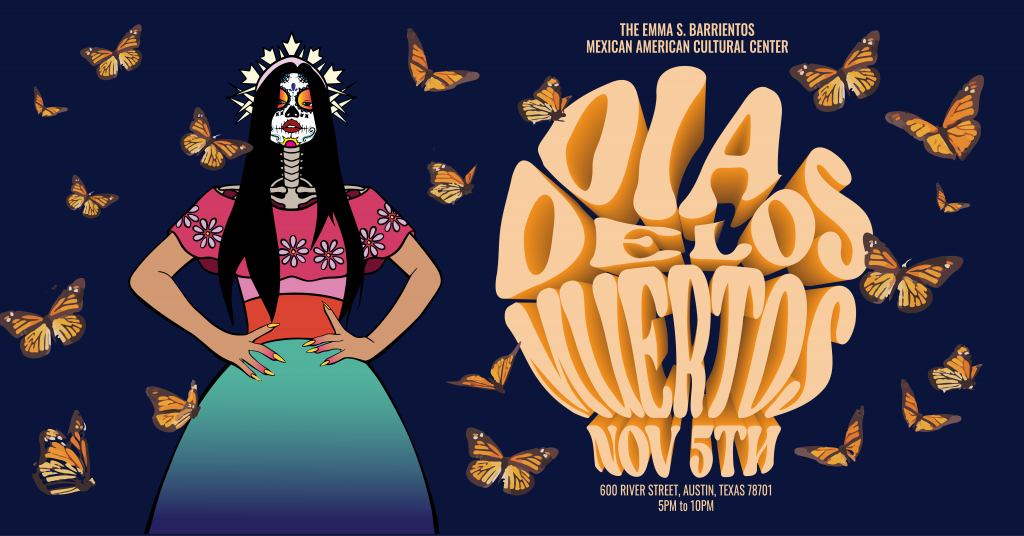 The Emma S. Barrientos Mexican American Cultural Center (ESB MACC) presents our 15th annual celebration of
Dia de los Muertos, Day of the Dead
. This beloved tradition brings family and community together to celebrate the lives of ancestors, family and friends, veterans, and public figures. All events are free to the public.
There will be a multi-day celebration at the ESB MACC, 
600 River St.
, that begins with the Austin Studio Tours Opening Reception on Tuesday, November 1, continues the following day with a viewing of the Dia de los Muertos "ofrendas" or altars, and culminates in the festival on Saturday, November 5 from 4:00 p.m. to 10:00 p.m. On Saturday, November 5
for the gran fiesta, there will be free shuttle bus service from 4:30pm-10:30pm at Sanchez Elementary, 
73 San Marcos St
.
Details about the Dia de los Muertos celebration and festival activities at 
dayofthedeadatx.net
.
About the Emma S. Barrientos Mexican American Cultural Center 
The Emma S. Barrientos Mexican American Cultural Center (ESB-MACC) is dedicated to the preservation, creation, presentation, and promotion of the cultural arts of Mexican Americans and Latino cultures. Learn more at AustinTexas.gov/ESBMACC.
About Austin Veterans Arts Festival
The Austin Veteran Arts Festival's mission is to unify veterans and their communities through art and enlighten the community on the issues surrounding veterans physically, mentally and emotionally by using art as a healing vehicle. For more information on the Austin Veterans Arts Festival, please contact Glenn Towery at avafestart@gmail.com.