Edwin Marty joins the Office of Sustainability
This month we are welcoming a new addition to the Sustainability team; Edwin Marty, Food Policy Manager. He will be working on policy issues to improve the local food system in the City of Austin!
These include:
• Increasing local food production
• Increasing consumption of locally-produced food
• Decreasing food insecurity
• Protecting the natural resources
Edwin earned his BA in Anthropology from the University of Oregon; it was during his "Apprenticeship in Agroecology" at the University of California, Santa Cruz that he began to develop a true passion for sustainable farming.  He has traveled around the world, working on sustainable farming projects including places in Mexico, Mongolia, Australia and Chile.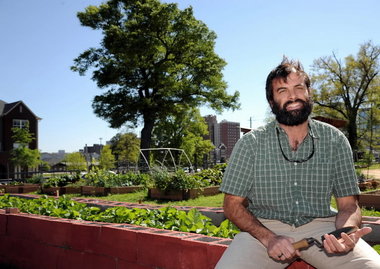 Edwin has consulted on numerous urban farm projects around the country, helped establish the Alabama Sustainable Agriculture Network, and co-authored a book about urban farming in America called Breaking Through Concrete, published by the University of California Press. 
His extensive experience in urban farming and food policy lends itself well to the long-term vision of developing a strategic plan for the City of Austin's food system.  Some short term projects may include the development of a local and healthy food procurement plan for the City, refining the existing Urban Farm Ordinance to assist new farm start-ups, and exploring opportunities for a new public food market. 
We are so excited to have Edwin join our team!  He recently made the move to Austin with his wife, mixed-media artist Andrea Buchanan Marty and his two daughters, 4 year old Edie Rains and 1 year old Tallulah May.  They are excited to be here, along with their dog Rooster. 
 
About this blog
News, ideas, and inspiration from the Office of Sustainability, to help advance a Bright Green future for Austin.