Gary Gattis and partners Cinco Barnes, Jake Rodgers, and Anthony L. Sommers founded independent game developer and publisher Spacetime Studios in 2005 in Austin, TX. The mission of Spacetime is to create a social gaming ecosystem where people play together regardless of device or location.
In 2010, Spacetime released Pocket Legends, the world's first 3D mobile massively multiplayer online game (MMO), and the only 3D MMO that plays across iOS and Android platforms simultaneously. The game's pick-up-and-play format, expandable nature, and unparalleled instanced gameplay have propelled it to become a landmark title on Apple and Android-based mobile devices.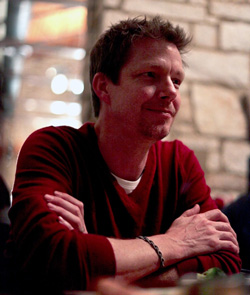 In 2011, the studio released Star Legends: The Blackstar Chronicles, their second title in the Legends franchise. Both titles were ported to play in the Chrome Browser. This achieved another industry milestone by removing the barriers between 3D MMO players on different platforms. Pocket Legends and Star Legends are now the first MMOs in history to allow people to play the same game together on desktop computers, smart phones and tablets.
In February 2012, Spacetime celebrated 100 million game downloads and followed that up with two more game releases that year. In April, Spacetime Studios teamed with Google for the world's first MMO to launch simultaneously on mobile and desktop - the vampire adventure, Dark Legends. Then in November, Spacetime launched Arcane Legends, which Forbes labeled "a Hack and Slash Home Run." Arcane Legends was downloaded more than 2 million times in its first two weeks.
All titles utilize Spacetime Studio's proprietary technology to play globally in over 200 countries over Wifi, 4G, 3G, or Edge networks. Spacetime's games are played over a million times each week. Spacetime was recognized by Pocket Gamer as one of the top 50 developers in 2011 and 2012 and by Develop as one of the world's 100 best game studios. The company continues to expand its content and technology lead in the mobile multiplayer market.
The Cultural Arts Division's Creative Industries Development Manager, Jim Butler, interviewed Gattis for this blog.
Jim Butler: Why is your company based in Austin?
Gary Gattis: Austin, Texas has long been a hotbed of video gaming. The four founding partners are long-time residents of Austin, and when they decided to start a company there was no better place on earth. The quality of life, amazing talent, and entrepreneurial support that exists in this town is second to none!
JB: What could be done to make Austin a better place for your company?
GG: Better video game development incentives would be extremely useful. Right now the existing incentives are fairly restrictive, nominal, and difficult to qualify for.