George Washington Carver Museum and Cultural Center gears up for 5th anniversary of Broadway Bound Performing Arts Camp
George Washington Carver Museum and Cultural Center's Broadway Bound Performing Arts Camp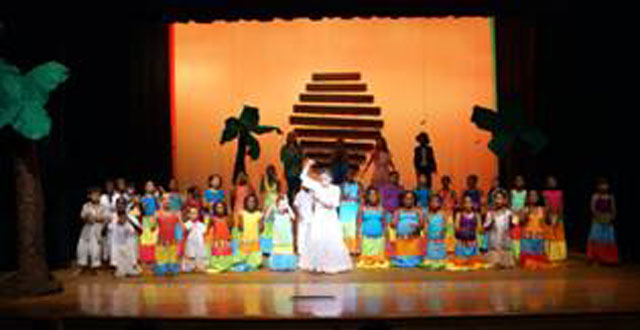 Once on this Island 2011
By 9:50 a.m. on camp registration day, there was already a line of people that neared the street. The first gentleman in line had arrived at 5:45 that morning. He said he heard about the popularity of the camp and wasn't going to risk his daughter missing out. By the time the museum opened, names were already being put on the waiting list.

Photo left: Chris Polio enjoying a field trip to Children's Day Art Park hosted by Austin Symphony Orchestra. Photo center: Erin Berkeley, Chase Patterson, Logan Roberts, Dasia McClain. Photo right: Sam Pena as the Lion in The Wizard of Oz 2009
Broadway Bound Performing Arts Camp started out in 2008 with eight children and now, five years later, it is capping off at 59 with a waiting list that's still growing. This summer the George Washington Carver Museum and Cultural Center is excited to celebrate the camp's 5th anniversary with a production of Roald Dahl's Willy Wonka. This unique seven-week camp offers students a comprehensive, foundational education in performance arts and culminates each summer with three performances of a full-length musical performed entirely by students.

Photo left: Micah Moore during a costume fitting. Photo center: Chloe Lown and Nyah Bernucho running the light board. Photo right: Alexis Carr at the fly rail.
The Broadway Bound staff always goes back to one very important notion- kids can do really big things as long as you don't give them any reason to believe they can't. Last year, a dream was realized by the leadership team in having an all-student technical crew. Not only were children performing the show, but they were behind the scenes as well. The stage manager, light board operators, sound board operator and follow spot operators were all kids who completely ran the show with no assistance from the staff.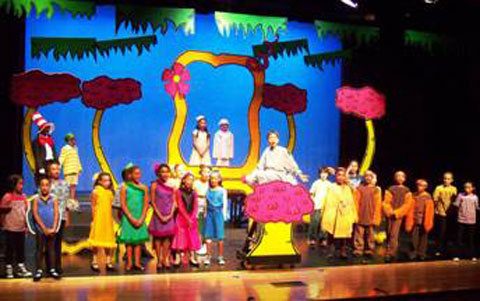 Seussical 2010
This year Broadway Bound will be incorporating interns from the University of Texas and Westlake High School to provide learning opportunities for local students of all ages. Costumes, set construction and lighting are all done by the staff and students in collaboration with a team of volunteers making the camp a truly community oriented event.
Please help us celebrate this year by joining us on July 20th or 21st for our final performances!
For more information on all programs at the George Washington Carver Museum and Cultural Center Please go to:
http://www.austintexas.gov/carvermuseum