George Washington Carver Museum & Cultural Center's summer programming prepares its campers with useful, real life experiences.
At Broadway Bound Performance Camp, campers will create memories for a life-time and a fulfilling sense of accomplishment.
The first thing you see visiting the Boyd Vance Theater at the George Washington Carver Museum and Cultural Center during summer rehearsals is kids. You'll find 56 kids working hard and having a lot of fun as well. Skills learned here help better prepare our campers to meet many of life's future challenges.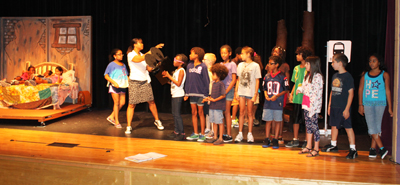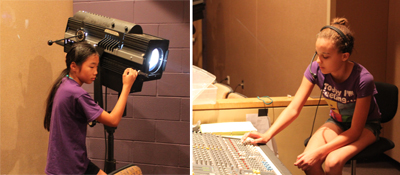 There are kids manning the spotlights, at the soundboard, designing costume and sets, as backstage managers, in the orchestra, managing scripts, and of course acting on stage.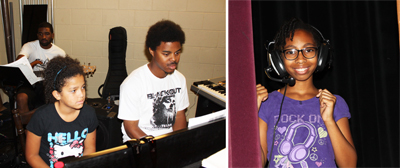 Both as individuals and as a group they're learning the importance of working together. Here is a a diverse group of kids, 7-12 years old, many friends from previous summers together, but also many newcomers, mounting a professional level theatrical presentation. Different ages and backgrounds aside, they learn new skills focusing on a common goal: putting together an exacting performance choreographed down to the second. Over the course of this summer, our young campers will learn music, dance, and acting that culminate on the stage of the Boyd Vance Theater for three professional level performances.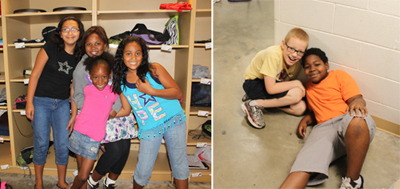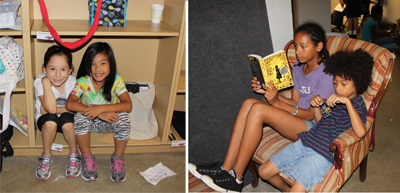 Yet, the overwhelming success of this program for both the kids and their parents (enrollment fills up almost immediately after registration begins) is the passion and dedication that the adult instructors bring to the project.  Youngsters can easily intuit the personal interest that Para Agboga, (the program's creator) and Jennifer Corzine, (assistant program coordinator) and several part time counselors have in the success of each of them as well as in the performance's overall professionalism.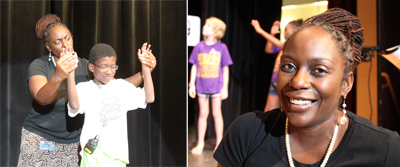 Para Agboga (Broadway Bound Performance Camp program's creator)
To say their approach to direction is "hands-on" is an understatement. Without a doubt, these kids are as intent on displaying their newly developed commitment to their instructors as they are to display their newly acquired theater skills with their audience.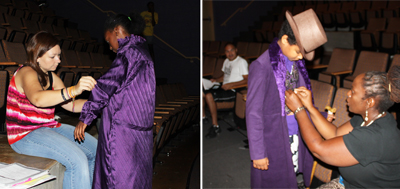 Jennifer Cozine (Theater Specialist) and Para Agboga assist with costumes.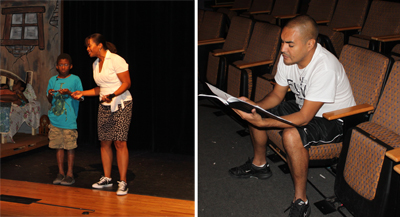 Additional assistance from other dedicated staff members.
Many of us have cherished memories while in a childhood theatrical production. Pride, self-esteem, camaraderie, being part of a larger endeavor, developing a personal sense of perfection, and even time management are all characteristics and skill sets that will serve each camper for a life time. These are the experiences each young participant will gain from the seven weeks of rehearsal during this summer. Each camper's memories will be different, but each memorable.

According to Para Agboga
"Broadway Bound Performing Arts Camp was born out of a dream that all children be participants in the performing arts.  The level at which we take our students is the highest we can reach…and there is no limit!  Students are challenged with beginning and completing a rather lengthy process, from audition to final bow.  We insist that they experience the project to the most realistic degree.  At the end of their seven week journey the students have conquered something many adults would find daunting…doing a full length Broadway show with all the bells and whistles!  Our events have an all student tech crew!  We are so proud that we have the capability to bring our participants into the wonderful world of imagination, magic, and just good hard work!  We know that when they leave BBPAC they are ready for anything!  After all, the shows are really just an example of life".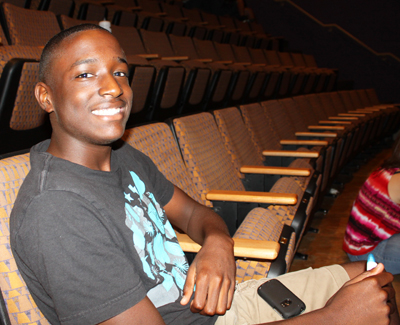 Mitchell Reid
Although not its primary intent, several of the Broadway Bound campers become so motivated that they go on to further drama studies. This year, one of our volunteers, Mitchell Reid, an 11th grader at James Wood High School is planning on going to college to prepare for a career in the theater.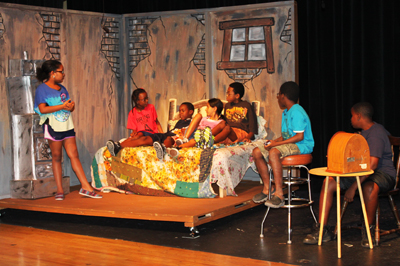 2012 production of Willy Wonka's Chocolate Factory will have three shows on July 20th and 21st.
This year, we magically travel to a world of confection, golden tickets, and intrigue during the summer of 2012's Broadway Bound Theater Camp live production of Willy Wonka's Chocolate Factory for three shows on July 20th and 21st.   The $7.00 admission for this family friendly performance assures a memorable Willy Wonka experience. 
Tickets are available at the George Washington Carver Museum and Cultural Center, 1165 Angelina Street, Austin, Texas 78702.