George Washington Carver Museum's 100% group art exhibit, combines creativity and philanthropy.

This is a real GROUP Exhibit! Our 100% art exhibit truly combines creativity and philanthropy. All proceeds from sales go to education. One of the missions of the Carver is to help foster and empower a sense of community. This exhibit is another great example of the Carver bringing together a diverse group focused on a common endeavor.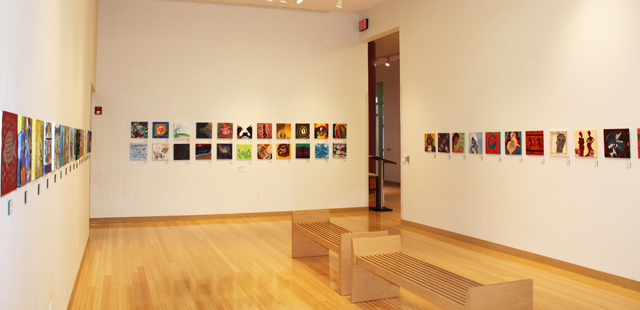 This is the 6th year for the 100% exhibit. Artist participants taking part in earlier 100% exhibits included: doctors, newspaper editors, musicians, skaters, cyclists, actors, lawyers, administrators, even preachers. Participants' ages' range from infants to senior citizens. Skill levels, seasoned professionals to the novice.

Participation in the exhibit has an averaged about 65 – 75 artists each year.
All the work is for sale using the silent auction process. The money raised goes into the City of Austin's general fund for education. In past years an average of approximately $1,250 has been raised during our exhibit. All participants are asked to create their art pieces on a 12"x12" canvas graciously supplied by; Jerry's Artarama Catherine Hart, Manager of the Austin branch of Jerry's Artarama believes this is an important "opportunity in furthering the creative skills and talents of individuals that are interested in the fine arts".  Their catch phase of the company is, "Empowering Artists Everywhere!" and this exhibit certainly embodies that noble concept.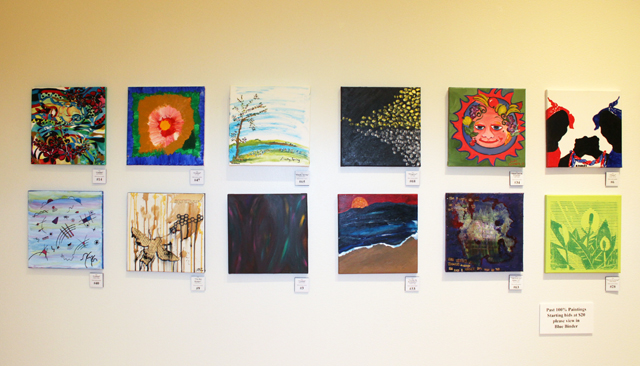 Many of our 100% participants who had not thought of themselves as "artists" have gone on to continue creating art pieces for their own enjoyment, and even becoming semi-professionals by selling a few pieces as well. Special thanks to all our artists, visitors and of course those who purchased some of the pieces and participated in a real community effort.
Exhibit is on view at the George Washington Carver Museum and Cultural Center through May 31, 2012
1165 Angelina Street, 78702, Tel: 974 4926