Get to know an Austin Green Business Leader: Enviromedia
More than 100 area businesses have been recognized by the City of Austin for their efforts to make sustainability a key part of day-to-day operations.  By resolving to go green, these companies are helping protect the environment, saving money, and making Austin a more livable place. 
We decided to get up close and personal with some of Austin's Green Business Leaders. Follow along each month as we get to know these leaders in Sustainability a little bit better.  This month, we heard from one of our Platinum members, Enviromedia.  "Since 1997, EnviroMedia has produced award-winning social marketing campaigns that promote quality of life by improving the environment, public health and public safety." Read more to find out what inspires Enviromedia to do what they do!
1. What inspired EnviroMedia to become an Austin Green Business Leader?
As the nation's first environmental marketing agency, we've witnessed the benefits of demonstrating our passion for authentic sustainability. Since 1997, we've found our clients appreciate our efforts to make our office and our advertising, marketing services as green as possible.  While Austin has made remarkable progress on sustainability in recent years, many challenges remain, and the business community must step up and lead. By joining AGBL, we aim to help to demonstrate to other small businesses how they can make small changes that reduce their footprint and save money.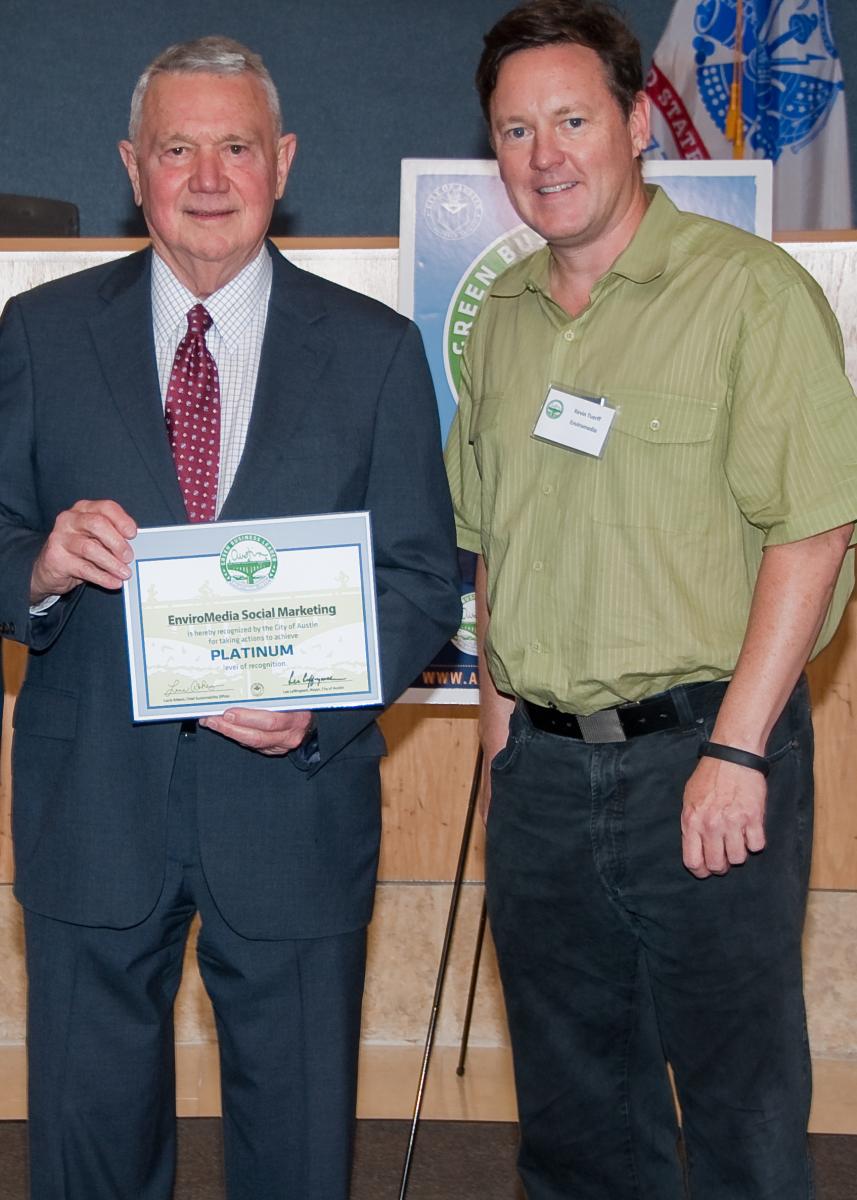 2. What are some green actions you have completed that you are proud of or that you think are innovative?
We're most proud of EnviroMedia's new offices at 2021 E. Fifth Street. Working with Endeavour, we re-developed a neglected brownfield in East Austin into our sustainably built headquarters.  We invested in green building best practices, complete with solar-paneled carports, energy efficient HVAC and lighting, and reclaimed brick from a 1960s office building at UT. We chose reclaimed bricks because they conserve resources and energy. With reclaimed bricks, no new materials have to be dug up, molded, fired in a kiln or hauled to warehouses. And using bricks from UT was a natural fit for an agency lead by — and made up of — Texas Exes.
3. What was the biggest challenge to become a green business?
There remains an education gap about sustainability among business leaders and consumers. Due to climate change, interest and support for the environment has never been higher, but often we face a hurdle with potential clients who don't understand the science, politics and economics of sustainability.
In 2007, the green wave hit, and many companies rushed to paint their logo green without having a true environmental story to tell. As a public service, we developed the Greenwashing Index as the world's first online forum for consumers to post and rate green marketing claims.
Businesses shouldn't be afraid to make green marketing claims, but they need to be substantiated and authentic. Consumers are ready to reward brands that have real environmental attributes.
4. Has the Austin Green Business Leaders helped you become a greener business? If so, can you provide an example?
Having third-party recognition is an important part of telling EnviroMedia's story to potential new clients. We're proud to be a charter member of AGBL, and we like having the decal on our lobby entrance for all customers to see.
5. What advice would you give to other businesses looking to create change?
In 2008, we found some of our clients weren't quite ready to launch an environmental marketing campaign.  To help them get their house in order, we founded a separate company called Green Canary Sustainability Consulting.  We focus on helping with internal and external stakeholder engagement. We encourage a 3-step process of assessment, integration and immersion. 
If you can't bring on a consultant, be sure to develop a cross-functional team to evaluate baseline measures and set goals. All of our clients have found that employees at every level have ideas on pollution prevention, recycling and conservation.
6. President Obama has just made you the Sustainability Czar for the United States. What would be your first act?
Along with passing climate legislation, develop a national integrated media campaign that nudges consumer behavior change to reduce energy and water waste. Our clients have seen remarkable, measurable results from campaigns like "Don't Mess with Texas"  (litter prevention for TxDOT) and "Water IQ: Know your Water." (water conservation for Texas Water Development Board).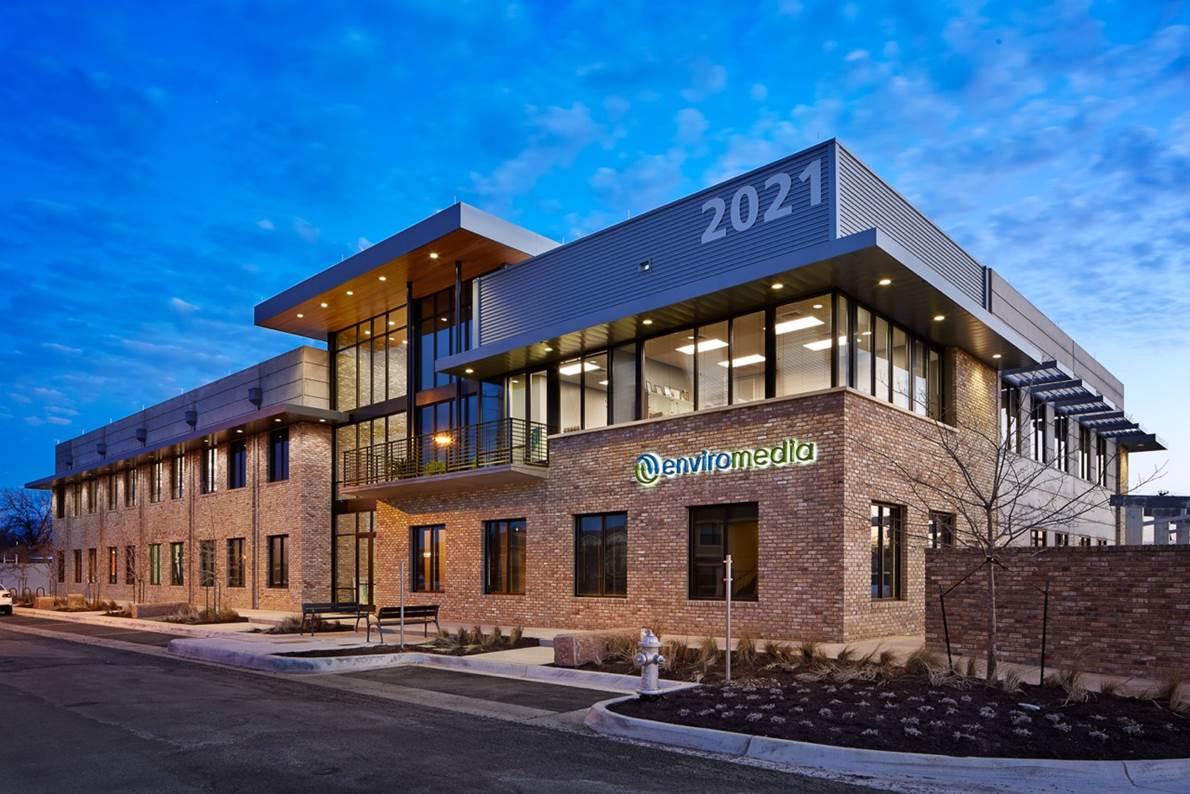 Like what you see? Check out the Austin Green Business Leaders website if you're interested in joining! You'll become a part of the green business network and invited to events with other green business leaders. Plus, receive recognition and a tool kit to help you promote your green business. The program can also help you strengthen your team and build employee morale. Green business is good business, especially in Austin.