Get to know an Austin Green Business Leader: Pearson
More than 100 area businesses have been recognized by the City of Austin for their efforts to make sustainability a key part of day-to-day operations.  By resolving to go green, these companies are helping protect the environment, saving money, and making Austin a more livable place. 
We decided to get up close and personal with some of Austin's Green Business Leaders. Follow along each month as we get to know these leaders in Sustainability a little bit better.  This month, we heard from one of our founding AGBL's and a Platinum member; Pearson.  Based in Austin, they are the world's leading education company, helping educate millions of people world-wide and in a sustainable way!

What inspired Pearson to become an Austin Green Business Leader?
Pearson was inspired to participate in the Austin Green Business Leaders program because we recognize the impact a network of Austin companies can have on awareness and education in the business community, and at large. There are several aspects to being 'green' and Pearson is working to curb our footprint and doing business in an environmentally conscious way.
 
What are some green actions you have completed that you are proud of or that you think are innovative?
Not only has Pearson accomplished green actions globally such as, being carbon neutral, but at our Austin campuses we have installed charging stations, solar panels, have a highly effective recycling program, offer employee engagement opportunities to volunteer in the community and participate in the AE peak-hours shut off program.
 
Has the Austin Green Business Leaders helped you become a greener business? If so, can you provide an example?
The AGBL program has made Pearson-Austin more aware of the energy and resources that we consume. Our goal for this year is to do a trash audit so that we can capture how much of our waste is not making it to recycling.  In doing this, we believe we could take steps towards becoming a zero-landfill facility, a goal also aligned with the City's.
 
What was the biggest challenge to become a green business?
The biggest obstacle getting started with the AGBL program might be getting stakeholders' support.  Our Facilities group is active and knowledgeable about conservation so we were fortunate enough not to have this challenge but in Texas that is often not the norm.  Gaining managerial and employee support is imperative in effective change.
 
What advice would you give to other businesses looking to create change?
Companies that want to take steps towards becoming a green business should evaluate their employee support and with the support of managers, move to following a change management plan, where the primary factor for success is communication.
 
President Obama has just made you the Sustainability Czar for Austin. What would be your first act?
My first action as sustainability czar might be mandating product stewardship, meaning manufacturers take ownership for the life of their products including the packaging. Realizing this could increase costs in the marketplace, though I would suspect a balance would be seen in the decrease of environmental injustice and carcinogens found among us.
Like what you see? Check out the Austin Green Business Leaders website if you're interested in joining! You'll become a part of the green business network and invited to events with other green business leaders. Plus, receive recognition and a tool kit to help you promote your green business. The program can also help you strengthen your team and build employee morale. Green business is good business, especially in Austin.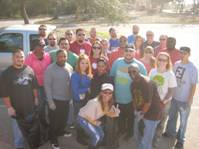 Pearson's 4th Annual Employee Volunteer Day, at Walnut Creek Metropolitan Park. (Nov. '13)