Grand Opening for Notes for Notes Music Studio
Youth-focused recording studio opened at Doris Miller Auditorium in Rosewood Neighborhood Park
The Austin Parks and Recreation Department in collaboration with the non-profit Notes-for-Notes organization (N4N™), hosted a community ribbon cutting and grand opening of the Notes-for-Notes' youth-focused recording and music studio inside the Doris Miller Auditorium at Rosewood Neighborhood Park on Friday, June 2, 2017 at 1:00 PM.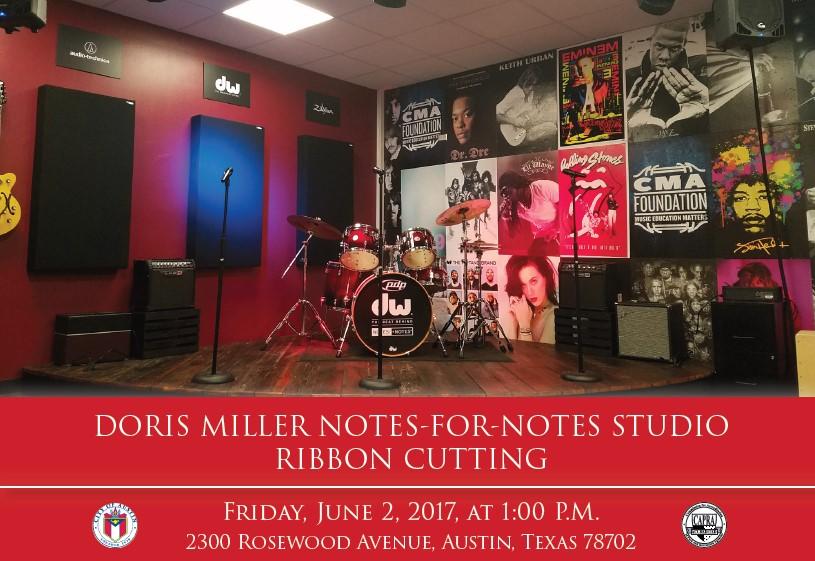 Notes for Notes™ Studios are drop-in recording studio environments where youth (6-18+yrs) can gain regular, FREE access to a wide variety of musical instruments, expert instruction, and the tools to create and record their own music. Staffed by Notes for Notes team members, the studios offer a knowledge base of engineering, instrumentals, theory, and songwriting, ingrained in a culture conducive to collaboration and communication.
"The Parks and Recreation Department is excited to partner with such a unique non-profit organization that brings a whole new aspect of learning to Austin youth,"   stated Kimberly McNeeley, Acting Director of the Austin Parks and Recreation Department. "Music is a big part of Austin's culture, and having the opportunity to learn about it from inside a studio, by people who are passionate and knowledgeable, is a big advantage for the children."
About Notes for Notes™
Notes for Notes™ (N4N™) is a non-profit organization that designs, equips, and staffs after-school recording studios inside Boys & Girls Clubs and Recreation Centers offering youth the opportunity to explore, create, and record music for FREE. N4N Studios are packed with professional instruments and full recording facilities. Beyond providing access to equipment and resources, youth are educated about careers both on the stage and behind the scenes.
Notes for Notes was founded on the core belief that music is the universal language of humankind, with the power to transcend virtually any cultural, racial, or socioeconomic barrier. At the heart of the organization is a dedication to the relationships formed through music. Music inspires connection and collaboration, and it is through these relationships that we can make the most impact. For more information, please visit http://notesfornotes.org.
About the Austin Parks and Recreation Department
The Austin Parks and Recreation Department is an award-winning park system with more than 300 parks, 227 miles of trails, 20,000 acres of greenspace, 35 swimming pools and more than 71 museums, cultural centers , historic buildings and recreation and senior centers.  The Department serves the public by providing, protecting and preserving a park system that promotes quality recreational, cultural and outdoor experiences. The Austin Parks and Recreation Department offers an essential public service and demonstrates economic value, health and environmental benefits, and social importance by improving the overall quality of life for Austin residents and visitors.  For more information, visit www.austintexas.gov/parks.