Heather Courtney is a documentary filmmaker based in Austin, TX and Washington, DC. Her most recent film, WHERE SOLDIERS COME FROM is an intimate look at the young men who fight our wars and the families and town they come from. Returning to her hometown in Northern Michigan, Courtney followed these young men over 4 years as they grew from reckless teenagers, to soldiers looking for roadside bombs in Afghanistan, to 23-year-old veterans dealing with the silent war wounds of Traumatic Brain Injury (TBI) and PTSD. The film received cultural contract funding from the City of Austin as a sponsored project of the Austin Film Society.
WHERE SOLDIERS COME FROM recently received a News and Documentary Emmy for "Outstanding Continuing Coverage of a News Story, Long Form" and also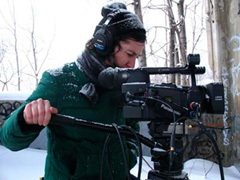 won the 2012 Independent "Spirit Truer Than Fiction" Award. The film had its national broadcast premiere in Fall 2011 on PBS's award-winning documentary series POV, and was chosen as an encore broadcast in September 2012. In addition to these accolades, the film has won awards at festivals around the country, including a Jury Award for Editing at the SXSW Film Festival, Best Documentary Feature at the Philadelphia Film Festival, and the Founders Award for Best U.S. Documentary at Michael Moore's Traverse City Film Festival.
Prior to WHERE SOLDIERS COME FROM, Courtney directed and produced several documentary films including award-winners LETTERS FROM THE OTHER SIDE (which was supported by a Fulbright) and LOS TRABAJADORES (IDA award for best student documentary), and was a co-director on Roger Weisberg's POV-aired documentary CRITICAL CONDITION.
*This article originally appeared in the Community Spotlight section of the Cultural Arts Division newsletter. Sign up to get our newsletter emailed to your inbox by clicking here.