Austin schools are often challenged with having to do more with less just to teach the basics – so how can we help in teaching kids about sustainability?
A recent partnership between Hispanic Austin Leadership (HAL) and the Office of Sustainability, showcased what's possible in creating educational opportunities focused on sustainability. Through this collaboration, the Unplugged project was created to inspire students to think sustainably and support local schools with limited resources.
Williams Elementary School was selected to pilot the Unplugged project for the 2013/2014 school year for several reasons. The project was embraced by School Principal Joan Bertino and teachers who participated in the program. Williams had also just initiated a National Wildlife Federation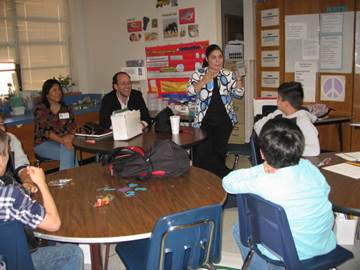 Eco-Schools project and Unplugged would contribute to efforts already underway to measure and reduce the school's carbon footprint. Finally, the school's students are for the most part economically disadvantaged with few avenues to learn about sustainability; in fact, 85% of Williams' students qualify for free or reduced-price lunch.
HAL and the Office of Sustainability developed curriculum to show students the connection between greenhouse gas emissions and energy consumption. Students who participated in the program were assigned a Kill-A-Watt, a device that measures the energy used by appliances, to take home for a month. The Kill-A-Watts allowed kids to see exactly how much energy was used – and wasted – at home. Students and their parents found the project engaging and educational – and were surprised at how much energy their homes actually consumed. Several parents, while pleased with the outcome, also expressed some good-natured frustration; their kids now turn everything off – sometimes even before their parents are finished using the appliance in question.
Unplugged also asked students to write and perform Public Service Announcements (PSAs) to educate the community on ways to conserve energy at home and at school. The media department from Crockett High School generously devoted their time and resources to film and edit the videos. The PSAs provided the additional benefit of creating mentorships between elementary and high school students through their work to develop these productions.
PSAs
"Turn off the Lights"
"Beware Energy Vampires"
"Energy Conservation is no Game"
The National Wildlife Federation was so impressed with the accomplishments achieved through the Unplugged project that they awarded Williams Elementary the Bronze Award – which is only the second school in Travis County to receive this distinction.