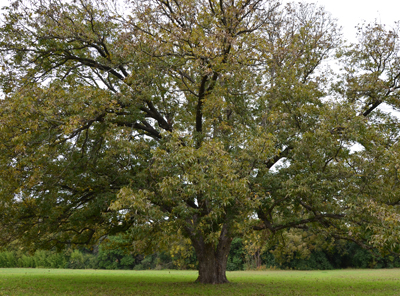 Govalle Park is the perfect spot for a contemplative walk on a chilly Fall afternoon. Brown and yellow leaves crunch underfoot, and the leaves in the tall trees hiss quietly as wind sweeps through them.
The East Austin park, at 5200 Bolm Road, boasts the usual features in the Austin Parks and Recreation Department's array of parks – playgrounds, a pool, open space and grills. But its crown jewels are the tall Pecan Trees which abound on the grounds.
"The grove of very large pecan trees really does make the park unique," said Forester Lara Schuman with the Parks and Recreation Department.
It's easy to identify a pecan tree once you know what to look for. They have scaly bark and the trees are tall – they grow up to 120 feet. And they have compound leaves – meaning 9 to 12 leaves grow out of each branch on the tree.
In the fall, many leaves remain on the trees, while others turn yellow. This time of year is the perfect time to watch them drift slowly to the ground.
"They're one of our native trees, so they've been here for thousands of years," Schuman said. "They traditionally grow along streams."
A shallow stream runs through the corner of Govalle. A journey across the footbridge affords views of light dancing on the caramel-colored water surface. The smaller section of the park on the other side contains a ball field.
This, paired with another ball field in the main section of the park and plenty of picnic tables, makes Govalle a candidate for quality time with the extended family over the holidays. Or, its quiet, slumbering essence could foster the opportunity to spend a few moments alone amidst the chaos.