How to Drop Pounds (of Waste) this Thanksgiving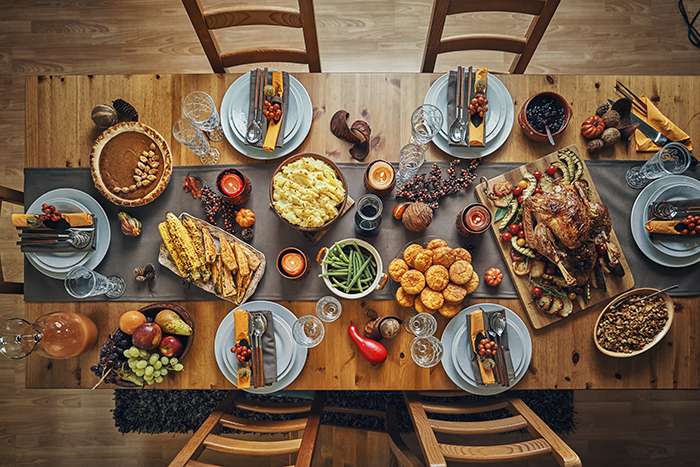 By: Ashley Pace
Thanksgiving is a holiday I can get behind. All the food, friends and family spending time together and being thankful for what we have makes my heart soar. What is harder to get behind is the pounds of leftovers I'm left staring at in the fridge that inevitably end up in the trash. I love a good leftover turkey sandwich, but there are only so many ways and so many days that I want those leftovers. With thankfulness in mind, I thought I might put together some ideas for how to reduce both my leftover stash and some of the excess waste that comes along with this most cherished holiday.
Shopping
Choose to buy imperfect produce– grab the weird looking carrots or slightly bruised apples that others are less likely to purchase and save them from the garbage pail.
Opt to buy products that contain less packaging or those that come in recyclable packaging.
Don't forget your reusable shopping and produce bags.
Setting
Break out the good china and ditch the one-time use plates or cutlery. When else do you get to show it off? If you don't have enough of your own borrow from friends and family or get what you need from a thrift store.
Consider using cloth napkins. They reduce waste and add a little extra elegance to your meal.
Food
Don't over-cook (and we don't mean how long you cook the turkey). Know how many are going to be at your Thanksgiving celebration and prepare a certain amount for just that many. Reduce your food waste by choosing to make just enough rather than too much.
Use every piece– keep those turkey bones to make broth, baked potato skins for chips, etc.
If you have leftovers, use beeswax paper to wrap plates and make sure any food you are giving away is in reusable or recyclable containers.
Pack up extra leftovers for food bank donation.
Compost what you can't save.