How to Host A Clothing Swap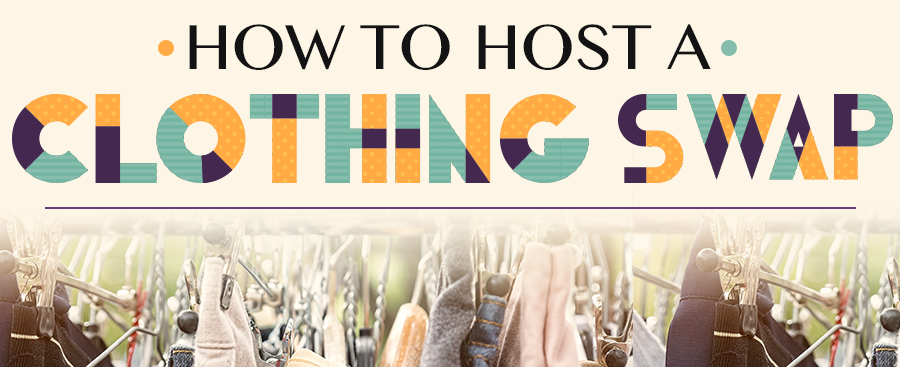 By Alyson Crowley
Almost every season, yes, Texas has seasons, we find ourselves sorting through our wardrobes in hopes of creating more space. We come across fashion fads, clothes we have outgrown and sweaters gifted from grandma that never made it out the front door. What started out as a humble effort to downsize has now left you with bags and bundles of items you are ready to part with!


Traditional options include:
Donation (remember to wash gently-used clothing before dropping off)
Resale at secondhand stores or mobile applications
Reinvention, make new things from old clothes such as shopping bags or pillowcases
Repairs, scavenge old clothes for buttons, zippers and other parts for fixing up or creating new clothes
Recycle, keep textiles out of local landfills via Simple Recycling's curbside service or take them to our Recycle and Reuse Drop-Off Center. A recent study estimated 6.6 million pounds of textiles go to Austin landfills each year from residential curbside customers alone.


Austin has recently seen a surge of community-sponsored clothing swaps as a supplement to donation. Local salon Urban Betty, held their 10th annual clothing exchange devoting the business day to provide space for clients and fashion-minded individuals to swap looks for free. Non-profit, 2Fold, collected thousands of items for hundreds of women at their first ever, Grateful Thread event. You can catch HOPE FM Farmers Market #SecondChanceSunday clothing swaps every second Sunday of the month. Don't worry, clothing swaps are for everyone and with school around the corner, what better way to save money on a new-to-you wardrobe than by hosting or attending a clothing swap? Here's how!


Hint: It's in the name! Clothing swaps are essentially a space to "swap" or exchange clothes amongst friends, family, co-workers and even across larger communities. It's a chance to receive free clothes, shoes and accessories at the cost of bringing fair items to trade. Items should be gently-used and laundered to be mindful of the next person receiving them. That means the electric yellow sweater vest you've been hoarding for a special occasion, can finally see daylight on the back of someone else!

Invite anyone and everyone—Whether you want to draw a large crowd or to keep things simple between a small group of friends, clothing swaps can range in size depending on the purpose. Keep in mind that collecting a wider range of items and sizes can offer more options at each swap.
Plan the date and location—Plan the event at least three weeks ahead to give ample time for invitees to find lost treasures in their closets. The location is flexible; swaps have been held in living rooms, multi-purpose rooms, garages, and tents such as HOPE FM Farmers Market displays. Any room suitable to hold the desired amount of people and items will work.
Set the space/ layout—One key tool to hosting a clothing swap is the clothing rack. Don't have one? Check out these DIY-friendly pins to learn how to make one. Use side tables or coffee tables to display items appropriately and aesthetically. It's handy to have some full-length mirrors around as well.
Establish the rules; all rules are up to the host, but here are some common practices—A good rule of thumb is to bring as much as you wish to take, meaning if you bring five items, expect to take home five items. Make this clear so guests know how much to bring- the more one brings, the more they can shop! Set a maximum allotment. This is completely up to you and can be based on the total number of items brought to the swap. Allow each guest to choose one must-have item and wait until everyone else has something in hand before starting. Suggest a monetary donation for those who wish to participate but don't contribute items to the swap. Take a vote or choose an organization that will benefit from unclaimed items.
Snacks (optional)—Lighten things up by providing simple finger foods or by asking guests to bring a share of refreshments. Everyone's friendlier when their tummies are happy, especially when two people grab the same top.
Have fun and may the swapping-odds be in your favor!


Here are clothing swaps on the horizon in Austin, Texas.