Jennifer Bullard brings years of experience at a variety of gaming companies to her role as the Chairman of the Austin Chapter of the International Game Developers Association. Her current project is a conference to showcase the convergence of film, music, and game technology.
The Cultural Arts Division's Creative Industries Development Manager, Jim Butler, interviewed Bullard for this blog.
Jim Butler: Please let us know a little about which gaming companies you have worked with and what you have done with those companies.
Jennifer Bullard: My first company was New World Computing in Agora Hills CA, who had recently been bought by 3DO. NWC had two main franchises, Might and Magic and Heroes of Might and Magic. I worked on the latter as a designer, running the level design team. Heroes is one of my all-time favorite games and I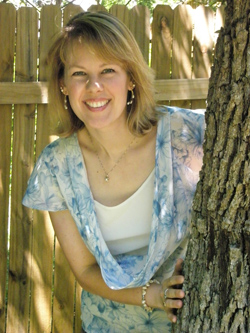 was ecstatic to work on the title I so dearly loved. Most of my duties revolved around organizing the workload and getting things done on time, so I switched to production for my next position at Paradox Development.
Paradox was a small developer who focused on console fighting games and I worked on Backyard Wrestling and X-Men: The Next Dimension. We worked very hard to deliver top-quality fighting/brawling games and eventually the company was bought by Midway. My role there was Producer and Solver of Problems. If there was something that needed fixing, I would go about fixing it–like clearing a warehouse to make room for developers' desks.
From there I worked at NcSoft, a MMO company in Austin. It was our first time out here, and I was disappointed when the project was cancelled. I was the Executive Producer and was working hard to get a fantasy MMO off the ground. 
Aspyr Media is where I spent three years, building out their development-for-hire group. We successfully shipped three titles in two years for the Sims 2 franchise and I was extremely pleased with the team we had built there.  
Certain Affinity drew my attention because they were working on a title that was an action-RPG and I wanted to get into something different. For the most part, the company is known for their first person shooter multiplayer work, but I love their more quirky products.  
I started a small company called Lonely Electron that was able to operate for a short time. However, the economy just wasn't there to begin a business and resources were scarce. We built several iPhone applications, but eventually had to go find other work. After consulting on Agile implementation, GameSalad hired me on full time as their Executive Producer. The mobile tools company has an excellent product if you are looking to get something up and running quickly or to rapidly iterate.  
Right now I am working on a conference called Captivate to bring digital media, film technology, and music technology together. Most people within these creative industries move between them for their next job or to find their next contract. I know it is important for our industries to reduce barriers so developers have a greater ecosystem within which to operate.
Jim Butler: Please also let us know a little about your work with the Austin Chapter of the International Game Developers Association, including what you consider the major accomplishments of the Austin Chapter since you have been working with them.
Jennifer Bullard: The IGDA-Austin has been a part of the development community for several decades. I am one of many who have taken the helm, trying to steer the community in the right direction. The one thing we have done well is to foster a sense of community, better handle outreach to educational institutions, and to work with state and city officials to support a strong business ecosystem. In many ways we are just hitting our stride and I expect the next few years to see our efforts grow in number and size. The development community is very large in Austin and we still need to connect so many more people to each other!
Jim Butler: Please also let us know a little about the current activities of the Austin Chapter and how people can get involved with the Austin Chapter.
Jennifer Bullard: The Austin chapter has several activities and we would like to build more. On a quarterly basis we host Microtalks at KLRU studios to give voice to our local developers. Our involvement with conferences has turned into community outreach and engagement, providing information to those who want to know more and those who want to join our industry. During events like SXSW and RTX we speak with students and parents about our industry, what types of education and skills students will need, what it's like to work in the industry, what the pay is like, and setting realistic expectations. (We don't just sit there and play games all day!) This year the Town Hall will be held quarterly, explaining what events are happening with the community.  
If someone wants to get involved there are several ways. First, we have a website, AustinGameDevs.org, where you can create a log-in and be kept up to date on events. Our Facebook page is a place where quick updates and information exchange happens. We often organize events and invite through this as well. And everyone should sign up for our Newsletter IGDA-Austin_professionals@googlegroups.com that comes out monthly. If someone would like to help organize events or reach out to students then please contact us at AustinIGDA@gmail.com.
Jim Butler: Is there anything that you would like to see happen in Austin that would make Austin a better place for those involved in the gaming sector?
Jennifer Bullard: There are two things I would like to see happen in Austin and I am working on both. We need a fall conference in Austin to bring developers together to discuss their craft, learn new skills, and do business. I am spearheading Captivate which will happen this fall, October 6-8.  It will be open to anyone who wants to see some cool new inventions, gadgets, games, and a whole lot more!  
The second initiative is a for-profit creative industries incubator that will support digital media, web, social, and other entertainment technologies and products. Our goal is to create an environment that helps start-ups succeed and gives the creative industries centralized resources. An incubator can have a positive impact on job creation and the business ecosystem at large. I and several others are working hard on this and our goal is to have the incubator off and running before fall.