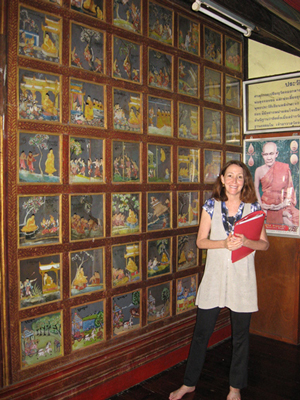 Judy Jensen is an Austin-based visual artist. In 1999, she completed Voyages, six mixed media reversed paintings on glass, commissioned by the City's Art in Public Places program for the baggage claim area of Austin-Bergstrom International Airport. Jensen's work has been exhibited around the country and her latest project involves restoring glass paintings in Thailand.
The Cultural Arts Division's Creative Industries Development Manager, Jim Butler, interviewed Jensen for this blog.
Jim Butler: How long have you been making reversed painting on glass and what motivated you to do reverse painting on glass?
Judy Jensen: I started drawing and painting when I was pre-school. My first foray into glass was making stained glass, when I was 26. As my stained glass panels grew larger and more complex, my ability to execute them was subject to the availability of the glass that I needed. I began painting and etching many of the pieces of glass, to create the colors and textures I wanted.
At the end of that process, I was faced with the tedious process of joining the many pieces of glass together with lead or copper foil. So, after a few years, I abandoned the idea of stained glass, and focused on painting glass. This was perfect--I was always primarily a painter, anyway.
JB: Where can people see your art, in Austin and outside of Austin?
JJ: Almost all of my work is in private collections. Locally, I do have a public art installation of six paintings on glass at Austin/Bergstrom International Airport and I have about a dozen available works in my home studio which I show, by appointment, to serious collectors.
My work is also in the permanent collections at the Smithsonian American Art Museum, The Royal Ontario Museum, The Los Angeles County Museum, The Corning Museum of Glass in Corning, New York, the Washington Art Consortium in the Seattle area, the Akron Art Museum, the Racine Art Museum, the Speed Museum in Louisville, and McDonald's Corporate Art Collection in Chicago, among others.
JB: Please describe any projects that you are currently working on and also any projects that you have planned.
JJ: I'm currently working on a project replacing 16-20 glass paintings destroyed by the earthquake of 2004 in a Buddhist temple in far northwestern Thailand. This project will take at least another year and a half. I'm donating the work, so I recently ran a very successful Kickstarter campaign to raise funds.
I also just received a grant from the James H.W. Thompson Foundation in Bangkok for this project. The Foundation is under the Royal Patronage of Her Royal Highness Princess Chakri Sirindhorn, and is committed to the preservation and conservation of Thailand's cultural heritage.
JB: Where can people learn more about your art?
JJ: They can visit my web site at www.judyjensenstudio.com. I also have a public Facebook page about my project in Thailand, www.facebook.com/thai.glass.paintings, where I post periodic updates.