Make a splash at May's Park of the Month
The meandering paths and rolling hills of Butler Park lend it an air of mystery; you never know what you'll find around the corner at this diverse central Austin locale.
The Park, located at 1000 Barton Springs Road on the South side of Lady Bird Lake, offers prime playing, nature-watching, walking, picnicking and exercising territory for Austinites looking for respite from the city.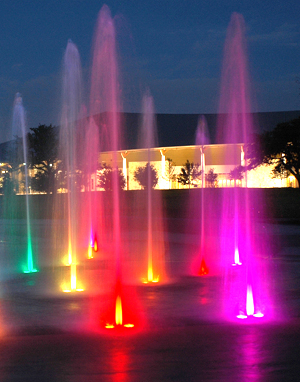 The lush green grounds of the park offer a taste of nature while still affording breathtaking views of downtown Austin across the lake water. It's the perfect spot to step back from the urban jungle and take a picture.
"The view of downtown in that park is just awesome, so that's one of the main draws, I believe." said Charles Vaclavik, Central Parks Division Manager for the Parks and Recreation Department.
The park is relatively new – it opened in August 2007, and since has become an attraction to a wide variety of visitors.
Its trees shade Austin's finest feathered friends – parrots often can be seen intermingling with grackles on the green.  Its open green space attracts picnickers, families and dog owners.
Nature lovers are drawn to its pond, which is packed with turtles and fish. 
"That's one of the quiet places people just like to sit and observe nature and look at the fish and the turtles," Vaclavik said. "You have to balance that with the fountain - and the exercise groups, and the bicycles - there's just always something going on."
Its paths attract bikers, joggers and walkers. The park also plays host to many exercise classes. 
"We allow fitness instructors to come in and have their classes there," Vaclavik said. "They have to register and be permitted…All of them take care of the park and they utilize it for the community, so we recognize that."
Other unique features of the park are its splash pad and its tall Doug Sahm Hill, which affords breathtaking views of downtown.
The splash pad is open late in the evenings and is the only one in Austin that features light shows, Vaclavik said. In the summer, it's always teeming with delighted kids.
While kids run around in their swimsuits, others visit the park in more formal attire. The Doug Sahm Hill, a tall hill on the property, is often used for wedding photos for the views it affords of the City skyline. A concrete path spirals up the hill so it is easy to climb, and guests who summit it are greeted by benches and an inlaid map of Texas on the hilltop.
The park is busy all the time, Vaclavik said. About 400 to 500 people probably visit Butler Park each day, and there's ample parking on Riverside Drive and Barton Springs to accommodate the patrons. It's free to get into the park and play in the fountain, and the City takes care to maintaining the park.
"I just think it's one of our premier parks, and we recognize it's one of the crown jewels of Austin that pol enjoy coming to," Vaclavik said. "We take pride in making it nice and green and the fountain working so people can enjoy coming to it."