Music in the Park Series, Free Concert on July 28th at Big Stacy Park, Austin.
What a Perfect way to enjoy the afternoon in the park with friends, family and a Bluegrass Concert.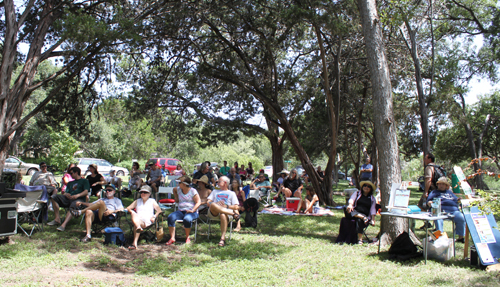 What a way to spend a great Saturday afternoon lounging with friends on soft green grass enjoying Bluegrass.
This is what Austin Parks & Recreation Department does so well.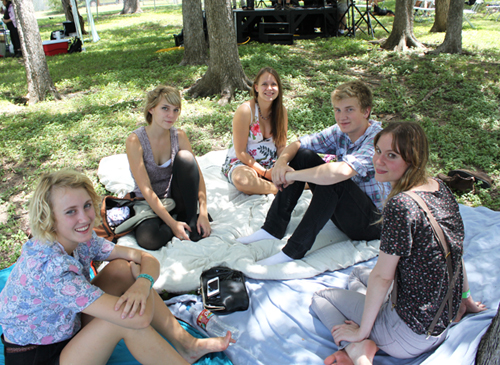 Close friends enjoying the afternoon show
Create a perfect way to enjoy the afternoon. Blankets were spread under the cooling shade of lush green tress. There was a laid back atmosphere of good neighbors, happy families and old friends. We had lots of great local talent being appreciated by their fans. The Lost Pines and Bottom Dollar String Band appeared. Both bands were Bluegrass, both different, both great.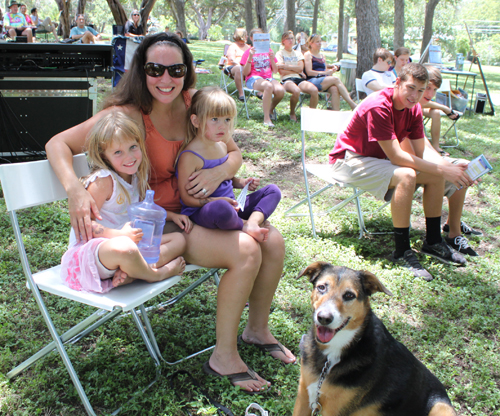 Whole families and friends enjoying the Concert.
If you like bluegrass, our two bands were fantastic.
Both the Bottom Dollar String Band & the Lost Pines graced our small stage.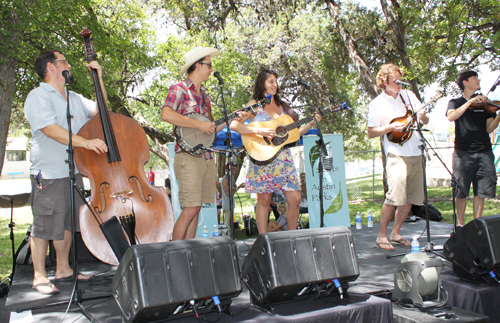 They've come a long way.
The Lost Pines have come a long way since busking on the street corners of South Congress back in 2007. The success of their first album, (Middle of the Morning,) paved the way for the band to make appearances on FOX, KUT, KGSR, and the KOOP, finish runner-up in the bluegrass category of the Austin Chronicle's Reader's Poll, and perform at many Bluegrass festivals. The Lost Pines recorded and released their second album Sweet Honey in 2011.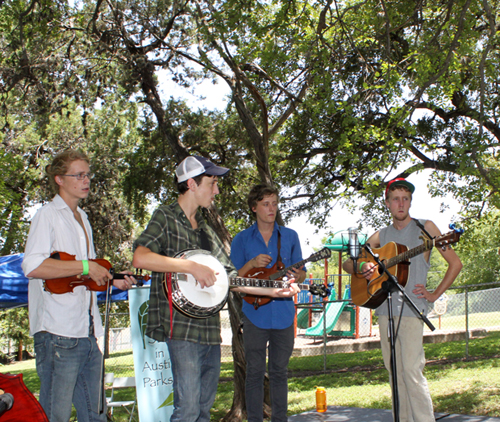 Local Central Texas boys.
Bottom Dollar String Band began making music in the hills of Central Texas in 2011 with just two instruments: a mandolin and banjo. Emerging into a six-piece band, Bottom Dollar immerses themselves in their music and heritage, and enjoys sharing their creations of old-time standards and new-grass originals live.
All and all a great concert. We look forward to our next concert at Pease Park on September 22nd,1-4 pm featuring the groups; CJ Vinson & Nano Whitman, together with Mother Falcon.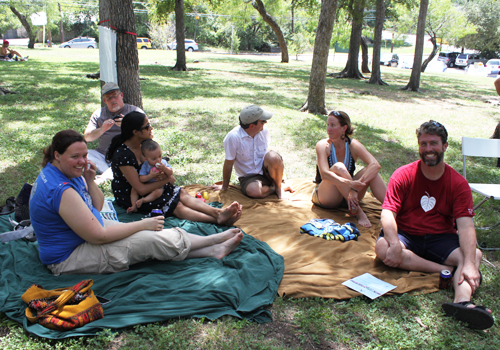 Whole families and friends enjoying the park
The Music in the Parks series is a year-long concert series that provides free, live and diverse concerts to Austin's music-loving community in parks across the city.
Here's a video of a previous concert the Austin Nature & Science Center.
For FREE visitor and resident attractions year round from Austin Parks & Recreation Department visit:
http://www.austintexas.gov/blog/enjoy-free-visitor-resident-attractions-austin-parks-recreation-department
For FREE family Friendly activities and events all year long please like us on Facebook at:
http://www.facebook.com/artsandparks