Notes for Notes - Zaragoza's in the Building!
Notes for Notes National Newsletter
Post By Ray_Price_N4N, October 4, 2018
One of the best notifications I get as a program director, are calls or emails from various Rec Centers and organizations inquiring about Notes for Notes due to them hearing about the awesome stuff that takes place in the studio. Recently, N4N Austin was contacted by a senior staff member from the Zaragoza Recreation Center with high hopes of having some of their youth come and visit the studio. Outreach and expansion being 2 key elements of our programming, it was equally exciting to give them a welcoming invitation into the space.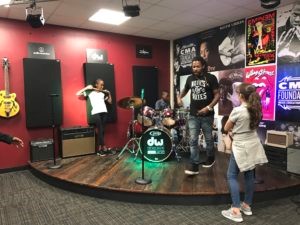 On a Tuesday evening, a handful of youth walked through the doors of the studio with widespread smiles on their faces and stars in their eyes. It was almost as if they had walked into a playground that was built out of candy and video games. While on their tour, the youth were able to learn about all of the different things our studios have to offer and they soaked up every bit of it. They really enjoyed learning about the role of a producer/engineer and got an opportunity to play that role amongst each other, each taking turns sitting in the producer's chair and getting a hands on experience operating the mixing board.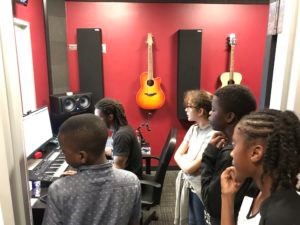 They were just as anxious to learn about the different keyboards and synthesizers and a couple of them grabbed some headphones and lost themselves in the sound of their own unique creations.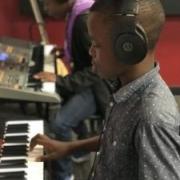 However, the element that garnered the most attention were the almighty drums. I began by having them play a drumming game called "Complete The Beat" and they grasped that concept instantaneously. So, we took it a step further and attempted to teach each of them some basic drum patterns. Let's just say, I thought the joke was on me because within 30 minutes or so, every one of the youth that participated was able to nail the patterns! Their staff members and I looked at each other, all in amazement, and hurried to the computer to schedule their next visit.