October Park of the Month: Emma Long Metropolitan Park
A two-mile trek down a winding wooded road is worth one's while upon arriving at the entrance to October's Park of the Month – Emma Long Metropolitan Park.
The northwest Austin park is the only City-owned park that offers camping – and the only one with a beach.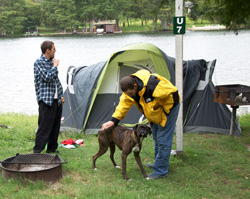 The park entrance, at 1706 City Park Road, is deep within its wooded confines. Visitors drive from Ranch to Market Road 2222 onto City Park Road, which winds south through the park until it spits you out at Lake Austin.
Emma Long Park offers 66 campsites which provide direct access to the lake, said K Richelle Bass, an Emma Long Park employee.
Campers can choose electric or non-electric sites, bring a tent or an RV, and spend the days fishing, hiking, playing volleyball or basketball, swimming on the beach or boating on the lake (bring your own boat).
Emma Long also boasts a 9.5-mile challenging outdoor motorcycle trail and a reasonably-priced rental facility for big events, Bass said.
The campsites are 10 to 25 dollars a night depending on their location and whether they are electric sites. There also are one-time car fees of 5 to 10 dollars, so consolidating cars is encouraged for group campouts, Bass said.
Up to 8 campers can enjoy each shaded site under Pecan, Cottonwood and Larch trees. The isolated campground is quiet and safe, surrounded by trees, water and wildflowers blooming in the Fall.
Even more flowers bloom in the Spring and the pace picks up when Emma Long hosts special events such as bike races, runs and even a fundraising swim to the Highway Loop 360 bridge.
And there's always an opportunity to help out at the park, Bass said. Some local companies and scout troops go to the park to plant flowers and help clean up litter, she said.
Those interested in volunteering can call visit the Parks and Recreation Volunteer page.
More Information
Main park phone number: 512-346-1831
Rental facility reservations: 512-974-6797