Park Assist Finds Open Spaces in Blue Garage, Brighton Jewelry Opens, Hammer Made and InMotion Under Construction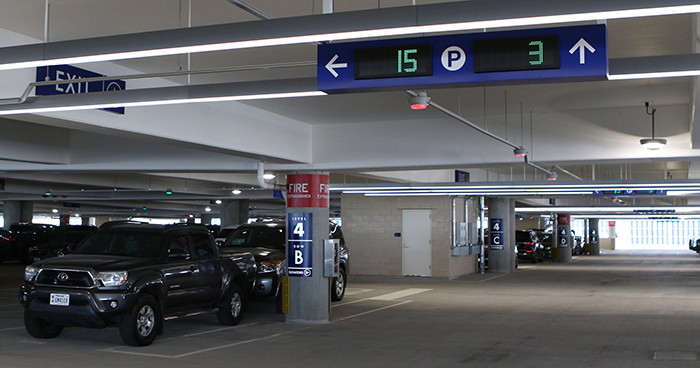 Park Assist in the Blue Garage is a parking guidance system that generates information on open and available spaces. The app is free to download.  Photo by Tanya Haden, Austin airport PIO intern
The new Blue Garage with levels 1-5 now open is utilizing the Park Assist guidance system and app to help customers find available spaces at the Austin airport. Brighton jewelry and fashion is now open across from Gate 15 while Hammer Made men's fashions and InMotion Entertainment are currently under construction at the Barbara Jordan Terminal.
Park Assist Shows Available Parking Spots in New Blue Garage
With five levels now open in the new Blue Garage at the Austin airport, the Park Assist guidance system, that utilizes smart-sensor technology to generate information about open and available spaces, is now in operation.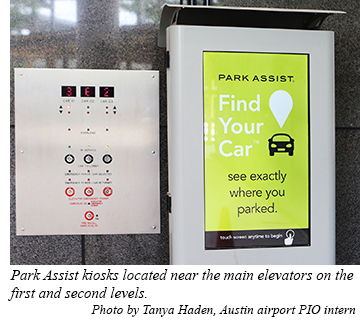 The parking guidance system tells passengers about the number of available spaces on each level and identifies open parking spaces. The system includes pathway signage and an app that shows customers the number of spots available.
The free Park Assist app is available from the Google Play and Apple App store and can tell you even before arriving where to find available parking spaces. There are Park Assist kiosks located near the main elevators on the first and second levels that also allow customers to find their car by inputting their partial or full license plate number.
Over 5,000 spaces are now available with Levels 1–5 open in the Blue Garage. Customers can park in the Blue Garage at the introductory rate of $10 per day. Rates will increase to $15 per day on July 1. Economy Lot D, currently closed for resurfacing and LED lighting upgrades, is expected to reopen in early July. The last lot scheduled to be restriped, and receive resurfacing and lighting upgrades is B. Lot B is scheduled to receive its facelift later this fall.
To access the Blue Garage, customers may follow the signs on Presidential Blvd. for garage parking to reach the Blue Garage or the close-in parking garage with valet service. Parking information can be found at www.abiaparking.com
Brighton Opens Near Gate 15, Offering Fashion Jewelry and Handbags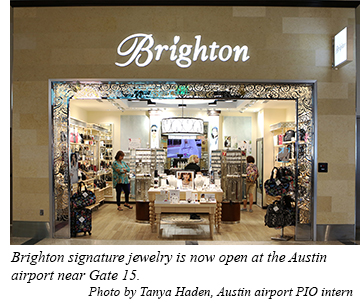 Brighton signature jewelry is now open at the Austin airport near Gate 15. Located next to The Scoreboard beyond Checkpoint 1, Brighton opened a store that covers 404 square feet. An open front store, Brighton used wood, tans, browns, and gray to design and embellish their store. Brighton offers women's handbags, jewelry, charms, eyewear, and accessories.
Items are split amongst the retail space in easy-to-notice locations to allow for quick and efficient browsing. The store has three wall mount mirrors and on cabinet doors, for customers to appraise the products and the look of the jewelry on them. Operated by Paradies Lagardère, Brighton is open daily from 5 a.m. – 9 p.m.
Hammer Made, InMotion Currently Under Construction
This fall, Delaware North will be bringing Hammer Made to the area behind Checkpoint 1. Located right across from The Scoreboard, Hammer Made will be 550 square feet of men's fitted clothing. Much like its parent store, Hammer Made will offer limited run shirts to help men look and feel their best.
Accented by its summit gray walls and black oak veneer finish around the perimeters, Hammer Made will have an open front entry with a simplistic and monochromatic look. The store will also be equipped with a fitting room. Hammer Made will not only offer dress shirts, but also ties and squares, T-shirts, and socks.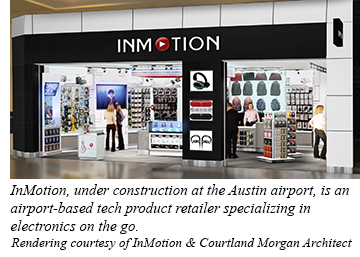 Independently operated InMotion Entertainment, an electronic goods store, will be opening this fall across from Checkpoint 1. Inmotion will cover 715 square feet of space near Gate 15. With an open storefront design, Inmotion plans to have a black and white color scheme to offer a clean and sophisticated look.
InMotion will carry premium electronics such as noise-canceling headphones, wireless headphones, speakers, tablets, digital action cameras, fitness trackers, portable power and a wide array of mobile accessories. They also will have a variety of brands like Apple, Beats by Dr. Dre, Bose, Fitbit, GoPro, Mophie, Samsung and Sony.
Tanya Haden, PIO Intern, wrote Brighton, Hammer Made and InMotion articles.