Recycle Your Electronics!

Ever wonder what to do with that bulky old fridge that doesn't really work? Or maybe that old cellphone that's just living out its days as a paperweight? Well, wonder no more! Austin Resource Recovery is now accepting all your unwanted electronics, such as televisions, computers, gaming consoles and well, basically anything that plugs in!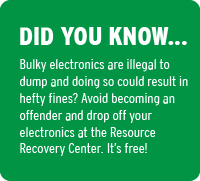 Give your old electronics a chance at a new life by dropping them off at the Resource Recovery Center, where they'll be collected for recycling and sent to be processed into new reusable materials.
After electronics are recycled, they become parts for multiple new products. For example, the casing around a television can be turned into a high quality plastic to be used for automotive products, such as seat padding or insulation. The glass from the TV screen can also be melted and then reused for other glass products.
Dropping off your unused and unwanted electronic products will also help prevent hazardous materials from filling up landfills and polluting the environment with toxic chemicals.
This service is available to all Austin and Travis County residents. Visit the Resource Recovery Center at 3810 Todd Lane, Austin TX 78744, to drop off any unwanted items. For more information visit: austintexas.gov/department/resource-recovery-center.