Return of the Supply: Stage Set for Fifth Annual Reverse Pitch Competition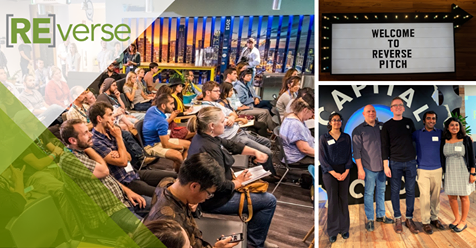 By: Bailey Grimmett
Each year, Austin entrepreneurs gather business ideas from a very unlikely source: local dumpsters. But not just any dumpster— a business's dumpster. The annual [Re]Verse Pitch Competition is a social innovation program that helps turn valuable raw materials that are currently leaving local businesses as waste into a resource for a new business.
The competition, organized by the City of Austin, Austin Young Chamber and community partners, starts with an opening pitch event and an audience of entrepreneurs. Unlike your traditional elevator pitch, [Re]Verse Pitch sets the stage for businesses and non-profits to pitch their material to an entrepreneur. Their goal? Inspire an innovator to take the pitched material, find a way to turn it into a resource for a new, successful business venture and ultimately keep the material out of the landfill.  By encouraging entrepreneurs to turn one business's "waste" into their business's resource, [Re]Verse pitch inspires profitable ventures while supporting a circular local economy.
For its fifth year, [Re]Verse Pitch is throwing it back… by bringing back previously pitched materials! Five businesses and nonprofits will take the stage to pitch their surplus materials which are the following:
Decorator fabric samples from Austin Creative Reuse and International Interior Designers Association
Vinyl record defects and trimmings from Gold Rush Vinyl
Die-cut skeletons made of PVC/PEC from HID Global
Pressboard office furniture from University of Texas Resource Recovery
All-purpose PVC sandals from Travis County Sherriff's Office
​While these items may seem like waste to the untrained eye, this competition encourages entrepreneurs to view them as valuable resources, and find winning ways to put the materials to use.
During the coming months, entrepreneurs and teams will be matched to a mentor with whom they will create and refine a business idea using the pitched material. Qualifying business ideas and models will be pitched at a final event in April for the chance to win one of two $10,000 Innovation Prizes.  At the closing event in April two teams – one new business idea and one existing business that is able to incorporate use of one of the materials – will be crowned [Re]Verse champions.
Want to be one of the artists or entrepreneurs creating business waste solutions? Jump into Austin's circular economy by attending or competing in this year's opening pitch event. The first stage of the competition will be held at UT's Rowling Hall on Monday, February 10 from 6 to 8 p.m., and is open to the public. To learn more, visit www.ReversePitch.org.