Rigoberto Gonzalez one-man show at ESB-MACC in Austin, Texas
Massive paintings grace the walls of ESB-MACC's main gallery during the summer of 2012
The Rigoberto Gonzalez Art Exhibit in the Main Gallery at The Emma S. Barrientos Mexican American Cultural Center (ESB-MACC).
For this show, The Emma S. Barrientos Mexican American Cultural Center's (ESB-MACC) main gallery has been transformed into a dramatically designed venue to better display the impressive paintings of Rigoberto Gonzalez. Both timely and timeless, Rigoberto has certainly achieved his desired effect. The viewer is immediately transfixed by the drama that these narrative paintings convey. The ESB-MACC considers itself fortunate to add Rigoberto to our growing list of accomplished Latino artists that have graced our gallery with their work.
Rigoberto's achievements have become widely recognized. His work has been prominently displayed in many highly respected exhibition venues. Most recently shown at the Art League in Houston, Austin is very lucky to have this opportunity to display this exceptional exhibition. For the first time, the ESB-MACC undertook the considerable task of repainting the walls of their large main gallery a dark brown to present a more appropriate setting for these somber hued works. This gallery space is a perfect place to view such massive pieces.  One can step back far enough to take in the entire narrative or get close enough to imagine their breathing.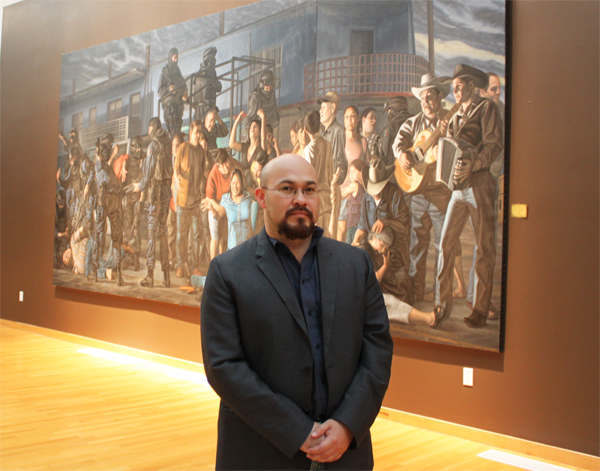 Rigoberto Gonzalez satnding in front of one of his pieces at The Emma S. Barrientos Mexican American Cultural Center.
Rigoberto, originally from Reynosa Mexico, has lived on both sides of the border, and now resides in the small southeast town of Harlingen Texas. He describes his work in the tradition of the notable "style of Neopolitan Caravaggist painters" of 16th century. Many art historians consider Caravaggio to be among the most influential of Italian painters with the exception of Michelangelo. Caravaggio developed this style during his short period in Naples and is characterized by an overwhelming sense of drama and anticipation of imminent mortal danger. Rigoberto has successfully reinterpreted both the style and underlying emotion by portraying today's "narco" border events within this Renaissance perspective. We are certainly very fortunate that an artist of this caliber calls Texas home.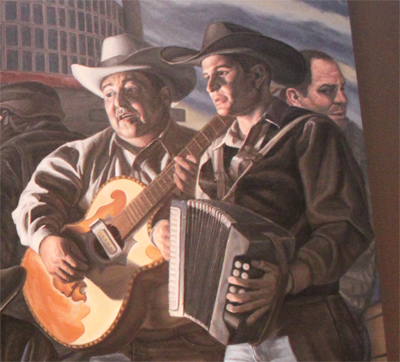 Close up of one of Rigoberto's works showing Mexican musicians singing a "narco corrido".
Using the modern narratives of Mexican "Corrido" ballads as his central themes, Rigoberto deftly visualizes the broad range of human emotions experienced during these trying times. The "Corrido"  folk ballad has long been highly popular even before the Mexican Revolution of 1910 (developed from the ballads of medieval traveling  troubadours). Essentially the traditional Corrido tells a story, usually detailing and extolling the heroic actions of important figures during epic moments in Mexican history. It is only natural, that the current tragic events in Mexico have also been expressed in hugely popular modern "Narco- Corrido" ballads.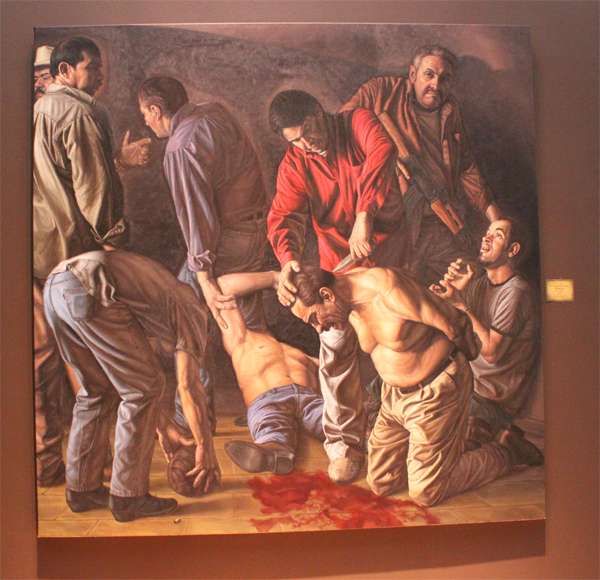 "Beheading" Caption: Photo of the painting "Beheading" 7'x 7'.
It is Rigoberto's painting style however, that has earned him much attention and excitement, successfully emulating both the grand style and scale of this famous medieval painting tradition. The very scale of these works, with their larger then life-size images, forces the viewer to react in a very real, almost visceral way. These pieces are not just viewed, they are experienced.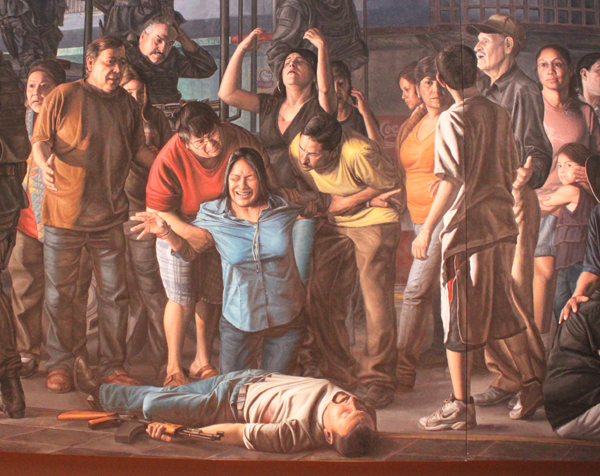 A close-up of one Rigoberto's pieces.
The work's subject matter, composition and lighting are extremely reminiscent of pieces that one would see in many of the fine national museums throughout Europe. The paintings display the entire spectrum of human emotions during dramatic moments in the subjects' lives. Grief, fear, anger, revenge, even religious inspired gestures of salvation, is expertly painted. The timely settings and modern subject mater of the works only further highlight the universal nature of humanity.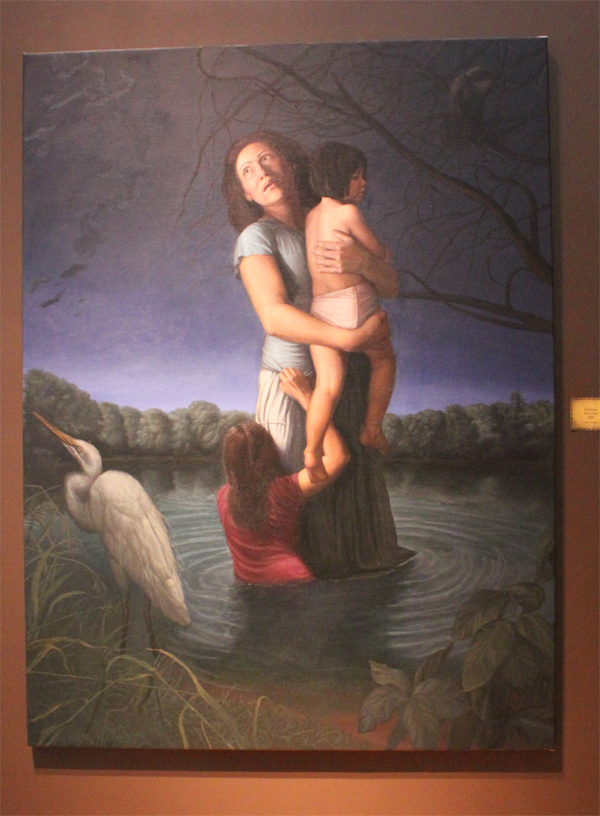 "La LLorona" (the crying Woman) 6' x 5'.
This piece, titled "La Llorona" is an exceptionally fine visualization of one of Mexico's most beloved songs (and folk tales.) It is a tragic ballad epitomizing the very ethos that is part of the national character. It has been observed many times that this song alone can bring even the most brutish of men to tears. The song tells us that reoccurring themes of grief, loss, even revenge is both individually and collectively an experience that many Mexican women have learned to endure.
Borrowing imagery from the well-known "Loteria" graphic series, this piece resonates on several levels. This painting shows our heroine, in a moment, frozen in time. Alone, isolated in a swamp, clutching her two children, she has no place to look but her own faith. Even the white heron is indifferent to her plight. Her fate has already been sealed, yet her faith in heaven above is still apparent. This piece is excellently painted, deftly rendered to communicate a distinctly Mexican, deep sense of loss and renewal. When all else fails, one's own undying faith still prevails. The same facial expression is seen in much of Rigoberto's work. Is it not the possibility of salvation even in the most dire of circumstances that keeps us human?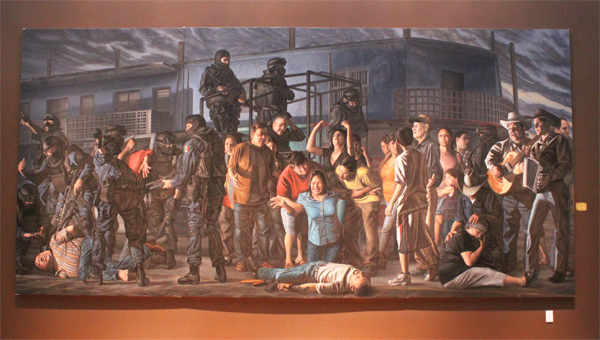 "El Dia 17 de Febrero del 2009 en Reynosa, Tamaulipas, Mexico" (On the 17th of February of 2009 in Reynosa, Tamaulipas, Mexico), 9'-8" high by 20' wide.
The massive piece, the largest painting in the show, is evocative of the epic murals that grace the walls of Mexico City's National Palace. These masked men, (only one is unmasked) bristling with arms and machismo, personify the public's great ambiguity with which the Federal authorities are viewed. Protectors or facilitators? These questions are an inherent part of the complex war on drugs which this painting so poignantly shows. Musicians in the corner sing about the tragic events. Today's gruesome headlines portrayed in Rigoberto's work, will no doubt one day be viewed, in retrospect, as another of the tragic struggles that punctuate the long history of Mexico.
It is not unimaginable that these very pieces will become the definitive icons for this dark period in Mexican history.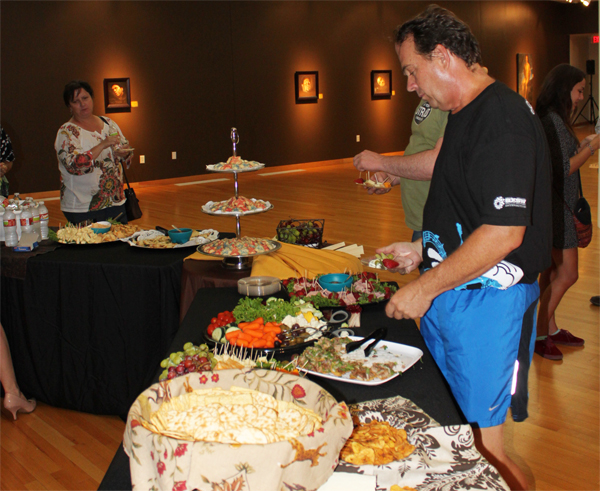 The staff at the ESB-MACC have becoming experts at organizing opening night receptions, which are of course free and open to the public.
This is a highly recommended exhibit for adults. Some subject matter may be unsuitable for young children.
This exhibit will be on view through September 1, 2012.  See Jeanne Claire van Ryzin's review in the Austin American Statesman, July 8, 2012.  
For ESB-MACC information, Directions and gallery hours see:
http://www.austintexas.gov/blog/enjoy-free-visitor-resident-attractions…
For up to date information on events and concerts by The Austin Parks & Recreation Department, please Like us on Facebook:
http://www.facebook.com/artsinparks