South Central Waterfront Plan Rises to the Challenge of Creating Beautiful Public Spaces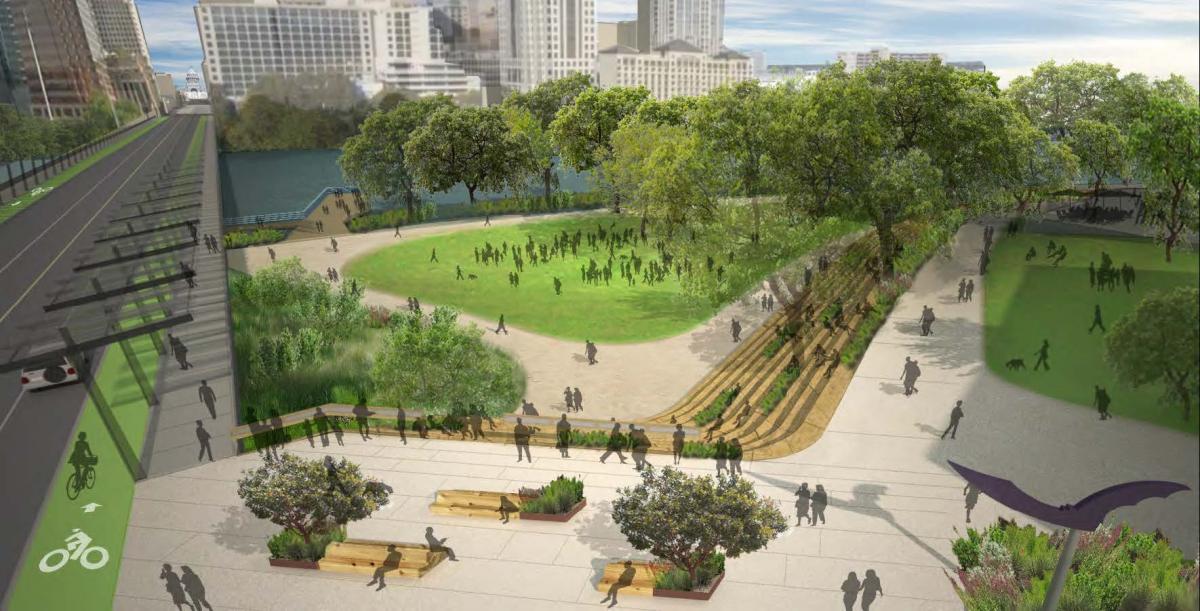 You might have read in the news recently that new development is headed for Austin's south shore, directly across from downtown. In fact, economic forecasts indicate that over fifty acres and at least $1.2 billion in private reinvestments are likely to redevelop within the next 15 years. But given existing regulations and the current lack of infrastructure in the area, this redevelopment will likely do very little to improve connectivity or expand open space.
To address the challenges and opportunities ahead, the City of Austin launched a small-area planning initiative in 2012 and commenced work through the City's Urban Design Division. The South Central Waterfront (SCW) Initiative set out to create an aspirational, yet economically-viable vision whereby private redevelopment and public improvements work in tandem to create a lively, attractive, and connected place.
Capping a four year effort, the Urban Design Division completed the South Central Waterfront Vision Framework Plan (hereafter, the SCW Plan) to provide a visionary yet financially feasible roadmap for development. In June of 2016, the Austin City Council adopted the SCW Plan as an amendment to Imagine Austin, the city's comprehensive plan. Below are a few highlights of the planning process and resulting community vision.
Collaboration + Engagement
Having no outside resources, the Urban Design Division initiated and sustained a planning effort through grants and partnerships, including: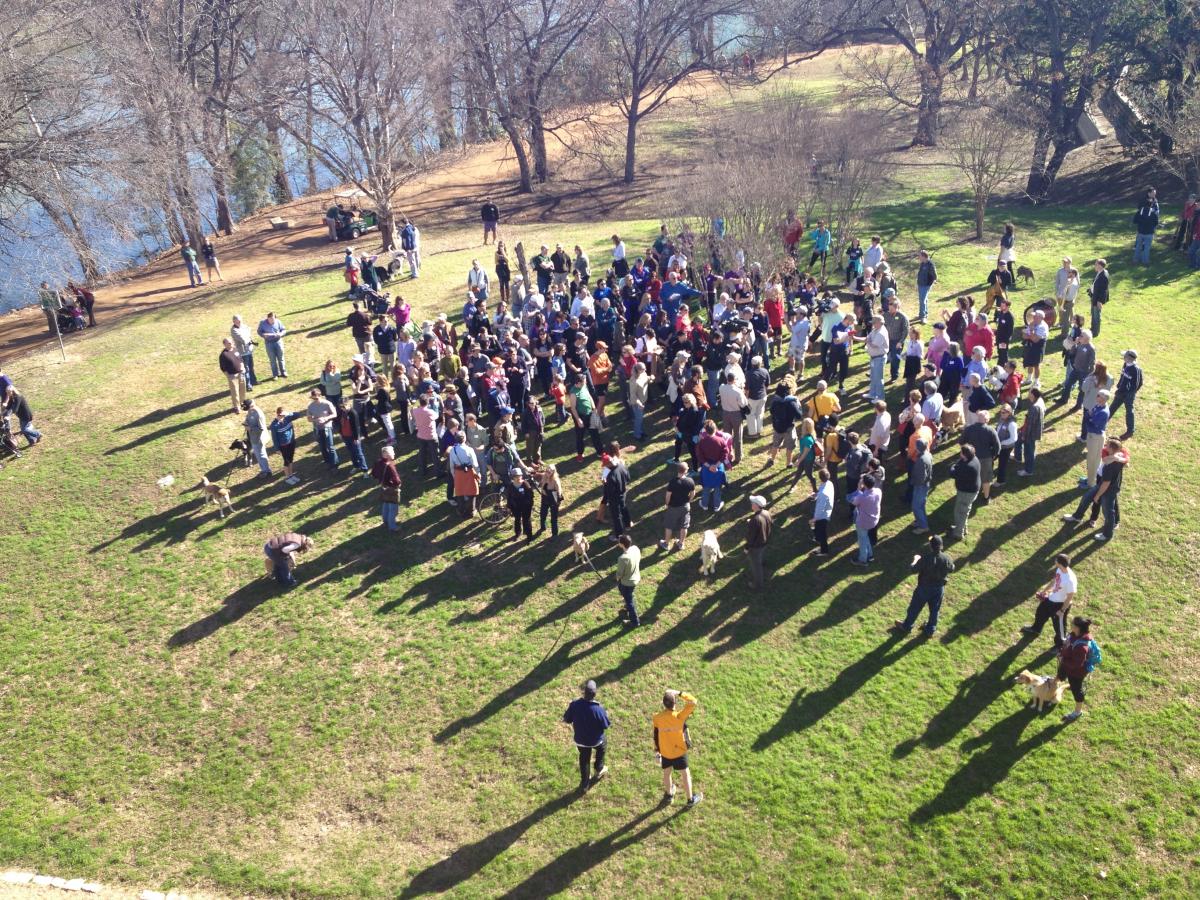 (2012) An award from the American Institute of Architects' Sustainable Design Assessment Team program;
(2013) The first of man collaborations with The University of Texas at Austin, School of Architecture, Texas Futures Lab;
(2013) A grant from the federal Housing and Urban Development, Sustainable Communities program;
(2014) A grant from the National Association of Realtors to support community engagement;
(2015-2016) An award from the federal Environmental Protection Agency's Greening of America's Capitals program. The EPC partnered with the city for further charrettes and selected and hired CMG Landscape Architects, based in San Francisco, to develop conceptual designs for the public realm plan, using green infrastructure as the organizing feature.
(2015-2016) City consultant services of a Texas-based landscape architecture firm, Asakura Robinson, the financial consultant, ECONorthwest, and urban design consultant, McCann Adams Studio, to finalize the plan.
Over the course of these efforts, over sixteen-hundred stakeholders were engaged through workshops, public lectures, walking tours, and charrettes. The series of partnerships and engagement styles resulted in a grassroots buy-in from the community.
Creativity + Innovation
The SCW Plan is based on three interrelated approaches, called Frameworks:
| | |
| --- | --- |
| Physical: This framework retrofits the district with an interconnected network of streets, blocks, parks and plazas, and open spaces. The physical framework considers: circulation and connectivity, open space, sustainability and green infrastructure, urban design, and distrcit-wide water management to conserve resources and promote water quality. |   |
| Financial: The financial framework is a comprehensive strategy of capital investments, development incentives, financial tools,a nd public-private partnerships. This strategy provides $100 million to realize the public realm plan and $65 million gap financings to ensure that 20% of the new housing units are affordable. | |
| City Leadership: This framework includes: strategic public investments, institution of recommended regulations, programs, and financial tools, and pursuit of public-private partnerships to build, mange, and maintain the expanded public realm and affordable housing. |   |
Effectiveness + Results
The SCW Plan provides a place-specific, highly designed example of how many current city policies, Imagine Austin principles, and best practices for sustainability will look like as applied to a redevelopment of a whole district, as opposed to a single site. At final buildout, the SCW Plan results in a gain of 20 acres of new and improved, connected public realm, and 530 units of affordable housing. Other target goals are also identified in terms of reduction of impervious cover, expansion of tree canopy, and quantity of bike and trail connectivity. Likewise, the SCW Plan will implement a battery of finance tools, affordable housing programs, and a district management regime that can be replicated and applied to other rapidly changing areas in our community.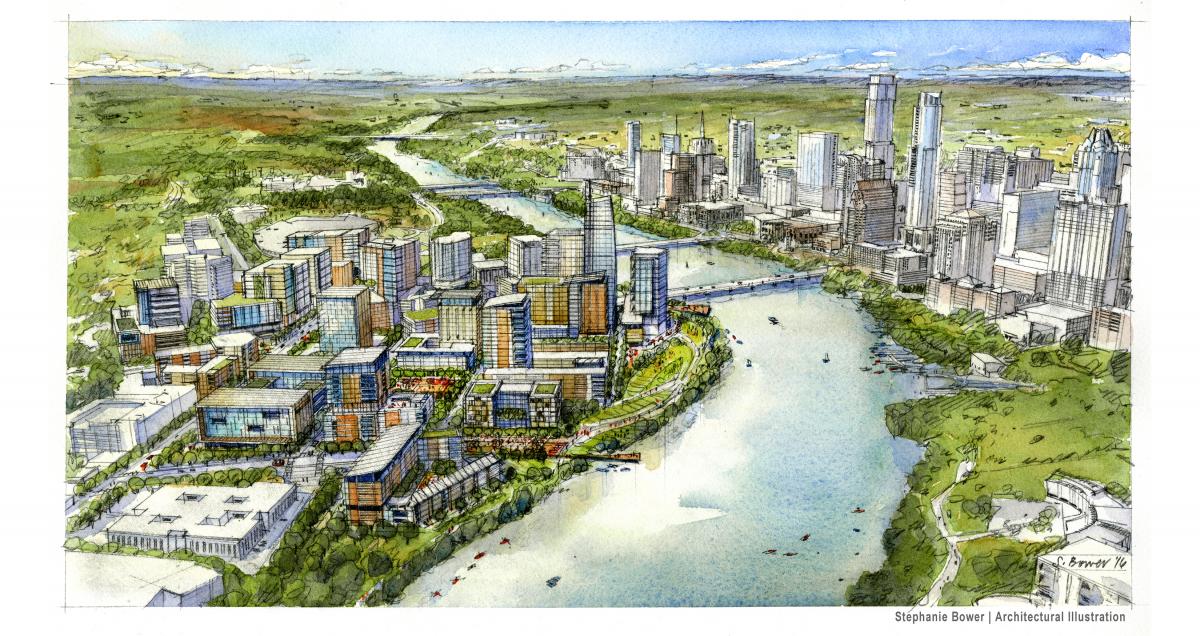 Awards + Recognition
The SCW Plan has received recognition by several local and national organizations. Awards include:
2017 Award for Excellence in Sustainability | American Planning Association's Sustainable Communities Division
2017 Honor Award for Planning & Analysis | American Society of Landscape Architects, Texas Chapter
2016 Plan of the Year | American Planning Association, Texas Central Chapter
Bringing the Vision to Life
Now that the SCW Plan has been adopted, the real work begins. The SCW Plan proposed a battery of Next Steps that will need to be taken to make the Vision a reality. The City is busy continuing the work and building upon the partnerships that the planning process forged, and lots of exciting things are in the pipeline to implement the SCW Plan recommendations.
Stay tuned and join in as we begin the implementation of the SCW Plan. The best way to stay informed as the plan moves forward is to SUSCRIBE for updates.
Subscribe to the SCW mailing list