Speaker Series: Get on Your Bike and Ride!
Imagine a system of trails and shared use paths that CONNECT you to the places where you live, work and play. Now imagine a system that would PROTECT you with areas separated from cars -- increasing opportunities to safely bike around town, regardless of your age or biking ability.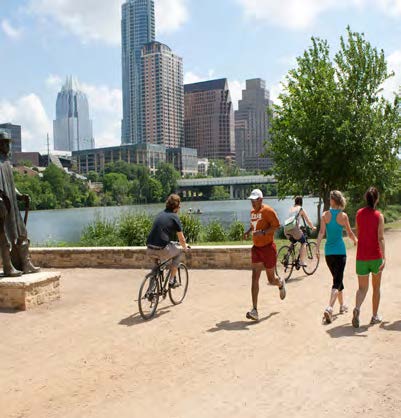 Austinites want a city that is vibrant, healthy, connected, green and livable. The City of Austin is kicking off an initiative to update its Bicycle and Urban Trail Plan with innovative strategies for creating a connected and protected active transportation system.
Leading experts from around the country will visit Austin as part of the National Association of City Transportation Officials (NACTO) Cities for Cycling Roadshow. They'll share insights and best practices that can help propel Austin's efforts forward.
Don't miss this chance to get inspired and weigh in with your ideas!
Get on Your Bike and Ride! ...to the Cities for Cycling Roadshow
November 12, 2013 | 5:30-8:30 P.M. | Free | Light Refreshments Served
St. David's Episcopal Church - 301 E. 8th St., Austin
5:30-6:00 Registration, Refreshments, Open House
6:00-7:30 Speaker Presentations and Q&A
7:30-8:30 Interactive Open House on Bicycle Plan
Bike parking available in St. David's garage. Street parking is available without cost after 6 P.M.
Feature Speakers:
Jon Orcutt | New York
Jon is the New York City Department of Transportation Policy Director. He has contributed to transportation policy in New York for nearly twenty years and helped to establish New York's bike share program.
Roger Geller | Portland
Under Roger's leadership as the Bicycle Coordinator for the City of Portland, Portland was the first big city in the nation to earn a platinum designation from the League of American Bicyclists.
Nathan Roseberry | Chicago
Nathan is the Senior Bikeway Engineer with the Chicago Department of Transportation. In the past two years, Chicago has installed over 50 miles of buffered bicycle lanes and cycle tracks.