You are here
Jul 07, 2017 - 11:17 am CDT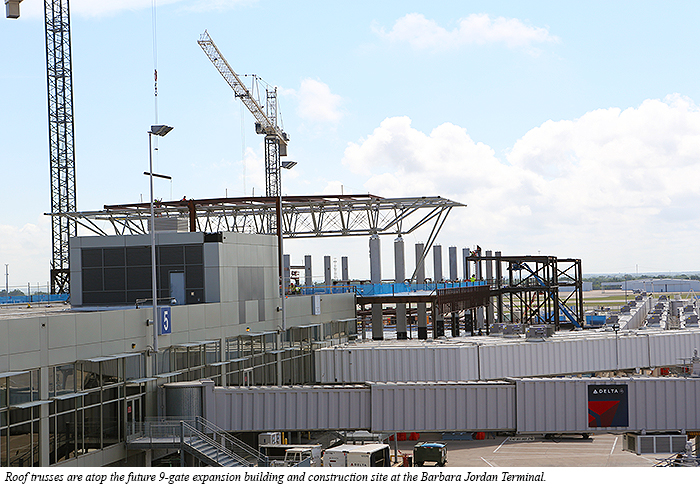 The installation of steel roof trusses marks another construction milestone for the Austin airport 9-gate expansion project. Construction walls are up for the new Austin Article retail near Gate 8 inside the Barbara Jordan Terminal.
First steel roof truss installed on 9-gate expansion
Two of the 17 roof trusses are atop the future 9-gate expansion construction site and structure at the Barbara Jordan Terminal. This marks a construction milestone and symbolizes the height of the addition to the Austin airport that will add 88,359 square feet of new terminal gate area plus a wider concourse.
The first truss was installed on June 29 and the second installed on July 5. Each truss spans 135 feet by 17 feet and weighs 41,000 pounds to support the roof of the project. The expansion will increase the Barbara Jordan Terminal from 24 gates with jet bridges to 33 and is estimated to be completed in 2019.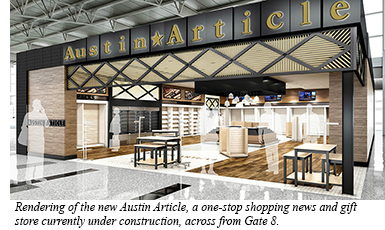 New Austin Article location under construction
Construction has started on the new Austin Article news and gift retail store across from Gate 8, and right of the Ray Benson Roadhouse stage. A temporary construction wall encases the 2,557 square foot store that will offer one-stop shopping—from books and magazines to snacks, drinks, team apparel, and traditional souvenirs.
The new modern design for the Austin Article will showcase apparel at the side wall displays.  Standalone display fixtures are included in the design with other shopping displays and items towards the rear of the store.
Austin Article is currently open at Gate 6 and is operated by concessionaire, Paradies Lagardere. Construction work is estimated to be complete by end of 2017.
Austin Warehouse District opens outpost
With construction underway for a new Tyler's & Austin Warehouse location near Gate 9, the Austin Warehouse District has opened an outpost that extends to the Checkpoint 1 foyer near Gate 5. The extension from its nearby storefront features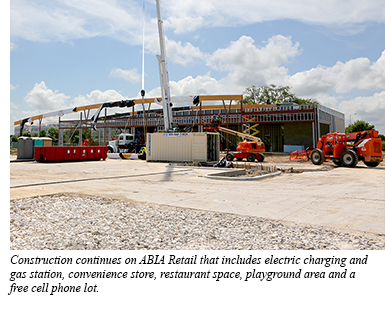 rotating items such as iconic Austin landmarks and Texas themed post cards, Texas salsa & dip mix, jerky, sauces, and taffy, along with Austin themed T-shirts.
More development at ABIA Retail visible
Structural steel for the ABIA Retail convenience store, restaurant space and gas station is visual. The roofing system has been delivered to the site. Customers will now see there are two structures visible for restaurant space and for the convenience store / gas station that will be located on airport property.
When ABIA Retail is complete it will also offer Austin Energy electric vehicle fast charging stations, a new cell phone lot, and playground area just off of Presidential Blvd., the main entry road to the Barbara Jordan Terminal.
Archives
2019
May
April
March
February
January
---