Sustainability Action Agenda: African American Cultural and Heritage Facility features Art in Public Places mosaic mural
In March of 2013, nearly 500 people attended a community-wide celebration honoring the new African American Cultural and Heritage Facility and the restoration of the Dedrick-Hamilton House, home of Thomas Dedrick, one of the first freed slaves in Travis County.  Along with renovation of the historic 1880 structure, the facility included construction of a 4,000 square foot building that offers meeting space, offices, and a multi-purpose room.  The African American Cultural and Heritage Facility is designed to serve as a central gathering place for the East Austin community and to help stimulate business and economic development.  It was also designed and constructed to be environmentally-friendly and has submitted documentation to achieve LEED Gold certification.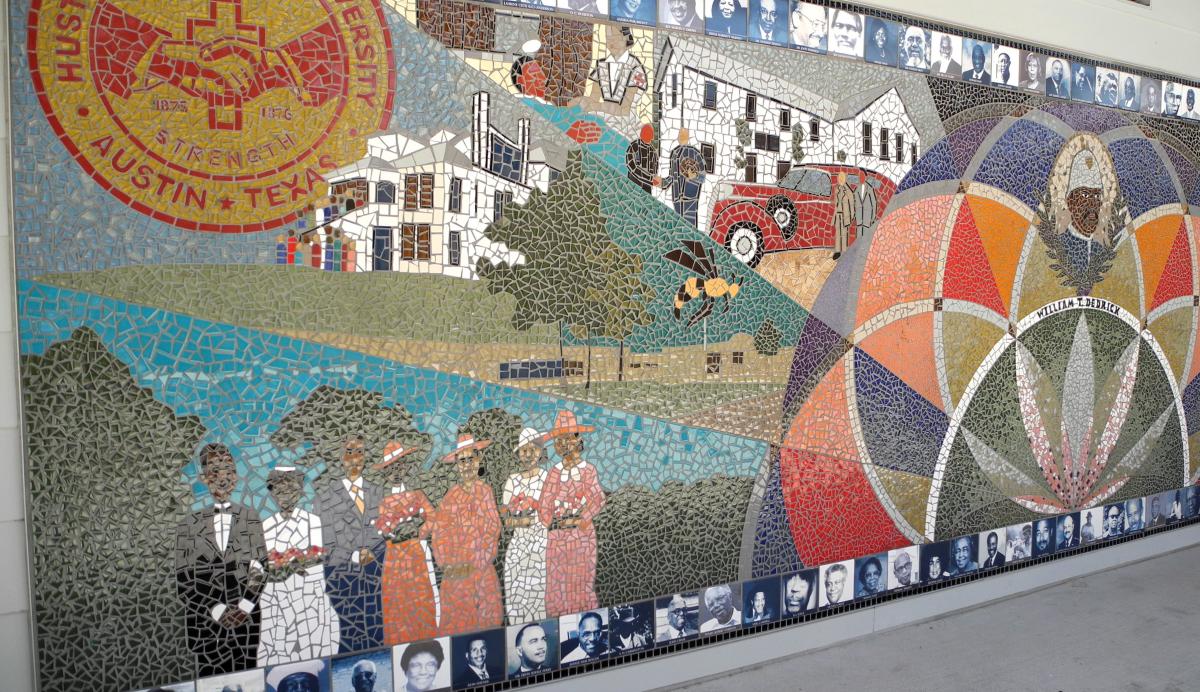 A prominent feature of this facility is a specially commissioned Art in Public Places mosaic tile mural, serving as a reminder of East Austin's cultural significance and a tribute to the African American community in Austin. The mural by artist Reginald C. Adams is titled "Reflections" and features 89 portraits of local African Americans as well as scenes of community life.
In collaboration with McKinney York Architects, the artist designed the glass and ceramic tile mural to be assimilated with the building's façade.  Mosaic workshops were organized to allow members of the community, including students from a neighborhood Middle School, to work on portions of the mural's installation.
The finished piece is a beautiful collage of the places, people, and historical events that paved the way for East Austin to become the vibrant cultural community that it is today.
Find out more about the sustainability initiatives being tracked as part of the Sustainability Action Agenda and decide how you will take action to secure a bright, green future for Austin.
About this blog
News, ideas, and inspiration from the Office of Sustainability, to help advance a Bright Green future for Austin.