Sustainability Action Agenda: Notable progress made at the sustainably planned Mueller Neighborhood Redevelopment
The metropolitan "village" being developed at the former Robert E. Mueller Airport puts a strong emphasis on sustainability.  Homes are designed to be resource efficient, feature recycled materials, and must achieve a minimum 3-star rating from the Austin Energy Green Building program.  One tree is planted for every four parking spaces and 500 acres of the site is being preserved for parks and open spaces.  The community is designed to be compact and connected, with retail shops, office space, and residential neighborhoods all within walking distance.  Austin Energy built a state-of-the-art plant that delivers electricity to the Mueller micro grid, allowing properties to share HVAC infrastructure and lower energy costs.  Once complete, Mueller will feature more than 700 acres of sustainably planned mixed-use development that 13,000 Austinites will call home.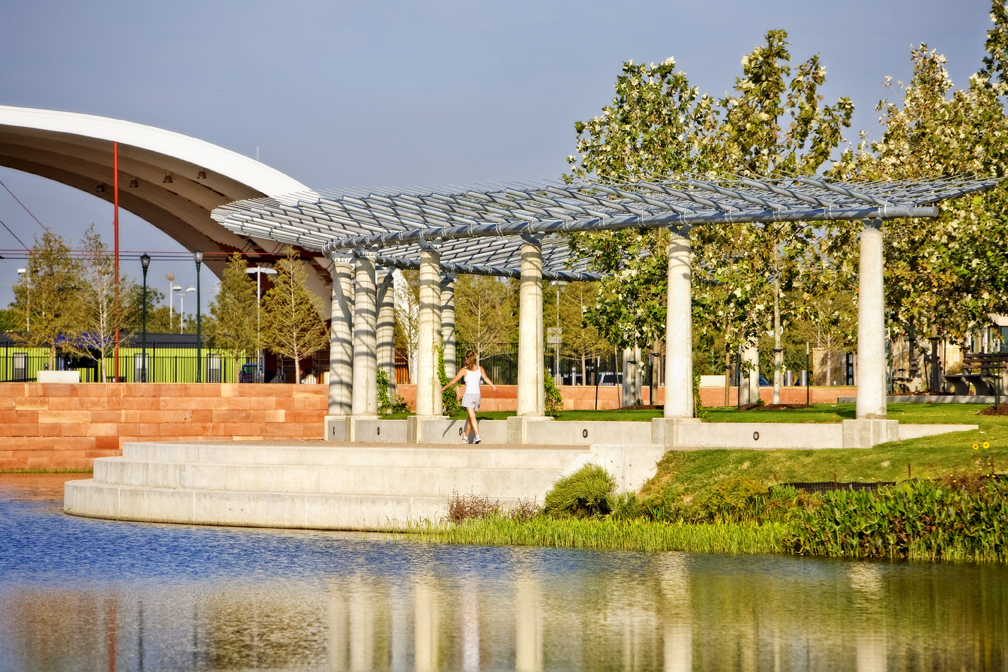 Recently completed milestones at Mueller include the new flagship store for HEB that features:
11,000 square feet of rooftop solar panels that generate 200,000 kilowatt hours of energy annually.
A ceramic coating on a sweeping, arched rooftop that shades the entrance of the building, while reducing the heat load.
Offset sliding doors at the entrance that keep cool air in and hot air out of the building.
Energy efficient refrigerator cases that use chilled water or propane to reduce energy consumption by 70%.
Reclaimed water is used for low-flow toilets, as well as to irrigate trees and landscaping.
Extensive windows and skylights allow lots of natural light into the store – computers monitor daylight levels and dim energy efficient LED bulbs accordingly.
Another recent achievement at Mueller is the LEED for Health Care Platinum designation for Dell Children's Hospital, the first in the world to earn this designation.  Recognizing that healthy children need healthy environments, the hospital features:
• A special stormwater pond that captures rainwater and filters out pollutants before it reaches the groundwater table.
• Reflective roofing and green roofs to help keep the building cool and reduce energy costs.
• Energy efficient lighting, heating, and cooling that save enough energy to cool approximately 300 homes each day.
• 20% of the site is devoted to open vegetated space landscaped with drought-resistant native plants that require minimal irrigation.
• Racks for 50 bicycles and easy access to three bus routes.
Find out more about the sustainability initiatives being tracked as part of the Sustainability Action Agenda and decide how you will take action to secure a bright, green future for Austin.