Sustainability Action Agenda:Providing the "big picture" view of sustainability City-wide
Sustainability is commonly defined as finding balance among three goals: 1) prosperity and jobs, 2) protecting the environment, and 3) community health, equity, and cultural vitality.  In addition to meeting this "triple bottom line," sustainability involves taking positive, proactive steps to protect our quality of life now and for future generations.  The City of Austin has a strong track record for sustainability leadership, with numerous projects and programs underway in 38 departments.
Chief Sustainability Officer Lucia Athens developed a framework for tracking and reporting on these City initiatives known as the Sustainability Action Agenda.
Launched on Earth Day of 2012, the Action Agenda identifies 10 focus areas that shape how Austinites live, work, and play. 
More than 180 projects are being implemented in these areas to advance sustainability in Austin – each is scheduled to be complete by May, 2014.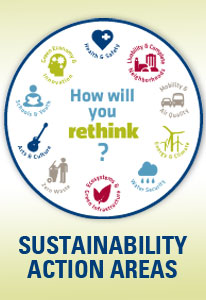 Within the Sustainability Action Agenda, projects designed to make Austin the greenest, most livable city in the country can be divided into the following strategic areas:
• Arts & Culture – supporting Austin's creative economy – live music, festivals, theater, film, digital media, and other art forms – as a vital part of our local culture
• Ecosystems – using green infrastructure to protect environmentally sensitive areas and integrating nature into the city
• Economy & Innovation – continuing to grow Austin's green economy by investing in our workforce, education system, entrepreneurs, and green local businesses
• Energy & Climate – making Austin the leading city in the nation in energy efficiency and renewables and mitigating the negative impacts of global warming
• Health & Safety – ensuring equal access to community and health services, providing local and healthy food, encouraging active and tobacco-free living, and caring for animals
• Livability – ensuring access to diverse affordable housing; neighborhoods that include parks, public amenities, and alternative transportation choices; and investment in green building that delivers utility bill savings and healthy indoor environments
• Mobility & Air Quality – investing in a compact and connected Austin that is less car dependent and more walking-, bicycling-, and transit-friendly
• Schools & Youth – providing learning opportunities that produce college-ready students and a skilled workforce, as well as encourage sustainable behaviors that support Austin's quality of life
• Water Security – managing water resources through conservation, sustainable landscaping, and increasing the use of reclaimed water
• Zero Waste – eliminating the concept of waste and diverting the percent of solid waste sent to landfills and incinerators by 90% by 2040
Over the last year, the City has been hard at work to realize all the initiatives identified in the Action Agenda.  In the coming months, this blog will spotlight some of these success stories.
Next week:  The Austin Green Business Leaders program recognizes more than 100 businesses for going green!