Sustainability: Understanding the Big Picture
Initially launched on Earth Day of 2012, the Sustainability Action Agenda identified 10 focus areas that help define how the City of Austin is taking positive, proactive steps to protect our quality of life – both now and for future generations.
The following areas strike a balance between the needs of people, prosperity and the planet: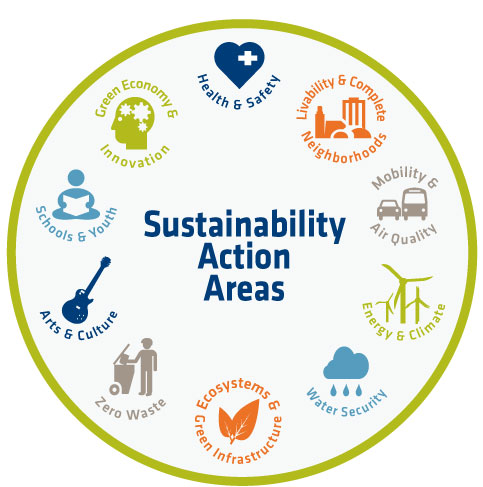 Countless staff throughout the City have been dedicated to completing more than 150 projects and initiatives that fall
within these Action Areas. This exciting progress is featured in this year's Sustainability Action Agenda Report. A summary that highlights some of the tangible community benefits that have been achieved through these actions is also collected in this infographic.
The Office of Sustainability worked closely with over 20 Departments and Offices to assemble the results reflected in this report, which represents a collaborative undertaking towards making Austin the greenest, most livable city in the country.  We're proud of what's been accomplished!
But the hard work continues. Sustainability will continue to be a core value for the City, reflected in upcoming programs and projects designed to support Austin's bright, green future. Our Office will continue to monitor and track these activities – stay tuned….
About this blog
News, ideas, and inspiration from the Office of Sustainability, to help advance a Bright Green future for Austin.